2017 Chevy Bolt vs 2017 Nissan Leaf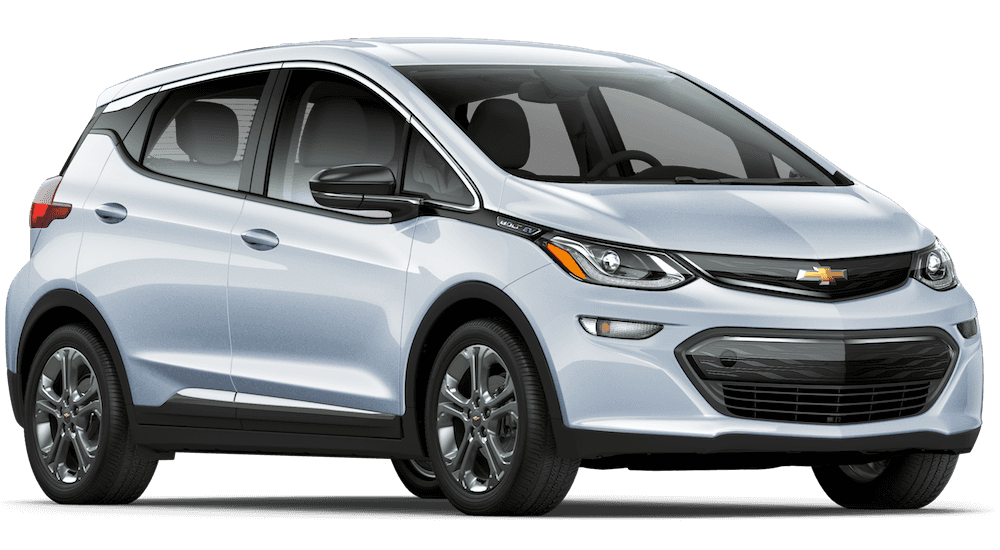 2017 Chevy Bolt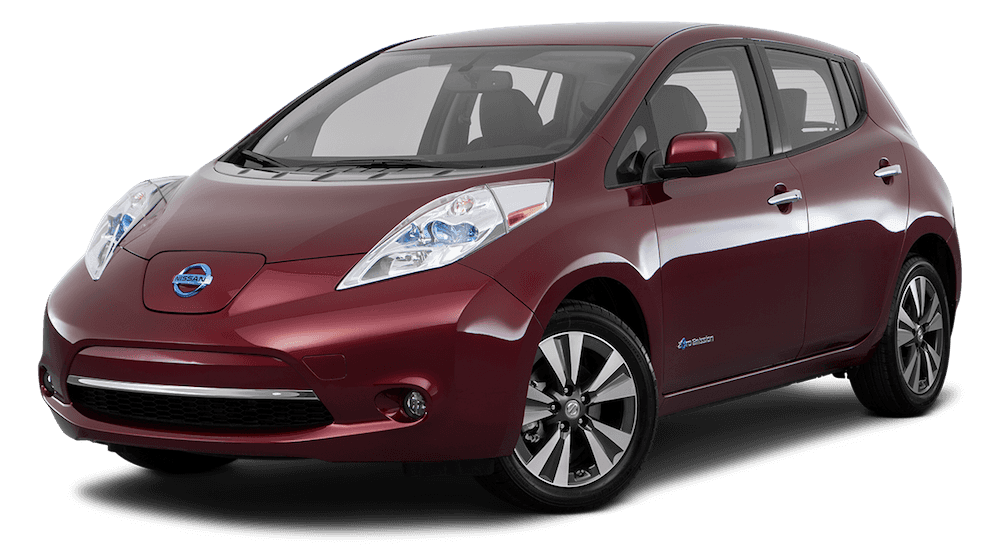 2017 Nissan Leaf
238 miles
Electric Range
107 miles
56.6-cubic-feet
Max Cargo Space
30-cubic-feet
10.2-inch MyLink
Entertainment System
7.0-inch monitor
If you find that you're frustrated dishing out your hard-earned money on pricey gas fill-ups, then it may be time to start pursuing an electric vehicle. In that case, you'll naturally begin debating the 2017 Chevy Bolt vs. 2017 Nissan LEAF.
Both of these vehicles provide all of the capabilities and amenities that customers are seeking… but when you dive into the actual specs, it's evident that one of these options reigns supreme.

Safety
Since you're going to be dishing out a solid chunk of change on your new electric vehicle, you surely won't want to find yourself in a crash. Fortunately, both the Bolt and LEAF are equipped with a number of safety functions that will keep your new vehicle out of harm's way.
Chevy Bolt
Fortunately, new owners won't have to worry about their new car's well-being, as the Chevy Bolt contains a number of useful safety functions that will keep all occupants secure. If a driver finds themselves in a crash, they can rest easy knowing that the 10 air bags and the advanced high-strength steel frame will keep all of the vehicle's occupants protected. If necessary, drivers can even utilize the OnStar Automatic Crash Response system, which will connect the operator with an OnStar Advisor. If necessary, this individual can subsequently send emergency personnel directly to the site of the crash.
The vehicle is also equipped with a number of functions that will allow drivers to avoid accidents in the first place. Inclusions like the Forward Collision Alert, Side Blind Zone Alert (with Lane Change Alert), and the StabiliTrak Electronic Stability Control System means drivers shouldn't find themselves in a devastating collision. Meanwhile, features like the Rear Cross-Traffic Alert, Rear Parking Assist, and Rear Vision Camera will significantly cut down on those minor fender benders.
Nissan Leaf
Owners can also expect top-notch safety functions from the Nissan LEAF, as the vehicle is equipped with a number of functions that can enhance the safety of all occupants. It starts with the array of protective features, including the Nissan Advanced Air Bag System, the Zone Body construction (with accompanying front and rear crumple zones), and the energy-absorbing steering column. In the event that a driver does find themselves in a collision, they can rely on these features to keep them safe.
Similar to Chevy's electric vehicle, the LEAF is also equipped with features that should help drivers avoid accidents. Inclusions like Vehicle Dynamic Control, Traction Control System, and even the Tire Pressure Monitoring System should play a significant role in helping drivers avoid collisions.

Interior
While prospective buyers will primarily focus on their electric car targets' range, they shouldn't ignore the interior amenities. Potential drivers may assume that the brands' engineers solely focused on the electric capabilities, but the interior amenities are just as impressive as those featured in non-electric sedans.
Chevy Bolt
Consumers may be spending much of their effort focusing on the Chevy Bolt's incredible range, but that doesn't mean the vehicle doesn't deliver several additional amenities. Rather, the model's interior is as versatile and accommodating as any other sedan's cabin, if not more so.
For instance, owners can capitalize on the incredible 56.5-cubic-feet of cargo space, which is more than enough room to fit whatever luggage or equipment you want to bring along on your journey. Plus, thanks to the 60/40 split-folding rear seats, owners can manipulate that interior to fit whatever combination of cargo and passengers, thus leading to maximum flexibility. When owners aren't capitalizing on the cargo space, they can comfortably seat five occupants in their new car.
Of course, the interior is also equipped with some innovative technological features, like the brand's 10.2-inch MyLink system. This unit will provide access to a host of applications, and the split-screen capabilities means you can tune into your favorite radio station while also accessing your preferred navigation system. Plus, thanks to the Apple CarPlay and Android Auto compatibility, drivers can seamlessly connect their smartphone to the system, allowing them to safely make phone calls or pull up their favorite playlists. Occupants can even rely on the available 4G LTE Wi-Fi, so up to seven different devices can capitalize on the wireless internet connection, simultaneously.
Nissan Leaf
If you've read how the LEAF's range and power specs compare to those of the Bolt's, it shouldn't be all that surprising that Nissan's electric vehicle also provides inferior interior accommodations. For instance, the max cargo room that LEAF owners can access is around 30 cubic feet, and this is reduced to only 23.6-cubic-feet when the rear seats are in place.
The brand does slightly make up for these disadvantages in their technological amenities, including the 7.0-inch multi-touch control color monitor, which provides access to the NissanConnect system. Owners can opt for one of several different speaker options, and these can include SiriusXM Satellite Radio. While several other attributes of the LEAF are clearly lacking behind those of the Bolt, the technological amenities are about even.

Range
When it comes down to it, customers will consider an electric vehicle because of the incredible driving range. Both the 2017 Chevy Bolt and 2017 Nissan LEAF will deliver the electric "efficiency" that you're seeking, although it's pretty evident that the Bolt provides superior specs.
Chevy Bolt
When consumers pursue an electric vehicle, they're obviously enticed by the car's incredible driving range. Fortunately, the 2017 Chevy Bolt does not disappoint, as drivers can rely on the accompanying electric engine to get them to and from work… all week long. The vehicle can deliver an EPA-estimated 238 miles per charge, which should be more than enough distance to cover you for an entire week.
Fortunately, it's extremely easy to charge your new electric vehicle. Owners can opt for the 240-volt/32-amp home charging unit, which allows them to easily and conveniently charge their vehicle overnight. Alternatively, they can opt for the DC Fast Charging dock, which will "fill" the vehicle with about 90 miles of range in only half an hour. While some customers may be scared away by the apparent scarceness of charging docks, it's actually incredibly easy to have a system installed right at your house.
Of course, while customers will presumably be focused on the vehicle's incredible electric range, it's also important to understand the system's performance capabilities. Surprisingly, the Bolt's electric engine pumps out a whole lot of power, as drivers can expect around 200 horsepower and 266 pounds-feet of torque. These are numbers that rival those produced by standard engines, and it means that you'll still be able to zoom past your fellow drivers while you're traveling on the highway (this is confirmed by the car's impressive 0-to-60 time of 6.5 seconds).
Nissan Leaf
Much like the Chevy Bolt, Nissan provides plenty of venues where owners can charge their new electric Leaf. However, when you begin to evaluate the specific range and power specs, it's clear that this particular vehicle is inferior to its rival.
For starters, the 30 kWh battery is only capable of delivering a 107-mile range. While this may be sufficient for some commuters, it still doesn't touch the incredible range provided by the Chevy Bolt. The vehicle doesn't even make up for this discrepancy in regards to power, as the LEAF delivers an underwhelming 107 horsepower. In a vacuum, these are relatively impressive numbers. However, you can literally compare the specs to those of the Bolt, and when you do that, it's fairly obvious that Chevy's electric car is better in so many ways.
We appreciate your interest in our inventory, and apologize we do not have model details displaying on the website at this time. Please fill the form out below and our team will quickly respond, or, please call us at (513) 741-1111 for more information.