Determining Which Chevy Box Truck is Right for Your Business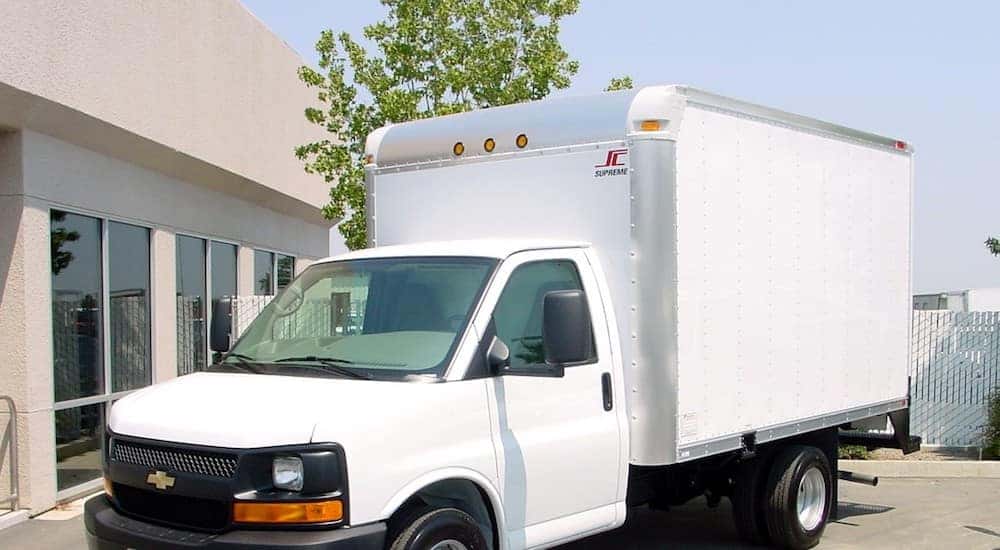 A box truck is used for transporting freight. Sometimes, they are also known as cube trucks, cube vans, rolling toasters, box vans, or straight trucks. Box trucks can be used for a variety of transportation needs. A box truck is essentially a cab mounted to an empty frame. Attaching a box to that frame creates a box truck. There are many styles of boxes that can be mounted on the frame to serve different purposes. Typically, the back of the box will have a door that rolls up, but this is not always the case. In North America, box trucks are classified according to their cargo weight capacity, from Class 3 to Class 7. This means that box trucks can measure anywhere between 12,500 to 33,000 pounds gross vehicle weight rating (GVWR). When purchasing a box truck for your business, one of the three options offered by Chevy is sure to suit your needs.
Express Cutaway
Chevy's Express Cutaway has a maximum payload of approximately 9,000 pounds, while the GVWR is around 20,000 pounds. The frame is designed for versatility to meet different needs in a variety of industries, allowing the truck to serve as a utility or service vehicle, an ambulance or rescue vehicle, a shuttle or school bus, or the body of a van. The Express Cutaway comes standard with a 4.3-liter engine offering 276 horsepower, but a 6.0-liter engine with 341 horsepower is also available. The truck also comes with convenient technologies such as a 120-volt power outlet, USB ports, and a backup camera. You may also choose to equip the vehicle with built-in 4G LTE WiFi. Starting MSRP for the Cutaway is $33,000. This truck's specifications and technological capabilities make it ideal for transporting people, either as a shuttle, ambulance, or school bus.
Silverado Chassis Cab
Chevy's second box truck option is the Silverado Chassis Cab. The max payload is around 7,000 pounds and the GVWR is around 13,000 pounds. This truck is designed to perform as a utility vehicle, a dump truck, or a simple flatbed. It also has the option to have a regular cab or a crew cab. The Silverado Chassis Cab also has two high-performance engine options: a gas engine that is 6.0 liters and 360 horsepower or a diesel engine that is 6.6 liters and 445 horsepower. The Chassis Cab comes with a variety of storage and power options to provide convenience on the road. For storage, it has a compartment in the center console for laptops or other portable electronics, as well as multiple glove boxes and storage pockets in the doors. For technology and power, the Silverado Chassis Cab has USB ports, a 110-volt outlet, and Bluetooth capabilities. Like the Express Cutaway, it also has the option of built-in 4G LTE WiFi. The cost of the Silverado Chassis Cab starts at $34,000. The Chevy Silverado Chassis Cab is perfect if you're looking for something more heavy-duty than a pickup truck but plan to stay local to one area. This truck is ideal for construction or landscaping companies.
Low Cab Forward
The last Chevy box truck is the Low Cab Forward. Like the Express Cutaway, this model comes with many different options for cabs, wheelbases, engines, and upfits that allow you to customize it for your specific industry or purpose. The max GVWR is around 26,000 pounds. The 3500 and 4500 models have a 6.0-liter gasoline engine, while the 3500HD has a 3.0-liter diesel engine, and the 4500HD, 4500XD, 5500HD, and 5500XD have a 5.2-liter diesel engine. The box lengths range from 16 to 30 feet. The cab is designed to maximize visibility, which is a must in high-traffic areas, while the length maximizes the carrying capacity for cargo without sacrificing maneuverability. The interior contains fold-out trays that can function as a workstation and many storage areas throughout the cab. The starting price of the Low Cab Forward is $40,500. Because of this truck's hauling capacities, it would be ideally suited for moving, delivery, or transporting bulk construction or landscaping items.
Driving a Box Truck
When considering purchasing a box truck, you should also be aware that there are many laws governing when, where, and how a box truck can be used. Federal, state, and even local governments have regulations regarding box trucks.
The primary regulatory body for box trucks and all other motor vehicles is the Department of Transportation (DOT). This organization determines the maximum sizes and weights that a truck can be or carry on the road. The DOT is always updating its rules, so be sure to check its website frequently to make sure that you are in compliance with the law.
The Department of Motor Vehicles (DMV) requires that drivers of box trucks obtain a Class B CDL driver's license. Operating certain kinds of box trucks, such as school buses, require additional special endorsements for your license.
In addition to federal and state requirements for box trucks, certain cities have their own rules and regulations. The municipal code of Cincinnati prohibits trucks with more than two axles, four wheels, and a weight exceeding 7,500 pounds to drive on certain city streets in Section 506-66. These streets include "Central Parkway from Plum Street to Ludlow Avenue northbound, Central Parkway from the northbound Interstate 75 on-ramp to Plum Street southbound, Victory Parkway; Westwood Northern Boulevard; Columbia Parkway from Fifth and Pike streets to Delta Avenue; Columbia Parkway from Stanley Avenue to Beechmont Avenue; West Seymour Avenue from Dillard Avenue to Vine Street." This ordinance dates back to the 1950s, and several revisions go on to say that box trucks carrying mail are allowed to use the otherwise prohibited streets if an alternate route is not available.
When purchasing a box truck, make sure to take into account the regulations you may face so that you can better prepare for your purchase. No matter what your business needs are, Chevy has a box truck that is right for you. Whether you need to create a shuttle for transporting passengers or a heavy-duty hauler to carry bulk construction supplies, Chevy box trucks can meet your needs