Enhancing Style and Performance with Truck Accessories
There are accessories to address any need you can think of for your truck. If you are looking to personalize the look and improve the functionality of your vehicle, truck accessories are a great option for you. For a more detailed selection and to get to know specific add-ons that are available for your particular vehicle, get in touch with one of our dealer specialists who will be happy to answer all of your truck accessory questions. Here are a just few of the many available truck accessories that you can use to improve the look and performance of your truck.
Why McCluskey ChevyNew TrucksIncentives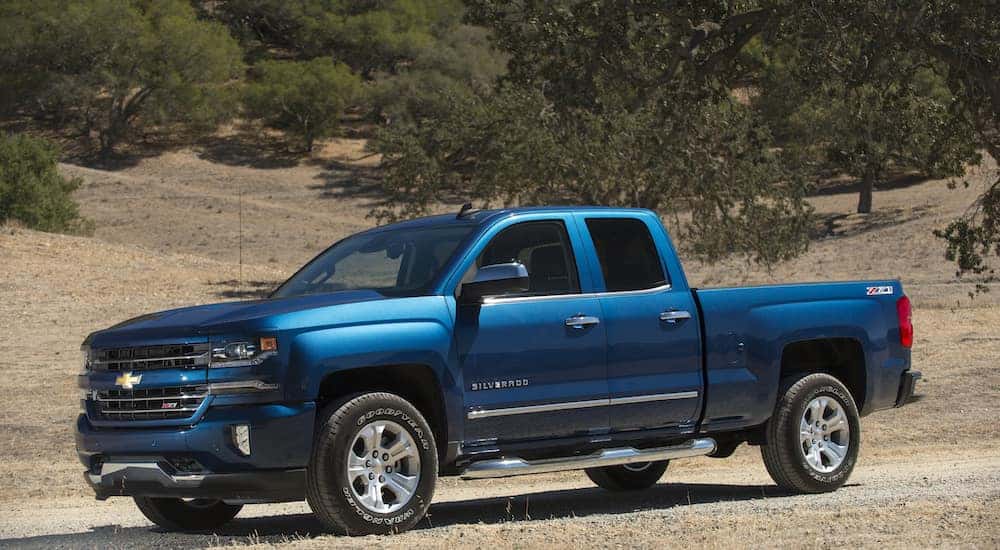 Floor Liners
 
When looking for a high level of interior protection, floor liners are the solution. Floor liners offer coverage around your interior trim, driver pedals, seat tracks and door sills. They are constructed of high-quality materials that give optimum carpet an interior trim protection, isolating debris and moisture while they can be removed for cleaning. Floor liners are available in a variety of colors and styles that will coordinate with your truck model.
 
Wheels
 
Great looking and well-developed, accessory wheels can add quite a lot to your truck. Whether you are looking for 5-spoke wheels, top-selling 2-inch 6-spoke wheels in high-gloss black, or 7-split-spoke wheels, there's a set for most truck models. If you want to be sure that your new wheels fit your truck perfectly, schedule an appointment with our service specialists at McCluskey Chevy. Our team will make sure that you get the right wheels for your truck.
 
Cargo Management
 
Maximize cargo hauling capabilities and organize your gear for both the outside and inside of your truck. Gear ON Cargo Management Systems, Roof Rack Cross Rail Packages, roof-mounted bicycle carriers, and hitch-mounted ski carriers, Chevrolet accessories are a perfect go-along to your truck. Inside your vehicle, you can create neat, organized, and functional storage spaces in certain vehicles. Available interior organizing accessories include front floor console organizers, tote inserts, or rear cargo organizers.
 
Interior Accessories
 
If you are looking to upgrade your truck 's appearance, entertainment, or storage, there are many accessories you can purchase at McCluskey Chevy. A few interior accessories include illuminated door sill plates, interior trim kits, all-weather floor liners, carpeted floor mats, universal tablet holders and rear seat entertainment options that can help keep all of your passengers happy.
 
Exterior Accessories
 
With exterior accessories, you can enhance the look of your truck as well as the functionality and utility. You can also keep your truck in prime condition with accessories like the exterior vehicle care kits. The body side molding, mirror caps, chrome and black door handles, decal and stripe packages, emblems all add that extra something to your truck. Assist steps, round, rectangular, and ruggedly styled off-road step bars are available in black and chrome finishes. Splash guards are also available for select vehicles.
Every truck owner wants a way to protect their vehicle from scratches and dings. A full line of accessories like bed mats, bed liners, bed rugs, and tailgate liners are available to keep your truck looking its best. With these bed protection accessories, you will be able to haul everything from furniture to construction gear without worrying about scratching or denting your truck bed.
 
Performance Accessories
 
Chevy accessories have the solutions you need to enhance the performance of your truck. The performance Air Intake reduces restriction for optimum power production. Available exhaust upgrade packages reduce back pressure and provide an authoritative tone. Polished exhaust tips offer a great-looking finishing touch. Brake System Upgrade Kits, Engine Covers, Suspension Packages, and a Performance Strut Tower Brace are available.
 
Tonneau Covers
 
Carrying cargo in your truck bed? Keep it secure and protected with a wide variety of tonneau cover styles. Soft roll-up tonneau covers, hard folding covers, hard rolling covers, retractable covers, and one-piece painted hardcovers are available. Each cover features its own style and there is one that is perfect for your truck.
 
Top-Picks for Truck Accessories
 
Almost any part of your vehicle can be improved with truck accessories. From styled wiper blades to dash kits, wind deflectors to chrome trim, your truck can be customized in an endless configuration of ways. With all of these options available, you may be wondering what are the truck accessories that we would pick for our truck? Whether your truck is for work, play, or both, there are different accessories for every need. Of course, we are always around trucks here, so here are a few of our favorite truck accessories.
Bedrug Full Bed Liner. The bedrug liner is often misunderstood as carpeting for your truck, which may not sound very useful or appealing. Bedrug is actually a water-resistant, mold-resistant, and wear-resistant plastic that is very durable. In a way, the Bedrug liner converts your truck bed into a trunk. You can haul the same amount of gear that you can put into a trunk without having to worry about dents and scratches.
Tailgate Assist. This is one of the least expensive truck accessories available and it also happens to be one of the most useful. Often we find ourselves with our hands full, and no way to prevent the tailgate from slamming as we open it. The Tailgate Assist acts like a shock absorber for your tailgate as it moves into the open position.
Contoured Floor Liners. These are a necessity for anyone with kids or dogs. Food stains, mud, fur – all of these are best kept on a cleanable mat surface then left to stain your truck interior. Contoured floor liners are easy to install, fit perfectly, and offer great traction so your feet do not slip when the liners are wet.
Battery-Powered Truck Bed Lights. For early mornings or late nights, a good truck bed light is essential for getting to what you need in your truck bed. Easy to install and use, truck battery lights are push button and turn off automatically after 5 minutes.
Truck Bed Tool Box. A great way to organize your truck bed, these toolboxes are customized for each truck. These toolboxes can be removed when extra space is needed and give your truck more cargo space. Easy to access and with capability to store all of your essentials, a truck bed toolbox is a favorite among most truck owners.
At McCluskey Chevy, we are always ready to help you find the accessories that you need to get your truck where you want it to be. Whether your vehicle is for work or for play, we have the accessories you need to make it work for you. Get in touch with us today to find out how we can help improve your truck with amazing new accessories!
Get In Touch