A Look At Chevy's 2017 Sonic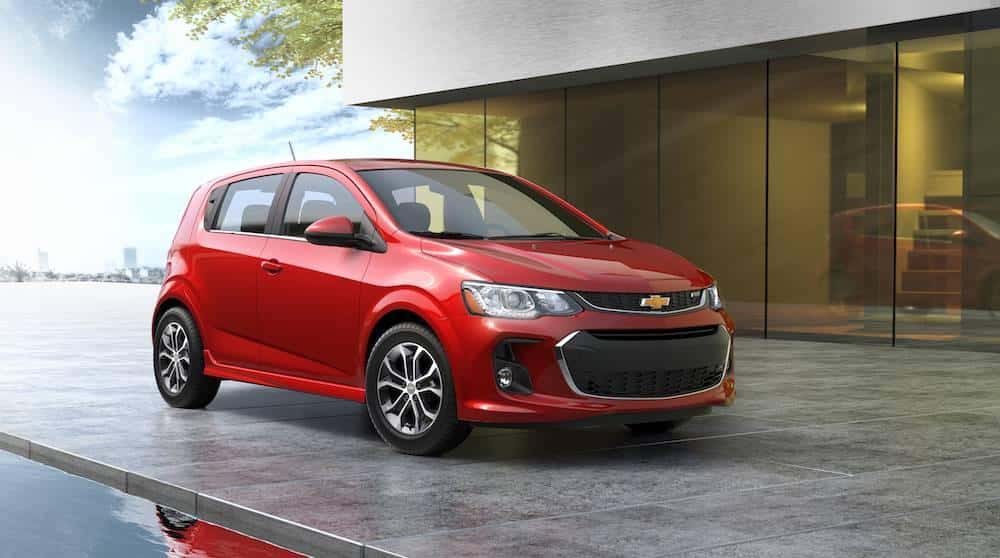 Browsing the local lots of your Chevy dealers in Ohio, but aren't sure what to buy? If it's an efficient, fun, and compact car you're looking for from Chevy, you could always consider the Cruze. However, a 2017 Chevy Sonic is the lowest-costing car Chevy is currently selling in 2017. With a starting MSRP of $15,145 and a ton of pros direct from the mouth of automotive experts, it's hard to pass up. Not to mention, it has two different styles readily available. You can have it in either a sedan or hatchback model. And the best part is, apart from the look, not a whole lot changes.
Check out why the 2017 Chevy Sonic is worth considering, starting with some serious highlights.
Pros of the 2017 Chevy Sonic
The 2017 Chevrolet Sonic has many pros. Like its optional turbocharged engine, relatively spacious cabin, excellent safety scores, better-than-average ride quality, and fun to drive personality.
Optional Turbocharged Engine
While the standard engine on the 2017 Chevy Sonic is adequate enough to propel you down the road, the turbocharged engine is where the real fun comes in. Before we hop into the turbocharged engine, let's take a look at the base version.
The base engine is an ECOTEC 1.8-liter four-cylinder engine that produces 138 horsepower and 125 lb.-ft. of torque. It's paired to a five-speed manual transmission, and has a hill-hold feature – standard. A six-speed automatic transmission is available as an option. With this engine equipped, you're looking at a possible best of 25 mpg city/33 mpg highway with the manual transmission.
The optional engine is a turbocharged 1.4-liter four-cylinder. The horsepower on this engine mirrors the base engine's 138 horsepower output. So clearly, that's not where the pep comes from. Instead, that potency comes from the increase in torque, which is sitting at 148 lb.-ft. It also has a six-speed manual transmission paired to it standard, and a six-speed automatic optional. Fuel-efficiency actually improves with the turbocharged engine, and it's sitting at a possible best of around 29 mpg city/40 mpg highway with the manual transmission equipped, similar to last year's model.
So if it's fun you're looking for, then make sure to pick the optional turbocharged engine. If not, you'll end up stuck with the base engine. Which is fine, but it's just adequate enough for getting on the highway. Not necessarily having fun on the highway. Even still, a large part of the fun in driving comes from the transmission you have equipped. You'll want to make sure you've picked the manual only if you honestly know how to operate it. If not, I suggest learning how to drive a stick, then buying one with the manual transmission. It really is that much more fun, and it could add some entertainment to the base engine's performance.
But, to each is own. If you want an automatic, then grab the automatic. Just keep in mind, it'll be more expensive than the manual.
Relatively Spacious Cabin and Storage
For its class, the Sonic actually does an exceptional job in the passenger cargo space categories. The sedan variant has 14.9 cu. ft. of trunk space, which is among the largest in the class. It can be expanded further with the 60/40-folding rear setbacks folded down. Naturally, this differs when it comes to the hatchback model, which gets 19 cu. ft. of storage space with the rear seats up, and 47.7 cu. ft. with them folded down. Very good numbers when measured against others in the compact hatchback segment.
As far as passenger space goes, it remains relatively unchanged between the two styles of car. The sedan and hatchback both have passenger space for five, and the total passenger volume is 90.3 cu. ft. (sedan) and 90.6 cu. ft. (hatchback). A negligible difference, really. Front legroom stands at 41.8 inches in both vehicles, and rear legroom comes in at 34.6 inches in both as well.
Excellent Safety Scores
Just because the 2017 Sonic is a small car, doesn't mean its inferior when it comes to safety. On the contrary, the Sonic actually has exceptional safety scores, earning a perfect five-star rating overall from the NHTSA, including five stars for total frontal impact safety, and five stars for total side-impact safety. The IIHS even awarded the Sonic a top score of "Good" in the moderate-overlap and small-overlap frontal-offset, side-impact, and roof-strength crash tests. In the seat and head restraint design for whiplash protection in rear impacts, the Sonic received a top rating of "Good" as well.
Perfect safety scores across the board, and apart from the exceptional engineering that earned the Spark those safety scores, it also has plenty of safety features you're able to fall back on. For preventing accidents, a rear vision camera comes standard, and there's also a host of available safety features, like forward collision alert, lane departure warning, and rear park assist. When it comes to protecting occupants from collisions, 10 standard airbags and a high-strength steel safety cage will help keep you safe. Regarding responding to a collision, you'll have the available OnStar Automatic Crash Response system and OnStar Advisor. With this system, an Advisor is notified and connected during a collision. They're able to ask if you need help, and if you do (or are unable to respond) they will send emergency services to your location via GPS tracking. That way, regardless of what condition you're in during the aftermath of a collision, you can feel comfortable knowing help will be on the way.
Fun to Drive, with Better-Than-Average Ride Quality
If the 1.4-liter turbocharged engine is equipped and paired to the manual transmission, on either the 2017 Chevy Sonic sedan or hatchback model, you'll have an addictively fun time driving this model.
Regardless of which engine you choose, the Sonic has better-than-average ride quality for this segment. Clearly, the same solid construction that helps make it so safe and durable also helps with the ride quality. Because you'll be hard pressed to find a car that handles bumps and road noise as well as the Sonic in the compact car segment.
Overall, it's just a great little car to drive. Whether you want the sedan or hatchback version is up to you. Either way, you'll get the same quality that's to be expected from Chevrolet.