"Bling" Your Camaro With These Chevrolet Parts and Accessories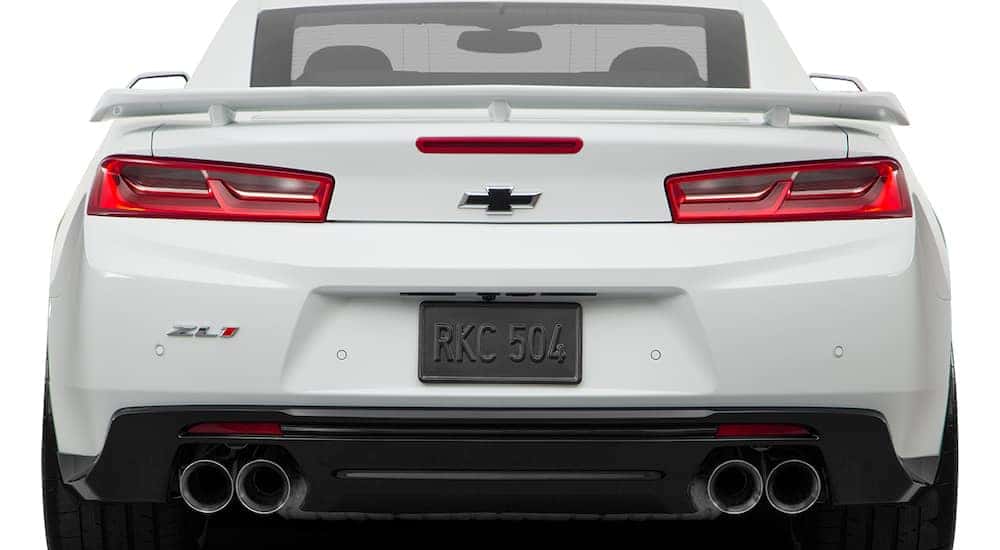 With the amount of Chevy accessories on the market, McCluskey Chevrolet is here to get you exactly what you're looking for. With our access to the parts and accessories found in the Chevrolet/GM catalog, it's easier than ever to get parts with us. We even deal in more "hip" accessories for fun cars, like the Camaro. Ground effects, engine covers, and spoilers only break the tip of the iceberg on what we can get for Chevy's legendary muscle car.
We're more than just a dealership, and we're more than just a parts and accessories dealer; we're McCluskey Chevrolet — where there's 1,000,000 ways to make your Chevy your own.
McCluskey Chevrolet is the Dealer for Parts and Accessories
For all your Chevrolet parts and accessories needs, McCluskey Chevrolet is the dealership you can count on. We can get parts for your used or new Camaro, and anything in the GM/Chevrolet parts and accessories catalog is fair game. Our Personalization Consultants will help you every step of the way, and guide you when it comes to finding out information on the parts in question. All you need to do is tell them what you want, and they'll make it happen. They can even roll the parts and accessories into affordable packages for you.
We'll take care of it: just sit back, relax, and come get your car after it's been customized.
Ground Effects
You've seen them in every cool car movie produced. No, ground effects (also known as "underglow") aren't fictional. However, certain colors (like blue, red, and yellow) are illegal nationwide, and even underglow itself is illegal in some states. So, make sure you check with your state's laws before coming to McCluskey Chevy to get underglow installed on your Camaro.
Even if you have a SS with fancy suspension rigging and an exhaust set-up, we can illuminate the underside of your Camaro like the northern lights.
Decal/Stripe Package
Often accompanying ground effects, you'll see decals or racing stripes on muscle cars like the Camaro as well. These can range from all sizes and colors, and can include multiple or single racing stripes. Whether you want two lines running over the hood all the way to the back, or decals on the side, we can make your Camaro look straight out of a racing movie.
Spoiler
Typically, spoilers don't belong on muscle cars. But, we can make an exception for the Camaro. This custom race-inspired Blade Spoiler Kit matches the body color of your new Camaro, and is available on LS and LT models. It's a factory option on SS models, so if you already have an SS Camaro, then this will look familiar to you. Although, it's not compatible with some racing and performance decals.
Engine Cover
Going to car shows with your Camaro? Then you better make sure under the hood is presentable, because you know people are going to want to see inside. With this engine cover, your Camaro will look like a professional is driving it.
Of course, aesthetics aren't the only purpose of an engine cover. It also — like it's so aptly named — covers it to help protect it from rust and the elements.
These engine covers can be found for all the various engines that the new Camaro has.
Performance Air Intake
If it's more performance-oriented style that you're looking for, then your Camaro will benefit from a performance air intake installed. Not only does it look great under the hood, but it also includes a reusable open-element air filter, a sealed compartment, and all of the necessary installation hardware. However, since McCluskey Chevrolet orders and installs the parts for you, the only thing you have to worry about is enjoying the way it looks — along with the performance benefits it provides. However, it's only available exclusively for Camaro LT models with the 3.6-liter V6 engine.
It creates a 15% reduction in pressure drop, and therefore helps boost the performance of the engine, really letting the Camaro's 3.6-liter open up its full potential.
Performance Exhaust
While we can't add the performance air intake onto the Camaro SS (Super Sport), we do have something for those looking to upgrade that model.
A performance exhaust is a great way to add some extra horsepower to an already powerful vehicle. With the Camaro SS' stock 450 horsepower/450 lb.-ft. of torque, this muscle car will be taken to the next level.
Not only can McCluskey Chevrolet get you a compatible performance exhaust for the SS model, we can also get it for the other engines the Camaro is equipped with as well.
Suspension Lowering Package
Another way to make your LS/LT Camaro look even cooler, and act more like its SS counterpart, is by lowering the suspension on it.
With the suspension lowering system we can install for you, the vehicle's ride height drops by up to 20 mm. The components we'll install include front and rear coil springs, front struts, rear shocks, and replacement fasteners.
Throwing on this suspension lowering kit will also improve the handling and steering of your Camaro, allowing you to have a lot more fun cornering.
Or, Just Buy it Pre-Accessorized – Courtesy of McCluskey Chevrolet
Of course, instead of having us upgrade your current ride, McCluskey Chevrolet could always just sell you a pre-accessorized 2017 Camaro.
The process is the same: just call in and talk to one of our Personalization Consultants, and tell them what you're looking to get installed on your new Camaro. It could be things like the suspension lowering package, performance exhaust, or ground effects and decals to "bling" your Camaro.
Or, it could be something more practical for any of our other great new Chevrolet models, such as the Cruze, Malibu, Silverado (1500, 2500, and 3500), and even the Equinox or Impala.
The point is, if you need parts and accessories for your Chevrolet model, McCluskey Chevrolet is the place to go. Whether you want us to outfit your current ride, or build a new model with you from a bare bones kit to one that better matches your personality, you can count on us.