Chevrolet is the Answer to Your Business Fleet Needs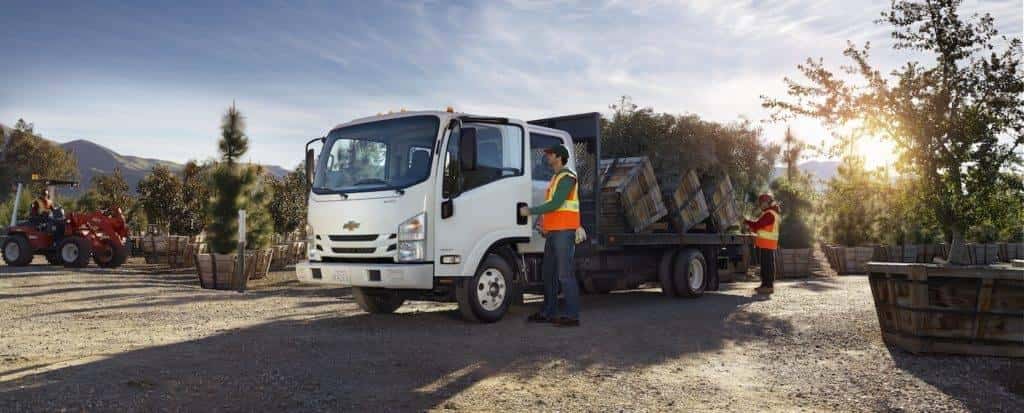 Are you a business owner in need of a commercial vehicle fleet? Rather than a fleet, perhaps you need just one capable commercial truck to help with the day-to-day operations of your company. Researching the different brands, options, truck types, body styles, and everything else that accompanies the commercial truck segment can be exhausting, to say the least. By the time you are able to wrap your head around the exact body style your work demands, you are immediately inundated with different brands and heated claims as to why one is better than the next. Rather than desperately try to convince you why one brand of commercial trucks is less advantageous than purchasing a Chevy box truck, let's simply take a look at the facts.
Need a Commercial Vehicle or Fleet? Chevy is the Answer
Chevrolet has a lot to offer small, medium, and large-sized business owners in need of a dependable vehicle fleet, and we believe that the bowtie brand's lineup stands on its own and speaks for itself in terms of all that it has to offer. Regardless of whether your particular business needs require a heavy-duty hauler, or a compact refrigerated van, the bowtie brand has you covered. Take a look at just how versatile the Chevrolet commercial vehicle lineup is, and why more business owners are putting their trust in the American-made durability that only Chevy can offer.
Chassis Cabs and Cutaways
Whether your business requires a flatbed truck, an enclosed bed, or a Chassis Cab with the ability to haul large and heavy items, the Chevy commercial lineup has you covered. Check out the three basic commercial truck body styles available for the 2017 model year, and discover which one may be the solution to your unique business needs.
2017 Silverado Chassis Cab: Built for heavy-duty jobs, the 2017 Silverado Chassis Cab offers plenty in terms of affordability, functionality, and of course – power.
Affordable: Starting at just $33,755, the Silverado Chassis Cab is a great option for businesses getting off the ground, or for those with a more conservative budget. Don't be fooled, this low starting MSRP is not a sign of weakness. Rather, this particular commercial Chevy truck packs so much power and amenities, that business owners regularly choose it over the competition.
Powerful: Did we mention that the 2017 Silverado Chassis Cab is powerful? Even so, it is worth mentioning again. With the available Duramax 6.6-liter Turbo-Diesel V8 engine, this powerful commercial truck option offer a class-leading 445 horsepower rating, and an incredible 910 lb.-ft. of torque. Such a powerful engine requires a design that keeps it in check, which is why Chevy designed this Silverado with a state of the art induction system, complete with two air inlets, capable of performing in even the most extreme of environments.
Versatile: Chevrolet knows commercial trucking, and as such recognizes that commercial vehicles require a different level of adaptability and versatility. For this very reason, the 2017 Silverado Chassis Cab comes with three different wheelbase options. The shortest being 137.5 feet in length, the mid-level offering 162 feet of overall length, and the third delivering a show-stopping 171.5 foot long wheelbase. Whatever your particular needs require, this truck can more than handle it.
Multiple Body Applications: The base Silverado Chassis Cab is a blank slate, able to adapt to your particular body style needs. Available with a utility body, a dump truck body, or a flatbed – it doesn't matter if you need to store, haul, or transport heavy materials, because this chameleon-commercial truck has you covered.
2017 Low Cab Forward: The most popular commercial option available in the Chevy lineup is the Low Cab Forward, or LCF truck. The heart and soul of this affordable truck is its cab, which is uniquely designed for optimum performance and efficiency. Loaded with a long list of incredible amenities and features, the 2017 Low Cab Forward truck from Chevy may be exactly what your small business needs.
Maneuverable: Above all else, the Chevrolet LCF truck was designed for ease of maneuverability as well as versatility. The LCF cabin design allows for easy access to the truck's engine, as well as a spacious interior cabin that doubles as an efficient work space. The Cab Over Design makes it easy for operators and passengers to see what lies ahead, behind, and on either side of the Chevy LCF truck, even in tight urban spaces.
Multiple Cab Types: The 2017 Chevy Low Cab Forward truck comes with either a regular or crew cab. The regular cab option essentially features a spacious front row of seating, with the same work space amenities that this commercial model is best known for providing. The Crew Cab includes a rear seat area, and is capable of transporting a higher number of employees or clients at the same time.
Efficient Work Space: When your crew is on the road for the majority of the day, it can be tedious and exhausting to have to come back to the office in order to file paperwork and take care of other odds and ends. Thanks to the Chevrolet Low Cab Forward intuitive cabin design, your crew can keep up with paperwork on the go. Fold-down trays double as a laptop and work area, while multiple storage compartments enable productivity to be at an all-time high. No matter what your particular on-board convenience needs are, this is one commercial truck that can handle them all.
Upfits: The Low Cab Forward commercial truck from Chevrolet is able to transform in order to fit your particular business needs. The flatbed style allows for seemingly unlimited hauling capability, while a box truck upfit can turn your flat bed truck into a secure and private storage facility on wheels. There are so many ways to transform the 2017 Chevy LCF truck, it's no wonder why it has been dubbed the chameleon of commercial truck options.
2017 Express Cutaway: With a starting price of under $30,000, the 2017 Express Cutaway truck from Chevrolet is the affordable solution that many small business owners are looking for. While the cab design is not as user-friendly as the LCF truck tends to be, it does have plenty of incredible features that are responsible for earning the trust and respect of business owners from across the nation.
Powerful: The Express Cutaway truck from Chevrolet has a maximum GCWR of 20,000 pounds, and a maximum payload capacity of 9,156 pounds.
Versatile: When we say that this commercial truck model is versatile, we aren't messing around. Used by multiple industries for a variety of applications, the Express Cutaway is one of the most versatile and widely-utilized commercial truck of its kind on the road. Used as a utility and service truck, as a cargo or passenger van, an ambulance, school bus, and more – this truck offers much more than meets the eye.
Technologically Savvy: Chevrolet does not disappoint business owners when it comes to technology available on the Express Cutaway truck. Equipped with a 120-volt power outlet, two auxiliary outlets, a USB port, an optional rear vision camera, and a large touchscreen display – you can customize this truck to include the exact amount of technology you need in order to get the job done right.
There are so many incredible commercial vehicle options available from Chevrolet, it's hard to include them all in one post. Be sure to stay tuned and discover other intuitive commercial vehicles offered by the bowtie brand for the 2017 model year, in the second part of this two-part series.