Chevy Cars
Being a dealership in the business of selling Chevy vehicles comes with an inherent sense of pride. It means that we have the ability to help our customers buy some of the most dependable and highly-awarded vehicles on the planet. Whether you're in the market for Chevy cars, trucks, crossovers, SUVs or performance vehicles, their well-realized lineup covers all the bases; and the 2018 model year is certainly no exception.
Consider for a moment that Chevy enters 2018 with two consecutive years of having been recognized as 'Most Dependable' across their entire line, by J.D. Power & Associates. Add in a variety of accolades for both safety and value, and it's easy to see why so many Chevy models receive 'Top', 'Best' and 'Most Wanted' picks within their respective segments.
Why McCluskey ChevyNew InventoryIncentives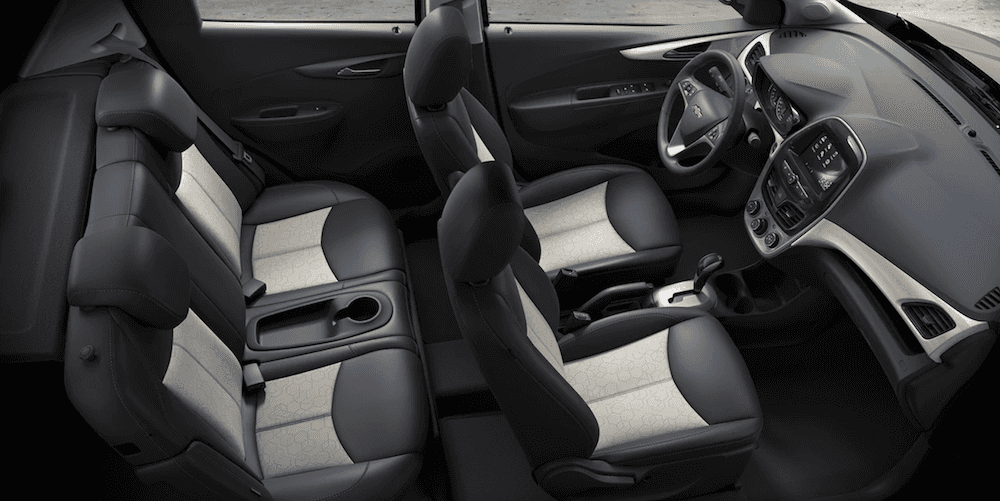 Chevy Spark
Chevy's lineup of enticing car offerings being with the Chevy Spark, accessibly-priced to start at $13,050 MSRP. Selected by Kelley Blue Book as one of their 10 Most Affordable Cars, and earning praise for its 5-Year Cost-to-Own Value, the Spark represents a paradigm shift in vehicle design. Mirroring the demands of a new generation of drivers, it addresses practical concerns such as fuel economy alongside the demand for innovative styling and available technologies. In fact one of Chevy's greatest successes lies in their ability to incorporate technology into their most accessibly-priced offerings. Refusing to limit tech amenities to higher-trim levels, Chevy continues to show that it understands the demands voiced by all of their customers.
Chevy Sonic
Following the same 'fun and funky' mindset is the Chevy Sonic, priced to start around $15,295 MSRP and available in either sedan or hatchback styling. Still enjoying a number of updates made in the last model year, this innovatively styled subcompact is available in three trim levels, and secured the J.D. Power and Associates award for 'Most Dependable Small Car'.
Chevy Cruze
Another offerings served up in both sedan and hatchback styling is the Chevy Cruz, available in four trim levels, and priced to start around $16,975 MSRP. The Cruze is a prime representation of how effectively Chevy balances economy and amenity, with no shortage of technologies made available to enhance the overall experience. In addition, the option to replace the turbocharged 1.4-liter four-cylinder engine with a turbocharged 1.6-liter diesel may prove appealing to those with an eye on fuel economy. All in all, the Cruze speaks to Chevy innovation.
Chevy Malibu
Chosen by U.S. News & World Report as the 'Best Midsize Car for Families' the Malibu is also available in an equally celebrated hybrid variant. Both rate an IIHS Top Safety Pick, making the Malibu a dynamic sedan offering designed to meet the demands of today's families. With the base model priced to start around $21,680 MSRP, the Malibu is ideally priced for nearly every budget. And with an appealingly stylish aesthetic, well-designed interior and nicely-mannered ride, the Malibu shows that the right family sedan is still more than capable of turning a few heads.
Chevy Impala
Last, but certainly not least, is the iconic Chevy Impala. Priced to start around $27,895 MSRP the Impala is yet another Chevy offering made available as a hybrid variant. Served up in three trim levels, the standard Impala comes with one of two engine choices, capable of up to 305 hp and 264 lb-ft of torque. More than just a well-powered sedan, the Impala offers a number of upscale features made available across its trim levels and enhancement packages. In a world where so many families overlook a sedan in favor of crossover or SUV offerings, the Impala provides a near-perfect argument against the need to do so. Considering its overall longevity, its' enduring appeal is easy to understand.
Pre-Owned Chevy
Even if new model year offerings aren't what you're looking for, the combination of Chevy's quality offerings over recent model years, and McCluskey Chevrolet's unparalleled selection ensures that we will find exactly what you're looking for.
GM Certified Pre-Owned Chevy
And if you're undecided about buying pre-owned, keep mind that McCluskey Chevrolet is a GM-Authorized seller of GM Certified vehicles. This allows us to partner with GM in identifying previously-owned vehicles of higher value, due to their ability to meet very specific criteria.
Would you buy a pre-owned vehicle with greater confidence if it had a clean history report? What if it was less than five years old, with fewer than 75,000 miles on its odometer? What if it passed a 172-point inspection to ensure that it met factory standards? And what if any parts that failed to meet those standards were refurbished, repaired or replaced? As if those weren't benefit enough, GM Certified vehicles come with extended warranties, scheduled maintenance programs, and a variety of perks worth exploring. If you're interested, ask us more about our GM Certified offerings.
Vist McCluskey Chevrolet Today

Whether you're looking to buy new, pre-owned, or Certified, you won't find a wider selection of vehicles than that found at McCluskey Chevrolet. In fact, if we don't have the exact model, year, trim level (and even color) we'll cast a nationwide net to make sure that you get the exact vehicle that you want.
Why? Because car buying shouldn't be about making concessions, it should be based around the singular goal of achieving your satisfaction. At McCluskey Chevrolet, we recognize the role that we play in ensuring that satisfaction. Unlike other dealerships, we're not focused on selling you the Chevy cars and trucks that we have on our lot; we simply want to help you buy the Chevy car or truck that you want.
And doesn't that make all the difference? Visit us today and find out just how easy it can be, to be truly satisfied with the purchase of your next Chevrolet.
Get In Touch