Chevy Dealers Dayton Ohio
Are you preparing for a trip to Chevy dealers in Dayton Ohio? Well, you won't have to think too long about where you're going to be making that purchase. After all, McCluskey Chevy is the perfect choice for those seeking one of the brand's vehicles in Ohio.
However, you may face some tough decisions when you're choosing between the brand's available models. Take a look at some of the brand's most luxurious offerings, and then see why you should be pursuing that new vehicle from McCluskey Chevy…
Why McCluskey Chevy?New VehiclesFinancing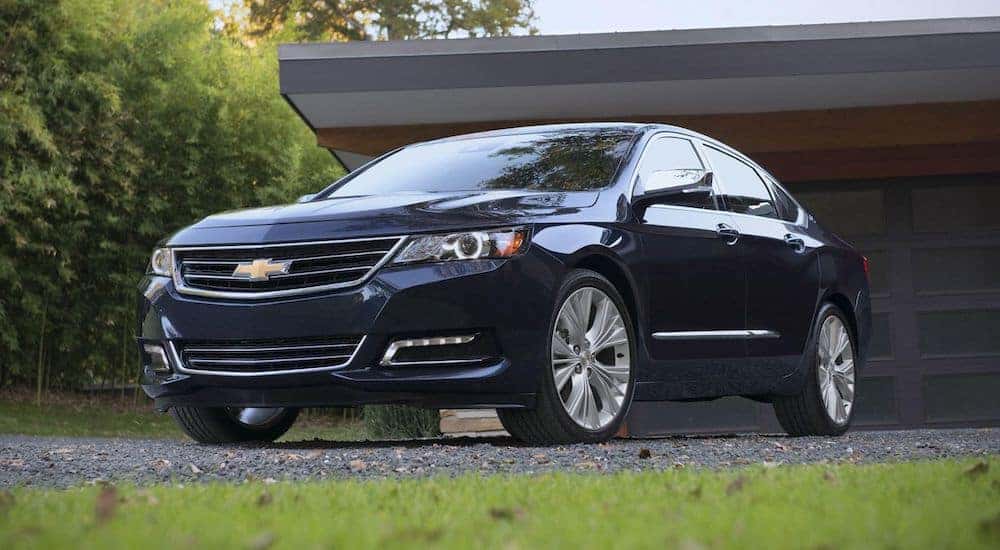 Which Chevy?
While it's a good predicament to be in, you may have a tough time choosing between Chevy's array of available vehicles. Whether you're hunting for a sedan, SUV, or pickup truck, the brand manages to provide a number of logical options.
Of course, it's always a bit of fun looking at the brand's top-of-the-line offerings. Check out some of the brand's more luxurious rides below.
2019 Chevy Impala
The Impala is considered one of the premier luxury vehicles on the road today, and for very good reason. One look at the 2019 Chevy Impala, and you can instantly tell how elegant this nameplate is. Whether you're eyeing the striking exterior or the opulent interior, you'll understand why the vehicle ends up costing a pretty penny.
However, the 2019 Chevy Impala is so much more than a pretty face. Rather, engineers have seemingly optimized every aspect of the sedan. It starts with the two engine offerings, as drivers will have the ability to choose between performance or efficiency. The 3.6-liter V6 engine is for those seeking a mighty system, as the unit can ultimately pump out up to 305 horsepower. Meanwhile, the 2.5-liter four-cylinder engine is for those seeking the utmost efficiency. Thanks to fuel-saving technologies like Direct Injection, Variable Valve Timing, and Stop/Start technology, drivers can capitalize on a 29-mile-per-gallon highway fuel efficiency.
Fortunately, you'll never have to worry about your luxury vehicle landing in a precarious situation. Thanks to the array of preventative safety functions that are included in the 2019 Chevy Impala, drivers can easily avoid dangerous driving situations. These functions played a significant role in the nameplate earning a five-star Overall Vehicle Score from the National Highway Traffic Safety Administration.
Inclusions like the Lane Departure Warning, Forward Collision Alert (and the accompanying Forward Automatic Braking), Adaptive Cruise Control Advanced system, Lane Departure Warning, and the Lane Change Alert (with the Side Blind Zone Alert) will prove to be invaluable on the highway, as they'll help drivers avoid potentially devastating collisions. Meanwhile, the Rear Vision Camera and the Rear Cross Traffic Alert will be useful in parking lots, as drivers can avoid those pesky (and potentially dangerous) fender benders.
Sure, the 2019 Chevy Impala may be listed as a luxury vehicle (and it certainly earns that distinction). However, thanks to the incredible performance and top-notch safety functions, the nameplate proves to be so much more.
2019 Chevy Suburban
The Chevy Suburban is one of the industry's premier SUVs, and it explains why the nameplate is one of the most popular offerings in the industry. The vehicle manages to deliver across the board, promising drivers a unique blend of performance, interior amenities, and safety functions.
It starts with the incredible 5.3-liter EcoTec3 V8 engine, which provides owners with a unique blend of performance and efficiency. The system pumps out 355 horsepower and 383 pound-feet of torque, making it one of the most powerful systems on the road. These power specs end up having a significant impact on other aspects of the vehicle, including the 8,300-pound towing capacity. Perhaps best of all, the lightweight suspension plays a significant role in the 22-mile-per-gallon highway fuel efficiency.
The interior delivers all of the amenities you could possibly want from a new SUV. The Chevrolet Infotainment System is the real star of the interior, and the accompanying Apple CarPlay and Android Auto compatibility means occupants can seamlessly connect their smartphone to the unit. The available 4G LTE Wi-Fi will allow all of your passengers to constantly stay on the grid, while the Rear-Seat Entertainment System will be a solid choice for those who are looking to keep their younger occupants distracted during a lengthy car ride. If you're looking for technology from your next SUV, the 2019 Chevy Suburban clearly proves to be a solid choice. 
Of course, the vehicle is also plenty spacious. The SUV delivers plenty of room behind the third row, as owners can capitalize on the 39.3-cubic-feet of space, which should be more than enough space to fit any luggage or sports equipment. However, if you take advantage of the power-release second-row and power-fold-flat third-row seats, you can capitalize on an incredible 121.7-cubic-feet of interior space. Add in the hands-free power lift gate, and you're looking at one of the most convenient road trips you've ever experienced.
Of course, to top it all off, the 2019 Chevy Suburban also includes a variety of safety functions. Many of these functions will be essential when traveling at high speeds, including the Forward Collision Alert and the Lane Change Alert (with Side Blind Zone Alert). Meanwhile, inclusions like the Rear Park Assist will prevent fender benders, and they'll also take any parking-related stress away from your driving experience.
The 2019 Chevy Suburban is one of the most versatile vehicles in the industry, and it will surely check off every targeted amenity that you have on your list.
2019 Silverado HD

The Silverado HD is one of the powerful vehicles on the road, making the nameplate the perfect worksite companion. If you're looking for a vehicle that can accommodate all of your work-related needs, you don't have to look any further than the 2019 Silverado HD.
The Duramax 6.6-liter turbo-diesel V8 engine cranks out a whole lot of power at 445 horsepower and 910 pound-feet of torque, leading to a 23,100-pound towing capacity on the 3500HD variation. Meanwhile, the Vortec 6.0-liter V8 engine promises drivers up to 360 horsepower and 380 pound-feet of torque, and the accompanying six-speed automatic heavy-duty transmission will be more than ready to overcome any road condition you throw its way. The engine also leads to an impressive 14,400-pound towing capacity on the 2500HD, meaning your new pickup will be more-than-prepared to haul any heavy loads. 
Considering this towing prowess, engineers included a number of amenities that will assure you're always in control. The Tow/Haul Mode adapts the vehicle to accommodate the extra load, while the StabiliTrak with Trailer Sway Control assures that you're always staying in control. The Hill Start Assist will give drivers that extra push or some extra brakes when traveling on an incline, while the Digital Steering Assist will assure that you're always remaining on your intended path.
The 2019 Silverado HD is the ideal choice for those seeking a vehicle for the worksite, but the vehicle's array of features also makes it a perfect choice for any type of driver.
Looking for a Chevy Dealer Near Dayton Ohio? Think McCluskey!
You'll clearly have a number of options to choose from as you're shopping for a new Chevy. However, when it comes to Chevy dealers near Dayton Ohio, you shouldn't look any further than McCluskey Chevy. We are focused on providing customers with the best buying experience possible, and we achieve this via our vast inventory, helpful services, and flexible hours. See why McCluskey Chevy should be your only choice when purchasing one of Chevy's vehicles.
Inventory
You'll have your choice of Chevy vehicles when you visit McCluskey Chevy. This Cincinnati, Ohio-based dealership is fully stocked with a number of 2018 and 2019 models, so you'll easily be able to find your target. Regardless of whether you're searching for a sedan (like the 2019 Chevy Impala), an SUV (like the 2019 Chevy Suburban), or a pickup truck (like the 2019 Silverado HD), you'll surely find your next ride sitting on our lot.
Plus, we also have affordable options for those on a budget, including a wide variety of used vehicles. That way, if you're shopping for a vehicle on a budget, you won't have to worry about your ability to afford one of McCluskey's vehicles. Rather, you'll be able to find a car that fits into your specific budget.
Services
McCluskey will be by your side before and after you've made your purchase. Thanks to our array of services, you can count on us to help you during every step of your car-owning journey.
The finance department is in place to help those who may need a line of credit when purchasing a vehicle. Even if you're struggling with a poor credit score, you can rest easy knowing that McCluskey will approve your impending financing agreement.
Meanwhile, the service department can help you with any issues you may run into with your new Chevy vehicle. Whether you need some simple service or extensive repairs, you won't have to turn to an untrustworthy mechanic when seeking service. Rather, you can turn to McCluskey's service department to help you with your every need.
Convenience
We all know how stressful the car-buying process can be. Fortunately, McCluskey Chevy is more than ready to make the ordeal as easy-going as possible.
Their flexible hours means you'll never have to shift around your schedule in order to visit the business. Our dealership is open seven days a week, including until 9 pm on Monday through Thursday. That way, you can visit McCluskey after work or during the weekend. The same goes for their service department, and the flexible hours means you can complete your errand before you even start your day!