Chevy is King of the Commute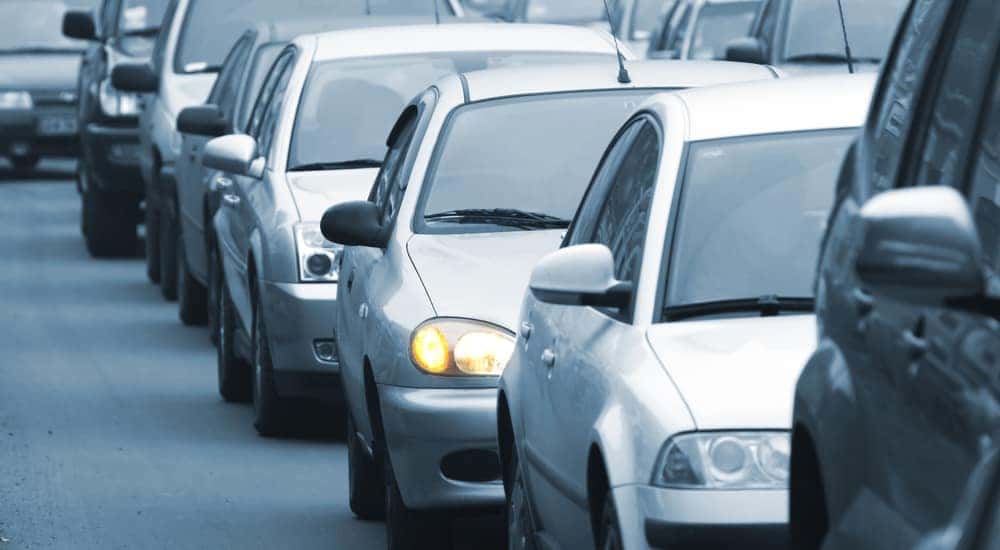 While the professional trend is increasingly shifting toward remote work-from-home jobs, the majority of American adults are faced with a grueling commute to and from the office each day. Here in the greater Cincinnati area, the average commute time according to WNYC.org, is anywhere from 20-40 minutes. For those with much longer daily commute times, twenty minutes one way may seem like a dream. For others, it is a complete and total nightmare. Until Chevrolet and Lyft perfect the self-driving car technology they are currently testing out in Detroit, American drivers will continue to trek to the office each day, with at least a small amount of angst. Rather than sit back and read, surf the web, or nap on our way into work, we are forced to navigate the roadways ourselves. As much as commuters dream of the day when autonomous cars are a part of our daily lives, the fact of the matter is that they are not. Rather than get frustrated about your daily commute into work each day, find out how you can make it better than ever by visiting your local Chevy dealers in Ohio.
Chevrolet is the King of the Commute
When it comes time to choose a new commuter car to get you safely to work each day, there is no better brand than Chevrolet. While other automotive manufacturers are focusing their efforts on off-road SUVs, pickup trucks, and minivans – Chevy is putting hard-working Americans first. With so many exceptional Chevy cars worthy of your daily commute, it's no wonder why the bowtie brand has earned the unofficial title of King of the Commute. It may not be the most glamorous designation, but the brand is helping millions of Americans get to and from work each day in style, comfort, and class.
As Chevrolet is King of the Commute, you may be wondering what that means. Why is this brand's lineup better for long commutes than other options on the market? The best way to answer that excellent question is by examining what commuters want out of their cars, and how Chevrolet delivers a solution to each one of their unique needs.
NEED: Comfortable Seats
SOLUTION: The Chevrolet car lineup has plenty of options with comfortable seats designed specifically for drivers with longer commutes. While the Spark was meant as a city car for shorter commute times, its seats are still reinforced to provide long-lasting support and comfort for both driver and passengers. The 2017 Chevy Cruze also delivers supportive and comfortable seating, which includes standard heated front seats on the Premier trim level, perfect for the colder winter months in Cincinnati. The entire 2017 Chevy lineup of sedans, coupes, and hatchbacks have been custom designed with ultimate ergonomic comfort in mind. Whether you opt for the "fun-size" Spark, or the larger Malibu, you will be comfortably supported on your way into the office.
NEED: Efficiency
SOLUTION: Chevrolet's entire car lineup is teaming with models which feature exceptional fuel economy ratings. The two most impressive options come with alternative propulsion capabilities to save you even more money at the pump. The 2017 Volt hybrid uses a combination of gasoline and electric power, and has a total range of 420 miles on a full charge and a full tank of gas. For shorter commute times, drivers can take advantage of the Volt's 53-mile all-electric range. The newest addition to the Chevy lineup is the 2017 Bolt EV. While it won't make its way to Cincinnati dealerships until next year, the Bolt can travel up to 238 miles on a single charge, and is perfect for both short and long daily commutes. For traditional gasoline cars, the Spark manages 38 MPG on the highway, the 2017 Cruze gets 40 highway MPG rating, and the 2017 Chevy Malibu can reach up to 36 miles per gallon on the highway. Whichever model you choose, you can't go wrong with Chevrolet's fuel efficient lineup.
NEED: Convenience
SOLUTION: All of the cars in Chevy's lineup have been designed with an interior built around the driver. With convenient technologies at your fingertips, there is nothing out of reach while on the road. Drivers can stay focused on the task at hand with hands-free smartphone integration from Apple CarPlay and Android Auto, and keep connected through the Chevy MyLink infotainment system with large touchscreen displays. With on-board OnStar services, drivers can make their daily commute with the peace of mind that they are a just a touch away from help in the event of an emergency. While most daily commuters take their trips solo, some people carpool with co-workers into the office. For those who rideshare, Chevy's built-in Wi-Fi 4G LTE hotspot is a great convenience feature that both driver and passengers will appreciate. Once again proving that they are the King of the Commute, Chevrolet delivers in this essential area as well.
NEED: Affordability
SOLUTION: While no one buys a new car anticipating the day it will stop working, long daily commuters put extra strain on their vehicles than other car owners. Finding a brand new, inexpensive vehicle with all the bells and whistles isn't the easiest task, but Chevrolet makes it easy. Check out the starting MSRP of each one of Chevy's cars below, and see why they are the most affordable lineup of commuter cars on the market:
2017 Chevy Spark: $13,000
2017 Chevy Sonic: $15,145
2017 Chevy Cruze: $16,975
2017 Chevy Malibu: $21,680
2017 Chevy Impala: $27,300
2017 Chevy Volt: $33,220
2017 Chevy Bolt: $36,620
Each one of Chevy's commuter cars comes in at well under $40,000, especially after subtracting government tax incentives on the Volt and the Bolt which are estimated to be around $7,000.
If you are commuting to work each day and need a new car that is tailored toward your unique situation, come down to McCluskey Chevrolet, and discover all that the bowtie brand has available for 2017. Don't spend another day crammed into an uncomfortable and unsupportive cabin with outdated technology and unsafe features. Chevrolet has you covered, and the team at McCluskey Chevrolet wants to help you discover an easier way to get into the office. Come down and take each one of these impressively equipped models for a test drive, and see which one is the perfect fit for your on-the-go lifestyle.