Chevy Models
The holiday season is right around the corner and if you've been thinking about getting yourself into a new ride for 2018, then you already know that there is no better time to come visit McCluskey Chevrolet and check out our vast inventory of Chevy models. From sports cars to sedans, from SUVs to Silverados, we pride ourselves in offering the best selection of Chevy models possible – in fact, just about the only type of vehicle you won't find on our lot is the one and only Santa's sleigh.
This holiday season, don't spend your time making a list and checking it twice – you already know that the prices at McCluskey Chevy are always nice! And of course, if that isn't reason enough to swing by on your way home from Christmas shopping, there are plenty of other tempting reasons to stop in and see why McCluskey is the place to make your holiday wish list a reality.
Why McCluskey ChevyNew VehiclesIncentives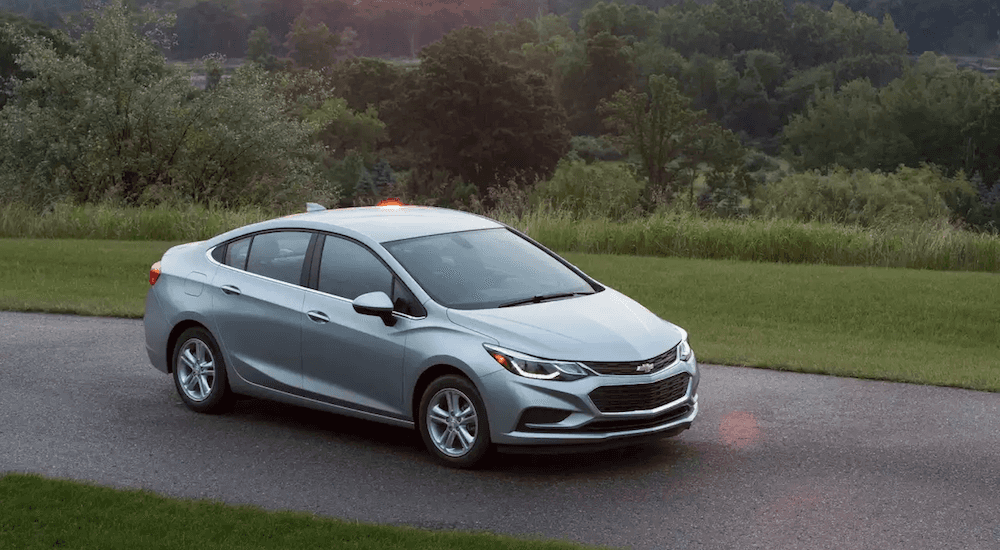 Our Sales Team: Always Nice, Never Naughty
We hate to say it, but the stress of the holidays can bring out the worst in people – and with sales teams across the nation desperate to make their final year-end sales, car shopping can quickly become an exercise in getting stressed out and pushed around by sales staff who just don't know when to take no for an answer. Let's just say that some other dealership's sales teams might just be waking up to a big lump of coal in their stocking.
At McCluskey Chevrolet, we pride ourselves on offering all of our customers a stress-free shopping experience, no matter what time of year it is. Don't waste your time working with sales teams that don't have your best interest in mind; after all, we can promise it won't be a merry time after you've agreed to buy a car that you've been pressured into purchasing. Come visit us at McCluskey Chevrolet and let our highly trained, knowledgeable and above all, friendly sales team walk you through our inventory and help you find the perfect car for you and your needs – and most importantly, we'll help you find the perfect car for your budget. The last thing we want to do is rope our customers into buying more car than they can afford… after all, we want this to be a relationship that lasts much longer than just your initial car purchase – we want to build a friendship that lasts for years to come.
Stop by, enjoy a complimentary cup of coffee and get to know our sales team while checking out our inventory – in fact, we welcome you to come take a break from all that holiday shopping and cooking! Our sales team is here Monday through Thursday from 9:00 AM to 9:00 PM, Friday, and Saturday from 9:00 AM to 6:00 PM and we are even here on Sundays from 10:00 AM to 6:00 PM. So no matter when you decide to step away from the gingerbread houses and the gift wrap, we'll be here to help you pick out your own very special (and very speedy) gift.
Our Finance Team is Fa-la-la-la Fabulous
If you're not sure whether you're looking for a new vehicle for the long haul or if you're just looking for something to spice up the next few holiday seasons, why not sit down with our fantastic finance team and let them walk you through some financing options? No matter if you decide to buy or lease one of our models, our financial experts help you find a payment plan that works for both you and your budget. We can also help you secure a reasonable loan, even if you're credit is less than perfect.
The holidays can be one of the most expensive times of the year, but there's no reason that with a little planning and some guidance from our team of financial elves you can't treat yourself to nice present this holiday season… after all, when you're driving your friends and family around in your new Chevy, you'll soon realize that your car is the gift that keeps on giving.
In fact, just to prove to you that we aren't the Grinchy type, why not head to our website and get started figuring out how to put your best financial foot forward by utilizing some of our free finance tools? You can use our handy "Shop by Payment" tool to help you narrow down some of your choices or you can even just go right ahead and apply directly for financing – all without having to worry about spending a dime or dinging your credit. Best of all, if you have a vehicle you'd like to trade-in, we've got two tools right on our website for you to use at your disposal: the Kelley Blue Book Instant Cash Offer tool or the Edmunds True Market Value tool. Find out how much equity you can apply to your new purchase without having to do any of the legwork – and then head in to visit at McCluskey and let us get you out of that old car and into a shiny, brand-new model. There's no reason to spend any money figuring out just how much money you can actually spend – just head to our website and let our free tools help guide your shopping experience.
No Need to Head to the North Pole
Santa's workshop isn't the only place where the magic happens; in fact, at McCluskey Automotive, we may not exactly build toys for all you good boys and girls, but we certainly do keep them running in top-notch condition thanks to our stellar team of service technicians. From routine oil changes to repairing any ding and bruises, your car might encounter along its way, our highly trained service team is always on hand to get your ride back on the road in pristine condition. We even have a body shop on site in case you find yourself in the unfortunate position of needing some major repairs done to your personal sleigh.
We know how frustrating it can be to bring your car in for service, so we have tried to make our service department hours as convenient as possible. You can find our service team hard at work Monday through Thursdays from 7:30 AM to 3:00 PM, Fridays from 7:30 AM to 6:00 PM, Saturdays from 9:00 AM to 4:00 PM and we're even open on Sundays from 10:00 AM to 4:00 PM. Keeping your car ready for last minute trips over the river and through the hills is important to us – after all, we don't want to keep Grandma waiting if your car breaks down on the side of the road, so we'll work quickly yet efficiently and thoroughly to make sure your car is safe for any holiday journey you may embark on
Jingle (your new keys) All the Way to 2019
So go ahead, make your season (and your year) merry and bright. It may not fit into a stocking, but seeing your new car sitting in your driveway will still make you feel all aglow with the holiday spirit. Come visit us at McCluskey Chevrolet and let us help you keep the bah-humbugs at bay all year round.
Come join our growing family at McCluskey Chevrolet. We would love to consider our award-winning dealership a part of yours.
Get In Touch