Chevy Trucks – Cincinnati, OH
Ask just about anyone, and they will tell you: Chevrolet makes some of the best trucks on the road. It does not matter if you are looking for a powerful, hardworking heavy-duty, or a sporty and off-road capable midsize pickup, Chevy has you covered. Of course, where you shop for your
Chevy trucks
is just as important as which one you choose, as your dealership can significantly impact your selection and long-term service. That is why you need to pick a dealership that puts your needs first, with reliable service, easy financing, and proven customer care.Here at McCluskey Chevy in Cincinnati, OH, we are committed to providing the best pickups on the road: new and used, midsize to heavy-duty, we have it all. No matter what kind of truck you are looking for, we will work with you to help you find the perfect pickup that offers everything you want, and that will keep working and playing for as long as you need it to. Our certified service department and factory parts center ensure you can stay on the road for many years to come, and you will always know where to turn for anything you need. Visit us at McCluskey Chevrolet today to pick from the best Chevy trucks anywhere.
About Us
New Chevy Trucks
Special Offers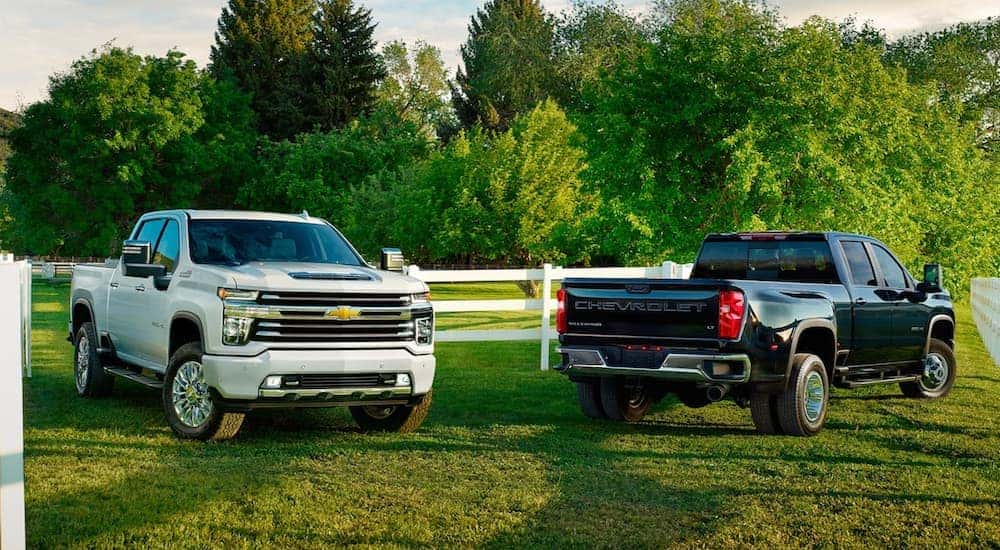 A Brief History of Chevy Trucks
The history of Chevy trucks stretches back over one hundred years. Chevy's first venture into the truck market came in 1918, with the Chevy One-Ton. This vehicle had a 36 hp four-cylinder engine and was generally sold as a bare chassis for the buyer to modify. But while this truck may have been a humble start, it was the first step that eventually led to the powerful and feature-packed trucks on our lot today. The original One-Ton was ultimately replaced by the 1929 International series. These trucks were built around a revolutionary 48 hp six-cylinder engine. Advertised as "six for the price of four," this engine put Chevy trucks on the map. Other updates for the International series included an enclosed cab and steel rather than wooden wheels.
While the stylish 1938 Chevy Half-Ton marked the first design from Chevy's Art and Color department, World War II interrupted civilian truck production before this new truck could make a name for itself. After that, Chevy's next major success was the 1947 Advanced Design series. With seating for three, a built-in radio, and up to 90 hp, these Chevy trucks soon became the best selling pickups in America. In 1955, the Advanced Design trucks were replaced by the Task Force series. And while this new generation was relatively short-lived, it did mark the first use of V8 engines in Chevy trucks.
But the Chevy C/K series trucks that followed Advanced design were anything but short-lived. First introduced in 1960, these trucks are among the company's most iconic vehicles and went through four generations before finally ending production in 1999. Among their innovations was the 1973 C30 one-ton, which was the first dual rear wheel crew cab on the market and is often considered to be the first modern heavy-duty truck, although its 155 hp V8 would be regarded as lacking by today's standards. The last generation of the C/K series trucks also marked the first use of Chevy's now-familiar 1500, 2500, and 3500 naming scheme as well as the introduction of the Silverado moniker for its top trim. This trim was such a success that when the C/K series was replaced in 1999, the new truck was dubbed the Silverado.
But while the full-size Chevy trucks became larger and more powerful, Chevy also recognized a need for a smaller truck to complement its C/K series, which led to the Chevy S10 in 1982. This handy little vehicle was renamed the Chevy Colorado in 2004 to match the new Silverado name for the larger truck. While the original Colorado ended production in 2012, a new and improved Chevy Colorado hit the market in 2015 and remains a strong complement to the larger Silverado.
New Pickups
If you are looking for brand-new Chevy trucks, then we have you covered with a huge selection of new pickups for you to choose from. We typically have over 100 different trucks for you to choose from, offering you a large variety of different Chevy models, trims, and configurations to consider. There is no single truck that is perfect for everyone, so we believe in having a diverse inventory that lets us help you find the right pickup for you. It does not matter if you know just what you want or still have a lot of questions; we are here to help.
Our friendly and knowledgeable salespeople live, work, and breathe Chevrolet, especially the lineup of amazing trucks. We are just as passionate and excited about Chevy trucks as you are. For this reason, we love working with all of our customers to find the right Chevy for them. Whether you need a heavy-duty option to get some serious work done, or you want something a bit lighter for getting away on the weekend, we will not call it a day until you drive away completely satisfied.
The Midsize Chevrolet Colorado

The smallest of the Chevy trucks is the Chevrolet Colorado. However, size is not everything, and this midsize pickup can still handle almost anything that is thrown at it. While we here at McCluskey Chevrolet prefer to let our vehicles speak for themselves, the excellence of the 2020 Chevrolet Colorado can be seen in the number of awards that it has amassed. Not only has it won the Kelley Blue Book's "Best Buy" award for midsize pickup trucks, but its top of the line ZR2 trim has also been picked as both Popular Mechanic's Editor's Choice for Best Off-Roader and Overland Journal's Truck of the Year.
As with all Chevy trucks, the 2020 Chevrolet Colorado is available in a large number of configurations to best suit your needs. It is offered in three body styles, including an extended cab long box, a crew cab long box, and a crew cab short box. The long box on the Chevrolet Colorado has a length of 74″ while the short box measures 61.7," giving you plenty of space for cargo. The extended cab on the Chevrolet Colorado can fit four, but it has limited legroom and a lack of rear doors, meaning, if you expect to carry passengers regularly, the five-seat crew cab is the better choice.
Engine options for the 2020 Chevrolet Colorado include an efficient 2.5L four-cylinder with 200 horsepower and 191 pound-feet of torque, a capable 3.6L V6 with 308 horsepower and 275 pound-feet of torque, or a powerful 2.8L turbo-diesel with 181 horsepower and 369 pound-feet of torque. While the four-cylinder and turbo-diesel are paired with a six-speed automatic transmission, the V6 has the added advantage of a modern eight-speed automatic transmission. However, all three engines are available with either RWD or a 4WD drivetrain. And if 4WD is chosen, it will come with a two-speed electronic transfer case and the option of an automatic locking rear differential for maximum traction.
Trims and Prices of the Colorado
Trim levels for the 2020 Chevrolet Colorado include the Base, WT, LT, Z71, and ZR2. The Base trim is only offered in the extended cab long box configuration and has no rear seats, the four-cylinder engine, and RWD. But despite being Chevy's affordable work truck and starting at just $22,395, the Base trim still includes luxury features such as a power-adjustable driver's seat, 7″ touchscreen, and backup camera. The WT trim starts at $25,895 and shares many of the standard features of the Base trim, but has some additional options and is available in all three body styles with either the four-cylinder or the V6 engine and RWD or 4WD.
While the next highest LT trim is more luxury-oriented and includes features such as an 8″ touchscreen with satellite and HD radio, it is also the lowest trim that offers the turbo-diesel engine. The LT trim also offers several high-value optional packages for improving safety, performance, and luxury. This trim starts at $28,795, making it one of the best balances of cost and features among the available Chevy trucks.
Finally, the Z71 and ZR2 trims are the most capable versions of the 2020 Chevrolet Colorado. The Z71 is intended as the top general-purpose trim and comes with either the V6 or the turbo-diesel engine. While it is possible to get a rear-wheel-drive Z71, most configurations of this trim are only available in 4WD. On the inside, the Z71 trim is packed with features from automatic climate control to heated seats, but it also includes performance upgrades such as Hill Descent Control. The ZR2 trim shares most of the features of the Z71 trim, but it is optimized for off-road performance and has been upgraded with locking front and rear differentials, improved suspension, and additional skid plates. If you want one of Chevy's trucks for off-road performance, then the Colorado ZR2 is the vehicle for you.
The Full-Size Chevrolet Silverado

The full-size Chevrolet Silverado is the larger of the Chevy trucks and comes in three versions. The Silverado 1500, the Silverado 2500 HD, and the Silverado 3500 HD. The HD (Heavy Duty) versions of the truck have been completely redesigned for the 2020 model year, following the success of the 2019 redesign of the Silverado 1500. These powerful Chevy trucks have maximum payloads ranging from 2,250 pounds for the Silverado 1500 all the way up to an incredible 7,442 pounds for the Silverado 3500 HD, giving you enough power to complete any job. And with nine different cab and bed configurations, Chevy has ensured that you will be able to find the perfect truck to fit your needs.
All three cab designs for the 2020 Chevrolet Silverado include a front bench seat, allowing the truck to seat three people in the regular cab or six people in the double cab and crew cab. And if you are not carrying a middle passenger upfront, the back of the middle seat can fold down into a center armrest that gives you the same interior feel as a truck with bucket seats. Cargo box lengths on the Chevrolet Silverado are 69.92″ for the short bed, 79.44″ for the standard bed, or 98.18″ for the long bed, giving you enough space for nearly any load. And if you do need more space, then the Chevrolet Silverado is more than capable of pulling a trailer, with tow ratings of up to 35,500 pounds.
Powerful Engines and Advanced Features
The Silverado 1500 has no fewer than six different engine options, while the Silverado HD has two separate options of its own. For the Silverado 1500, the available consist of a 2.7L turbo with 310 horsepower and 348 pound-feet of torque, a 4.3L V6 with 285 horsepower and 305 pound-feet of torque, a 5.3L V8 with 355 horsepower and 384 pound-feet of torque, a 6.2L V8 with 420 horsepower and 460 pound-feet of torque, and a 3.0L turbo-diesel with 277 horsepower and 460 pound-feet of torque. All of these engines can be excellent choices, and their high torque values are part of what makes the Chevrolet Silverado one of the most capable vehicles in its segment.
For the HD versions of the Silverado, Chevy offers two even more powerful engine options, a 6.6L V8 with 401 hp and 464 lb-ft of torque, or a 6.6L turbo-diesel with 445 hp and a staggering 910 lb-ft of torque. Either one of these will provide you with the power you need to get through the toughest jobs. And on all three versions of the 2020 Chevrolet Silverado, the more powerful engines are paired with an advanced ten-speed automatic transmission to maximize their potential. On top of its extra gears, Chevy trucks with this transmission benefit from having multiple modes to optimize transmission performance to the terrain and job at hand.
However, the 2020 Chevrolet Silverado is not only a highly capable truck, but it can also be an extremely comfortable one. Its spacious and well-designed cabin is filled with standard and optional features designed to make your life easier. Some of these features include advanced technology designed to simplify towing, with an innovative, customizable towing app in the infotainment system, as well as up to fifteen camera views to let you know what is happening behind you. Plus, there are other features to improve safety, such as the available heads up display, adaptive cruise control, and automatic emergency braking. Finally, the Chevrolet Silverado includes a number of luxuries, such as rear seatback storage compartments, a power-operated tailgate, and the advanced infotainment system found on all Chevy trucks.

Great Used Models
While we certainly love our brand-new Chevy trucks, we also recognize that a new model is not right for everyone. That is why we have a fantastic selection of used Chevy trucks and other vehicles for you to choose from. If you know exactly what you are searching for, then have a look at our inventory online to see if we can meet your needs. And if you are only beginning your shopping, then we are here to work with you and find the perfect used option.
We also have a limited, carefully chosen selection of Certified Pre-Owned (CPO) Chevy trucks for sale here at our dealership. Only the best vehicles can be certified by Chevrolet, including pickups with low mileage and from recent years. They have to be in the best condition possible and pass a rigorous, extensive inspection to receive certification. This ensures they are of the highest quality and gives you peace of mind from knowing your truck is as close to new as possible and will treat you right for many years to come.
Great Financing Options
No matter what your financial situation might look like, we know that the financing process can be a bit stressful. We completely understand – after all, we are all customers at other businesses – and so we work hard to take as much of the worry out of financing as possible. Our incredible financing experts have pretty much seen it all, so no matter what you are concerned about, we are here to help and put your mind at ease. We will work closely with you to get the financing that works best for you, and you can start the process right now on our website by applying for approval and valuing your trade-in before you ever see us.
Late-Night Service and Parts
Here at McCluskey Chevy, we want you to drive away completely happy and remain satisfied with your vehicle for many years to come. Part of the way we do that is by offering world-class, certified service on all the Chevy trucks we sell for as long as you need us. Our service center is open until 3 am, Monday through Thursday because we are dedicated to providing fast and reliable service for all of our customers. Whether you need routine maintenance or have concerns about the performance of your vehicle, you can come to us and rest easy knowing your pickup is in good hands.
We use factory parts on the services we perform whenever possible, thanks to our amazing parts department. This allows us to keep a large selection of parts in stock so that we can perform maintenance and service quickly, and to order the parts we do not have and get them as soon as possible. Even if you want to do the work on your truck yourself, our parts experts are happy to work with you to order whatever you need and let you know when it arrives. That is our commitment to your long-term enjoyment of your truck: keeping you running and offering everything you need for many years.

Our Lifetime Powertrain Warranty
Of course, any dealership can say they are committed to their customers, but showing it is something else entirely. This is one of the reasons we provide our own McCluskey Chevrolet Lifetime Powertrain Warranty on every Chevy truck we sell. It does not matter if you buy a new or used vehicle; we will provide protection and coverage for your Powertrain. This is something we offer in addition to any manufacturer warranty that might cover your pickup – only as our way of showing how important you are to us.
Best of all, there is no mileage limit or time limit on how long this coverage lasts – as long as you own the vehicle and take care of it according to the manufacturer's guidelines for service, you are covered. We stand behind the Chevy trucks that we sell and want you to know that you will always know where to turn for anything you need. You are our top priority, from the moment you walk onto our lot and for many years to come.
Welcome to Cincinnati
As the third-largest city in Ohio, Cincinnati offers a wide range of attractions, from landmarks to sports, dining, and shopping. Founded on the banks of the Ohio River shortly after the end of the Revolutionary War, Cincinnati became a hub for riverboat travel that connected it with the major cities on the Mississippi River. While the riverboats eventually gave way to railroads and trucks, you can still take a cruise to remember our city's history on the sternwheel riverboats Belle of Cincinnati and River Queen.
But whether you take a cruise or just drive through the city, you will not miss our two most significant buildings, the Great American Tower and the Carew Tower. Completed in 2010, the 41-story Great American Tower is the third tallest skyscraper in Ohio and rises above the downtown. The city's second-tallest building, the Carew Tower, dates back to 1930 and actually has 49 stories. However, it lacks the sizable ornamental spire of the Great American Tower. But while the Carew Tower might fall behind with its plain exterior, its interior is decorated in the art-deco style and contains eighteen large murals by Louis Grell. Another tower of note is the 16-story Ingalls building. Although significantly smaller than the other two, when it was constructed in 1903, it was the world's first concrete-reinforced skyscraper and held a spot on the National Register of Historic Places. A final noteworthy architectural feature of Cincinnati is our Skywalk. Although parts of it have been taken down, this series of building-to-building bridges originally stretched over a mile in length and still allows you to tour downtown Cincinnati without having to wait for traffic.
When it comes to sports, Cincinnati won the title of being the home of America's very first professional baseball team when the Cincinnati Red Stockings was formed back in 1869. This sporting tradition continues today, and we have no fewer than three major league teams – the MLB's Cincinnati Reds, the NFL's Cincinnati Bengals, and the MLS's FC Cincinnati. And if you are a hockey fan, there is also the ECHL's Cincinnati Cyclones. While FC Cincinnati's stadium is located up in the West End, the other three teams all play right downtown next to the river, making it easy to tour the city before or after seeing a game.
But one of the unique cultural traditions of Cincinnati is its "Cincinnati-style chili." Served over noodles, this dish might confuse people from out of town, but it is one of our favorites. The Smithsonian has even recognized it as one of the most iconic regional foods in America. And with over 250 chili restaurants, Cincinnati is rightly known as the "chili capital of the world." However, even if our local chili is not to your liking, then you will still be able to find countless other restaurants across the city.
How to Get to Us
Getting to us here at McCluskey Chevrolet is a simple matter, whether you are from Cincinnati or traveling to us from a neighboring city. We are conveniently located right off of I-71 at Exit 19, about 20 minutes north of downtown Cincinnati. Our location is also about 50 minutes from Dayton or 1 hour and 20 minutes from Columbus, and we have had many customers from both cities.If you are coming from the Cincinnati area, then the fastest way to get to us is to follow I-71 North to Exit 19. If you are located in the outskirts of the city, then take I-275 to Exit 49, which will put you on I-71 North just before Exit 19. Alternatively, if you want to avoid the interstate, then Route 22 will also get you to us if you turn off at either Fields Ertel road.
If you are heading to us from Dayton, then the most straightforward route is to follow I-75 South to Exit 16A. This will put you on I-275 East for about five minutes before you will take Exit 49 to I-71 North. Two minutes later, you will be at Exit 19 and our dealership.
If you are traveling from Springfield or eastern Dayton, then you should make your way to Route 42 South (taking Route 68 from Springfield or Route 35 from Dayton). Once on Route 42 South, you will follow it to Ohio Route 48 South just before Lebanon. That will take you to I-71 South, which you will follow to Exit 19, where you will find us.
From the Columbus area, we are a straight shot down along I-71 South to Exit 19.

McCluskey Chevy is Here for You
Whether you are interested in new or used Chevy trucks, we are here to help and make sure you get exactly what you need. Our tremendous inventory of models for you to choose from allows us to make sure you get a pickup that will treat you right for years to come. And any time you need parts or service, you can return to us, and we will get you back on the road as quickly as possible. Call or visit us at McCluskey Chevy today and discover just how much fun it can be to shop for a truck.
Get In Touch