Chevy Trucks
Everybody knows that there is just something special about owning a truck – specifically, a Chevy truck. Chevy trucks are versatile, fun, rugged and they certainly stand out from all of the other SUVs and sedans cruising down the highway – it's really no wonder that Chevy trucks are so highly awarded, year after year.
It's also no wonder that while it's certainly easy enough to decide that you're going to make your next vehicle a Chevy truck, it can sure seem overwhelming when it comes time to decide which dealership you want to do business with. Don't let yourself get mired down trying to decide which dealership you should buy your Chevy truck from. Simply head to McCluskey Chevrolet and you'll soon realize that you've arrived at the best place to buy the best truck – a Chevy truck, of course.
What makes McCluskey Chevrolet the best spot in Cincinnati to shop for your Chevy trucks? We've gone ahead and broken down the finer points of what set McCluskey Chevy apart from other local dealerships.
Why McCluskey ChevyNew TrucksIncentives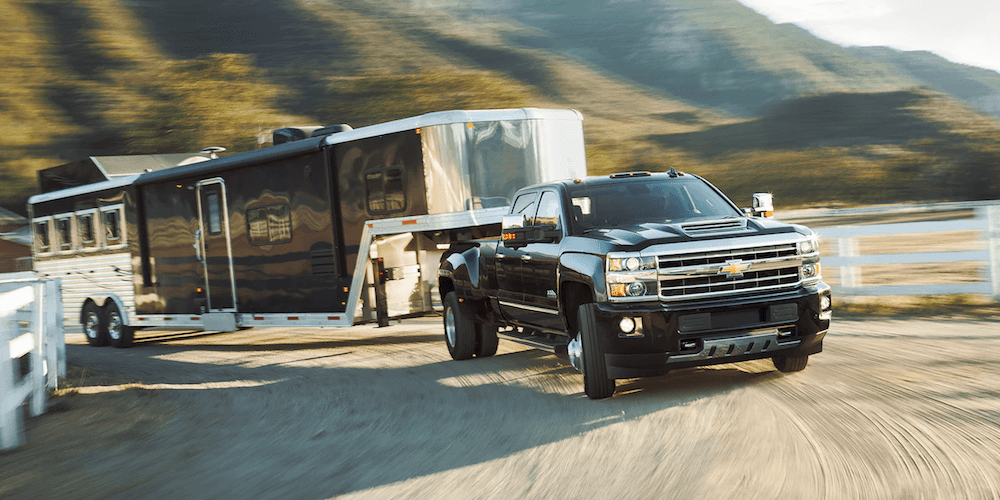 Simply Superior Salespeople
Successful truck shopping has far less to do with finding the perfect truck for you than it does with finding a salesperson who is pleasant, honest and enjoyable to work with. At McCluskey Chevy, we know that our vast inventory of Chevy trucks essentially sell themselves – after all, if you want to drive a Chevy truck, you're going to make sure you find a way to buy one. However, we also know that buyers do not want to be hassled or pressured into making a decision that they may not be ready to commit to. Let's face it, we've all been to a dealership where the sales team tries to seal the deal by announcing that "this deal won't be here tomorrow" or making you feel as though if you don't buy a vehicle that very day, you'll never be able to find such a great price on a truck ever again.
At McCluskey Chevrolet, we don't play games. Our sales team prides itself on being knowledgeable and helpful, but never pushy. Sure, we're eager to get you into the Chevy truck of your dreams, but that's just because we know that you'll be exhilarated when we hand you the keys to your new truck. We want to see you drive off our lot knowing that you don't have an ounce of buyer's remorse and that you feel as though you've been treated with the utmost respect. Our sales team is always happy to answer any of your questions and they are also happy to work through any issues you may have deciding which truck or trim is right for you. After all, we know a truck is no small purchase – and we also know that trucks offer some of the largest variety of packages and available options for you to choose from, so it might take a while to figure out exactly which trims and features you really want in your vehicle. Ultimately, we want you to feel as though the money you spent on your new truck was the best money you've ever spent, so we go above and beyond to ensure your completely satisfied when you decide to drive off in your brand new Chevy truck.
Satisfaction also comes when you don't have to manipulate your work schedule or hire a babysitter just to visit your local car dealership, which is why we offer convenient hours seven days a week. Drop by anytime to shop or even just to chat with one of our salespeople Monday through Thursday from 9:00 AM to 9:00 PM, Friday, and Saturday from 9:00 AM to 6:00 PM or Sunday from 10:00 AM to 6:00 PM. We are also available by phone at (513) 843-1971 if you would prefer to schedule an appointment to come to the dealership.
Friendly Financial Team
Part of being satisfied with your Chevy truck purchase and with your experience at McCluskey Chevrolet is feeling as though you've gotten a fair price on your truck – one that works with your budget and doesn't hinder any of your other financial goals. We'll be upfront and tell you that overpaying for any vehicle and feeling as though you are now unable to meet your other financial obligations is a sure-fire way to soon start to resent your new truck. That's why our financial team works diligently to explain all of your financing options. No matter if you choose to lease or buy your Chevy truck, our financial experts will sit with you and explain the pros and cons of each method of ownership – and they will also go above and beyond to find you the very best financing rates available.
At McCluskey Chevrolet, we also understand that not every customer is going to saunter through the door with impeccable credit. In fact, some of our customers have terrible or even no credit at all, and that's okay with us! We are more than happy to work with all manner of shoppers; in fact, that's why we offer our guaranteed Buy Here, Pay Here financing option. If you've been turned away from other dealerships – or are simply too embarrassed by the state of your current financial situation to even step foot onto a car lot – don't delay any longer. Head down to visit us at McCluskey Chevrolet and let us see what we can do to help not only get you into a safe, reliable car but to also help you turn your credit history around.
Not sure if you have great credit or terrible credit? Don't fret – we encounter that so often that we've gone ahead and made it incredibly simple to apply for financing – in fact, it's so simple that you can do it right from the comfort of your own home. Simply visit our website and click on the Apply for Financing link. You won't need to input any confidential information (such as your social security number), but you will be able to find out instantly what you've been pre-qualified for. Additionally, you are welcome to use our other free online financial tools, including the payment calculator, the value your trade-in tool and the shop by payment widget. We want all of our shoppers to feel empowered when they come to buy a truck from us so we offer these tools as a way for our customers to prepare and educate themselves on what to expect when it comes time to buy a Chevy truck.
Stellar Service Department
It goes without saying that buying and financing your new truck are two critical steps to owning your vehicle, but what about service? Your truck won't run like brand-new for very long if you neglect to keep it in tip-top shape. That's why at McCluskey Chevrolet we are so pleased to offer our customers access to our highly trained service technicians who are able to perform both simple, routine maintenance as well as complex, highly skilled labor should your truck need a little extra TLC or advanced customization. We make it easy to schedule your appointments right online so that you don't let an oil change or tire rotation slip your mind, and we promise to work as efficiently as possible to get you and your truck back on the road as soon as possible. We also offer a parts department and a body shop right on-site, so no matter what type of service your truck might need, at McCluskey Chevrolet, we are fully equipped to meet its demands.
Vist McCluskey Chevrolet Today

We could go on and on about why McCluskey Chevrolet is the best dealership to purchase your new Chevy truck, but we know that seeing is believing, which is why we invite you to come visit us at 9673 Kings Automall Drive in Cincinnati, OH and see for yourself why McCluskey Chevrolet is the best place to buy the best truck.
Get In Touch