Errands and Entertainment: Take Advantage of McCluskey's Convenient Location
Finding a great Chevy dealer in Ohio doesn't have to be a chore. In fact, what if we told you it could be fun? Dealerships and fun aren't necessarily two words that are often seen together, but their coexistence is not a piece of exaggerated fiction. We will be the first to admit that there are succubus dealerships that remain standing, but it is time that those bad apples stop ruining the entire bushel for everyone else. Good, honest, and reliable car dealerships do indeed exist, it is simply a matter of finding one that works for you and your car buying needs.
McCluskey Chevy: The Pot of Gold at the End of a Rainbow
If you aren't a believer in Irish magic, then how about finally finding that needle in a haystack? We could go on all day long with our arsenal of clichés. Rather than bore you with that useless knowledge, let's talk about why McCluskey Chevrolet truly is a one of a kind, once in a lifetime, diamond in the rough type of dealership (okay, now we are done with clichés).
To be honest, operating a solid car dealership that buyers enjoy visiting is not hard to achieve. Car buyers like yourself want to buy their new vehicles from an honest, friendly, and reputable dealership that won't turn their backs if something were to go wrong. McCluskey Chevrolet doesn't just fit into that description, the staff embodies it.
Located in Cincinnati, Ohio, McCluskey Chevrolet has been proudly serving the tri-state area for many years. The dedication McCluskey associates have for their clients extends further than other dealerships in the area, and beyond what most car buyers have experienced in the past. The bottom line is when it comes to car buying in the Columbus area, there is no better option than McCluskey Chevrolet.
Location is Everything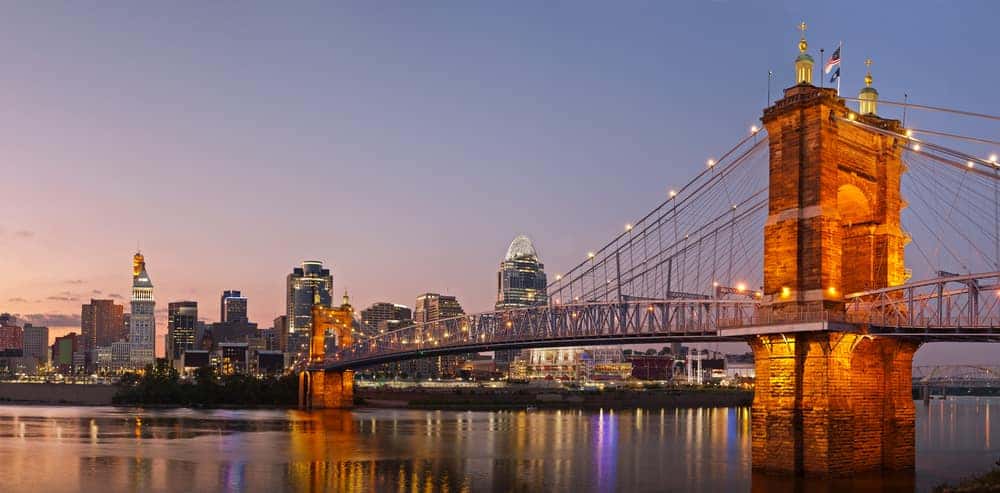 If you have ever purchased a vehicle in the past, then you know it isn't a quick, in-and-out process. Buying a new car takes time, which means you will likely be spending extended periods of time at the dealership, and in the general area it is located. Because the process can be lengthy, car buyers sometimes end up leaving the dealership for lunch, dinner, or general shopping. A dealership that is located in an isolated area can make this difficult to do, especially when you are waiting for the dealership to call you to come back and complete your vehicle purchase.
While some dealerships are located in areas that don't cater to this particular need, McCluskey Chevrolet is not one of them. Located off of Kings Automall Drive right in the heart of Cincinnati, McCluskey Chevrolet is central to some of the best action the city has to offer. Whether you are waiting for your vehicle to be serviced, or you have time to pass while you wait for your new car purchase to be finalized, there is plenty to do in the area. Buyers can easily walk or drive a short distance to stores like Target, Best Buy, Michael's, or Barnes & Noble. For customers who are hungry and want to eat more than the complimentary food McCluskey Chevy offers in the waiting lounge, there are plenty of great restaurants nearby. If you are in the mood for a quick bite at Taco Bell or McDonalds, or have the time to enjoy a longer sit-down service at Longhorn Steakhouse or Olive Garden, there are plenty of options to choose from. The Venue Cincinnati is even close by, and features live rock bands every weekend with dancing, a spacious bar, and more.
Bottom line, when it comes to finding a Chevrolet dealership in Cincinnati with a great location, McCluskey Chevy simply can't be beat. Don't settle for a secluded dealership with a stuffy showroom and stale coffee, take advantage of everything the location of McCluskey Chevy has to offer.
What's Inside Also Counts
For buyers who prefer to stick close by throughout the entire car buying process, there are plenty of amenities available without having to leave the dealership. McCluskey Chevy is often praised for its unbelievable waiting area, and unique complimentary offerings. If you are a McCluskey Chevy customer and are waiting for any reason, you can take advantage of everything this incredible dealership has to offer.
Complimentary Starbucks coffee, freshly brewed throughout the day, is just the start. A candy and snack bar is also available for free, along with donuts and a variety of beverages. McCluskey Chevy customers can also take advantage of free Wi-Fi connectivity, and semi-private work stations that are available for those who can't quite get fully away from the office. If work is the last thing on your mind, the customer lounge offers a relaxation area complete with oversized massage chairs, peace and quiet, an all-around perfect escape. Who knew you could achieve that while shopping for a car at the same time? Until you experience McCluskey Chevrolet first hand, it is hard to believe just how customer-centered a dealership can actually be.
Friendly Team Members Ready to Help
McCluskey Chevy has plenty of bells and whistles that are meant to maximize the experience for buyers, as well as offer the convenience other dealerships don't. The free candy, donuts, and Starbucks are enough to make even the worst car buying critic happy, but it is the staff at McCluskey Chevy that truly makes an impact on the overall experience.
Often referred to as the friendliest customer service in the business, McCluskey Chevrolet team members are always ready to help with a smile. They are dedicated to streamlining the car buying process, and providing a positive experience for everyone who walks through their doors. Whether you are scoping out the lounge for future business, or are buying a brand new Chevy, McCluskey employees are more than happy to answer any questions and help in any way they can.
Come See For Yourself
The commitment that this unique dealership has to the community of Cincinnati is what makes McCluskey Chevrolet a shining light in a business that tends to get a bad reputation. Come and see for yourself what makes McCluskey Chevy a truly one of a kind place to buy your next car.