Find Only the Best Parts and Service at McCluskey Chevrolet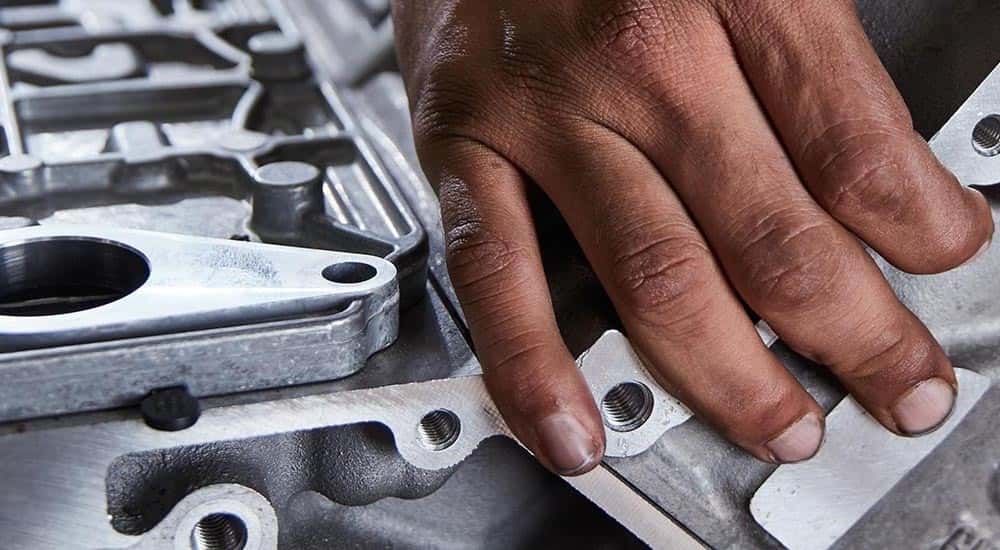 We're going to be honest with you – once you buy your car or truck from McCluskey Chevrolet, we'd love to never see you again. "Whoa, wait, what?!" you're probably thinking. But let us explain: in our ideal world, we'd sell you the car of your dreams and you'd drive off the lot, never to have a problem or issue with your vehicle for a long, long time. Of course, this isn't exactly realistic, especially considering how important it is for all car owners to keep up with their vehicle's regularly scheduled maintenance. After all, that's why we built a top-of-the-line service center right on site – to help our valued customers easily keep up with the services that will extend the life of their cars (and because we'd lied – we really do want to see you!).
Unfortunately, we also know that sometimes things happen and vehicles need a little extra TLC. That's why we stock a large inventory of GM parts and accessories – we want you to know that no matter what befalls your beloved car, it's in the best hands and getting fixed with only the best parts. Of course, we also know that despite our full confidence in our service technicians, you might be worried about what is actually wrong with your car. We obviously can't diagnose the problem without first examining the vehicle, but we can tell you what some very common car troubles are and how using GM parts can easily repair your vehicle.
Genuine GM Headlights and Taillights Don't be Blinded by the Light (or lack thereof)
Sure it's a catchy song, but it's actually a serious safety issue if you're driving around with damaged headlights or taillights. Whether your headlights or taillights are simply cracked, seem foggy or are not emitting any light at all, you need to get them repaired quickly – it's dangerous to you and to other drivers if your car has damaged head or tail lights. Bring your car to McCluskey Chevrolet and let our service department install new, safe GM headlights or tail lights. Don't skimp and try to order generic replacements to install yourself – let a trusted and professional service technician handle that for you so that you can bask in the glow of knowing your car is properly equipped and safe to drive again.
Genuine GM Bumpers: Don't Let Your Bumper Get Too Banged Up
If you've ever doubted the importance of having an intact bumper on your car, just wait until someone parks a little too close to you and nudges your car. Your bumper plays a critical role in protecting the integrity of your car and you want to be sure you keep it in the best condition possible. If you've experienced a few too many of those not-so-gentle nudges or have even unfortunately been in a fender-bender, get your car straight into to our service team so that we can replace your damaged bumper with an appropriate GM certified bumper. In fact, you're definitely going to want to replace your bumper with a GM bumper since all GM original equipment bumpers carry a Limited Lifetime Warranty.
Genuine GM Parts Paint: Because Rust is a Nightmare for a Car
Okay, so it's not really a problem that will take your car off the road, but no one wants to drive around in a beat up, scratched up, paint-damaged jalopy. If you've been any type of accident that has left your car's exterior color dulled or damaged, simply bring it to our service team and let them restore it to it's original sheen with Genuine GM Parts Paint. In fact, you want to do this sooner than later, because rust on your car is no joke – it can cause serious structural damage if left untreated for too long. And trust us, aesthetically-speaking, this is not the occasion for trying to color match paints because on your car, close-enough is just not good-enough. We can locate your car's exact color match and ensure that the paint is applied and dried correctly so that you can get back to driving a car that makes people stare for all the right reasons.
Plenty of Parts to Go Around
While we've listed just a few instances in which you're going to want to use McCluskey service and GM parts, there are actually plenty of places on your car where GM parts will play a critical role in protecting the longevity and safety of your vehicle. Consider your brake pads – you want to be sure to keep those in great condition, so keep an eye on how your car responds when you press down on the brake. Generally speaking, brake pads last somewhere between 25,000 and 70,000 miles, which is a huge range. Of course, you'll be swinging by the McCluskey Service Center every now and then for routine maintenance like oil changes, so never hesitate to ask one of our technicians to take a peek at your brake pads (or any other concerns you might have).
You also want to be prepared for the elements. If your windshield wipers are leaving streaky, hard-to-see through marks on your windshield, it's probably time to get them replaced. It's extremely important that you have fantastic visibility, especially in times of inclement weather, so don't let caring for your windshield wipers fall by the wayside. In the summertime, you're going to want to make sure your air conditioner is operating at its most efficient, so be sure to keep an eye on the air filters and coolant. Again, don't hesitate to ask a service technician to give your car the once over if you think your car might not be operating at peak performance.
McCluskey Service and GM Parts: An Ideal Match
With the fantastic service you'll find at McCluskey Service Centers and the incredible quality you'll find in GM parts, there's no reason to ever take your car to any other service center. Our service team prides itself on providing the best care for your car, which is why we use certified GM parts. Visit us at 9673 Kings Automall Drive in Cincinnati, Ohio or give our service department a call at (513) 734-8502 and let us help you keep your car feeling and driving just like new