Find The Best Used Cars in Columbus At McCluskey Chevy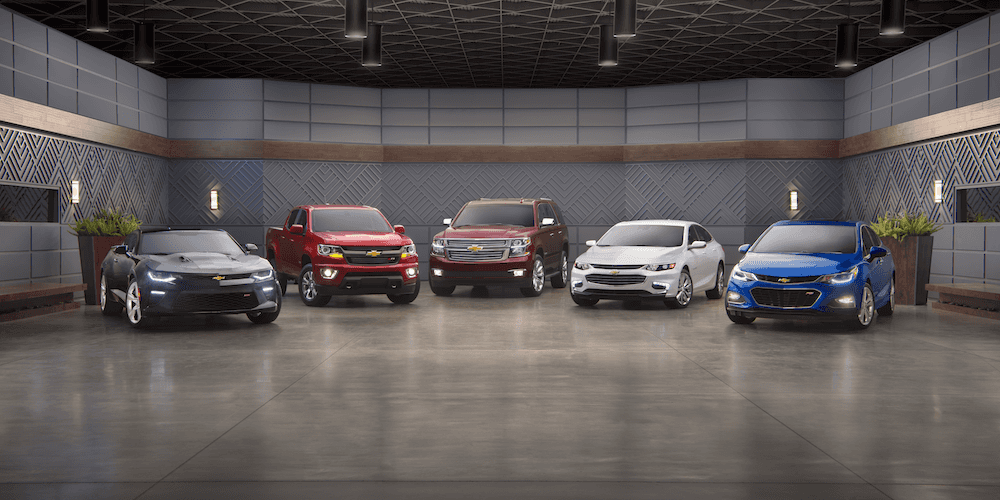 As a Chevy driver, you know what to look for in an excellent used vehicle. Whether it's an affordable family vehicle built for those long trips with the whole crew or a top-notch, thrill-filled roadster built for fun around the track, Chevy drivers know to rely on that iconic bowtie insignia for top-of-the-line vehicles that will last years down the road.
That's because Chevy doesn't skimp when it comes to making today's most reliable vehicles, and that same reliability can be found on just about every used Chevy model. Year after year, Chevy produces more efficient, more stylish, and more desirable cars – meaning each year there are more and more excellent used Chevy options out on the road. For those drivers looking for an excellent vehicle from used Chevy dealers in Columbus, Ohio, there's only one name you can rely on for the best deals, the best selection, and the best shopping experience around: McCluskey Chevy.
If you're ready to see a high-quality, reliable, and attractive used car roll onto your driveway in the near future, there's simply no better place to shop than right here at McCluskey Chevy. That's because we focus on you, and we tailor our used car shopping experience to fit your needs, your schedule, and your budget. Here's a look at everything you can expect to find right here at McCluskey, and why there's no better place to find that perfect used vehicle in the Columbus area.
Great Deals on Great Used Vehicles – No Matter What You're Looking For
Searching for that perfect used vehicle can be a bit of a tough challenge, especially if you're unsure of where to start and what to look for. Even the most experienced used car owners may need a little direction when choosing a modern used vehicle, and our experts can help narrow your selection to the right deal, the right vehicle, and the right fit for your lifestyle. We've got the selection, the knowledge, and the right prices, regardless of what you're looking for in your next pre-owned vehicle.
Take, for instance, the Chevy Impala, which has been a hallmark of Chevy vehicles for nearly 50 years. In all that time, the Impala has become one seriously impressive member of today's modern Chevy lineup, with the 2016 Impala offering an amazing 305 horsepower from the powerful 3.6L V6 engine, or an incredible 31 miles per gallon highway with the highly-efficient 2.5L 4-cylinder engine. Plus, an impressive array of safety features, 4g LTE Wi-Fi available throughout the cabin, and easy connection to your smartphone and streaming devices makes this powerful Chevy a perfect family car as well.
But although we consider ourselves Chevy experts, we're not afraid of the competition – rather, we want to make sure you're getting the best deal on the right used vehicle for you. That's why we also offer a wide variety of used vehicles from other manufacturers, including Ford, Dodge, Cadillac, GMC, and more. We want you to find the perfect vehicle for your lifestyle, your budget, and your family, and we're ready and able to offer great options of just about any make to ensure your used car shopping experience is as good as it can be.
The 2016 Impala is just one of the dozens of affordable used vehicles we've got in stock here at McCluskey. Whatever you're in the market for, we're here to help get you in the right car today
Shop Your Way and At Your Own Pace
The best used vehicle for every driver is out there somewhere – but finding it, and at the right price, can be time-consuming. Rushing from dealership to dealership, haggling with pushy sales people, and spending your free time shopping can be a drag, and we've all been through it. That's why McCluskey works tirelessly to make the used car shopping experience better than it's ever been, meaning you can find the right used vehicle in the way that works best for you.
In search of a specific make, model, or year? Searching through inventories car-by-car can be tough. That's why McCluskey Chevy offers a handy online search system, which allows users to browse our entire used car inventory from the comfort of their own home. Shoppers can filter vehicles by everything from make and model to color, body type, and even added features.
But any used car shopper knows that few features and options are as important as price. More often than not, picking the right car comes down to what you can afford – and at most dealerships, that can be tough to get a handle on when browsing your options. That's why McCluskey allows shoppers to filter vehicles by ideal monthly payment, allowing everyone to filter their options by what they can afford rather than the other way around. If we've got it, it's easy for you to find it – all it takes is a quick search and we can get everything set up from there.
Or, if you're more the type to rely on your own senses to pick that perfect used vehicle, our lot is open and ready. Come by and browse our inventory with your own eyes, and one of our expert sales professionals can help guide you along the way if you need a little help. You can browse for as long as you need, and take a test drive to get a better feel for how it fits your style.
For smart used car shoppers, compromises simply aren't an option. McCluskey makes it easy to find the right vehicles quickly, meaning less time spent browsing and more time spent shopping at your own, comfortable pace.
Find Great Used Vehicles Right Here At McCluskey
Regardless of what model, what price, or what features you may be looking for in your next used vehicle, we make it easy for you to find exactly what you need without the hassle that typically comes with shopping for pre-owned vehicles. We know our stuff when it comes to providing great used vehicle options, and we're here to make it easier than ever for you. See our inventory and get in touch – that great used vehicle is ready and waiting.