Get the Most Value for Your Trade-In Vehicle at McCluskey Chevrolet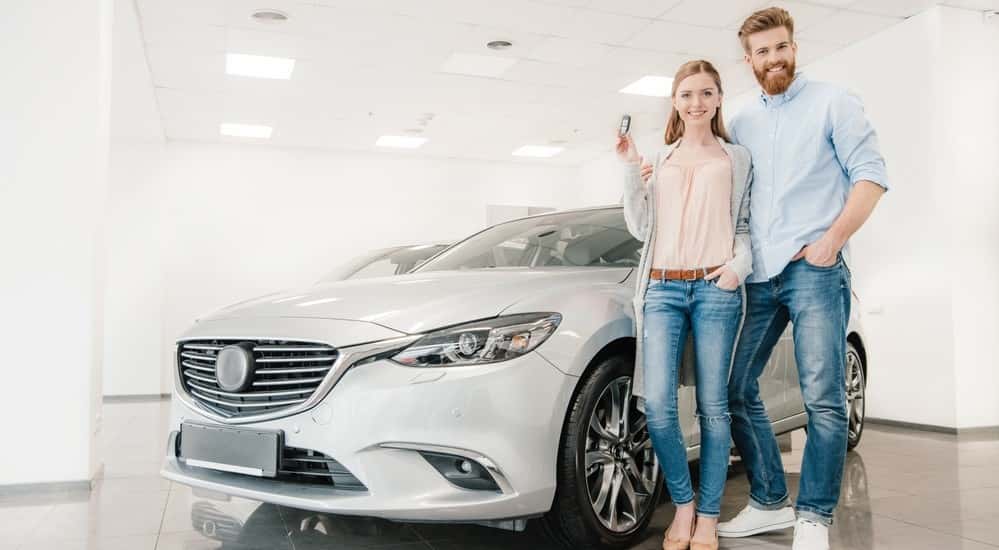 When it comes time to buy a new car, there are a lot of things you need to think about – unfortunately for most of us, it's not just as simple as wandering into a dealership and choosing the first car that we fall in love with. If you're responsible when it comes to car shopping, you'll head to the dealership with a budget in mind, an idea of the car you want to bring to home, and possibly even your loan approval if you're financing through a bank or credit union and not the dealership. You may even have a vehicle that you're planning on "giving" to the dealer so that you can apply its trade-in value to your new car purchase. Of course, as you are planning your visit to the dealership and working on your new car budget, you may be wondering how to figure out what exactly this trade-value will be and how it's calculated.
Find Your Car's Trade-In Value Online
At McCluskey Chevrolet we pride ourselves on giving our customers all the tools they need to make informed purchasing decisions, which is why we have built our website to include the MyAppraise Trade-In tool. Powered by Edmunds, customers who wish to value their car's trade-in value simply have to use the dropdown menus to input details like the make, the model, year and style of their current car. Then they must input the color and options of their current car, followed by the car's condition and mileage. When all of the information has been supplied, the car's True Market Value will be calculated and you'll have a good idea of what to expect when you come to McCluskey to trade-in your car for a newer model. It's a great way to start planning your next car purchase and can give you a leg up on shopping for models that fit within your budget.
Make the Most of Your Trade-In
Of course, when it comes to trading in your old car for trade-in value, you want to be sure that you are working with a trusted dealership and salesperson. At McCluskey Chevy, our sales team is experienced, knowledgeable and ready to help you get the most money out of your trade-in vehicle. That said, there are a few steps you can take to make sure your car gets valued at its top dollar price.
For starters, no one wants to buy a car that's littered with trash – be it old receipts, fast food wrappers or cigarette butts. Take the time to clean out your car and make it look as close to brand-new as possible – make it easy to envision being able to sell your old car to a new buyer. Plus, a car that is covered in trash isn't going to give the impression that it's been well taken care of, and the last thing any dealer wants is to purchase a car that has been denied routine maintenance… think of it this way: we want to sell you the very best vehicle possible, and we want to sell the next customer the very best vehicle possible – which means a car that has been well-cared for regularly.
Also, if you smoke in your car – do anything you can to rid the car of the smell of smoke before trying to trade-it in. Stop smoking in your car as soon as you know you're going to trade it in and take your car to get detailed to try to reduce the odor. Nothing turns off buyers like the smell of cigarette smoke permeating their new car, so do your best to try to alleviate the problem before bringing it in to be valued.
Work With a Dealer that Values You
If you've been researching how to trade-in your car, you may have stumbled across the tip to never give your only set of keys to the salesperson when they are valuing your car because they may hide them or even throw them on the roof until you agree to buy a new car from them. We hope this is an urban legend, but knowing how unscrupulous some dealerships can be, we wouldn't be surprised to find out if it's true. At McCluskey Chevrolet, we hope it goes without saying that we would never treat our customers with such disrespect. If you decide you'd rather not go through with trading in your car or buying a car from us, our team will completely respect your decision and treat you with the utmost integrity. And if you do find yourself at a dealership where it feels as though you're being forced into a sale you aren't interested in, don't be afraid to get in your car and go – you should never feel pressured to make such an important financial decision… and you certainly shouldn't be forced into it by schoolyard bullying tactics.
On a practical note, valuing your trade-in vehicle is just one step in purchasing your new car – the next is working with our outstanding finance team to figure out financing the rest of your new car purchase. Our finance team is comprised of experts with years of experience who are happy to answer any questions you may have. We know that having a trade-in vehicle is great in that it takes some money off the purchase price of your new car, but we also know that it comes with its own set of questions and can make a straightforward deal seem slightly more complicated. Our finance team is always on hand to help you figure out the best way to finance your new car purchase and looks forward to working with you on applying the trade-in value of your old car to your new car.
Make Your Trade at McCluskey Chevy
Whether you value your trade-in vehicle online or in person, at McCluskey Chevrolet, we're here to help get you out of your old car and into your new car. Conveniently located at 9673 Kings Automall Drive in Cincinnati, Ohio, we're open seven days a week and always ready to help you get into a new car – no matter if you trade-in an old one or not