Get to Work With McCluskey Chevrolet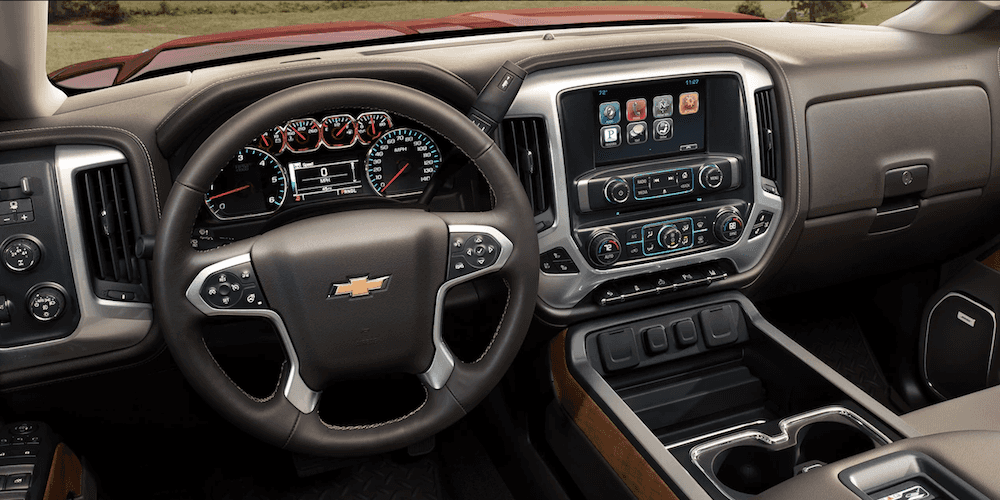 Congratulations! If you're reading this article, you've most likely either just started a business or are looking to expand your operation by adding to your fleet of work trucks. We know that it can be overwhelming to purchase any expensive inventory for your business, and especially when it comes to a pricey purchase like a work truck. That's why If you're looking for work trucks for sale in Cincinnati, we urge you to come visit our helpful and knowledgeable sales team at McCluskey Chevrolet. Sure, you may have bought your personal vehicle from us, but we also have a well-stocked inventory of a variety of work trucks that are perfectly suited to any job you could tackle.
Of course we know it can be hard to figure out where to start when it comes to choosing the best truck for your commercial enterprise operation, so we've gone ahead and created the following cheat sheet to introduce you to the Chevy Silverado 1500 – one of the most popular work trucks on the market. Of course,the Chevy Silverado 1500 is just one of the many phenomenal commercial vehicles offered by Chevrolet, so don't worry if a pickup isn't what you had in mind for your business. At McCluskey Chevrolet we know every businesses needs vary which is why we work with you to find the perfect work truck for your needs. And it goes without saying that we can always help you customize your vehicle to be exactly what you need using Chevy's fantastic array of work truck accessories..
Get to know the Chevy Silverado
Everyone knows that when you're a business owner, every penny counts… and that's what makes the Chevy Silverado work truck such a great option for your business. Named as the Best Value Commercial Pickup Truck by Vincentric in 2017, the Silverado offers outstanding quality and, according to Vincentric, the lowest depreciation cost in its class for the past eight years. Knowing that, you can feel good that with a starting price of just $27,785, the Chevy Silverado is truck that will save you money both now and in the future.
Although you'll save on price, you won't have to sacrifice on power when it comes to the Silverado. The Chevy Silverado 1500 is available with three different engine options: a 4.3-liter V6, a 5.3-liter V8 and a 6.2-liter V8. If you're towing needs don't exceed 7,600 pounds, you'll be happy with the with the V6 options – especially since it offers a best-in-class 305 pound feet of torque. Additionally, the Silverado 1500 V6 gets great fuel economy for a work truck: an EPA estimated 18 miles per gallon in the city and 24 mpg on the highway.
The middle-of-power-pack 5.3-liter V8 also holds its own when it comes to fuel economy, getting 16 mpg in the city and 23 mpg on the highway. With 355 horses under the hood, the 5.3-liter V8 offers 383 pound feet of torque and has the ability to tow up to 11,100 pounds.
If you really need your work truck to pack a punch, the 6.2-liter V8 is your best bet. It's a true workhorse, towing up to 12,500 pounds and powered by a best-in-class 420 horses. With 460 pound feet of torque, the 6.2-liter V8 still gets decent fuel economy estimates: 15 mpg in the city and 21 mpg on the highway.
No matter the job, there's a Silverado 1500 strong enough to help your team power through the work.
Accessories to Help You Build Your Business
As we mentioned, not all businesses have the same needs, which is why customization is so important. When you add a Chevy Silverado 1500 to your fleet, you add the ability to build a work that includes the tools you need to get the job done right the first time. With an incredible inventory of Chevy-approved accessories, there's no doubt that you'll be able to find just what you need for your Silverado work truck. Think of things like bed liners, cargo nets and ladder racks – just for starters. You should also consider your truck's interior – there more than just cargo storage and management accessories available; there's also wireless cameras, advanced sound systems and floor mats available to protect your investment.
Don't just buy a Chevy Silverado 1500 and call it a day – make sure you take a moment to explore the many accessories that are available to help you get the most utility out of your work truck.
For Those Who Value Safety
As a business owner, you know there is no asset more valuable than your team, so why would you put them in anything but some of the best and safest works trucks on the road? The Chevy Silverado comes equipped with six standard airbags and a tough steel safety cage to protect its occupants. Additionally, there are a number of advanced safety features available for the Chevy Silverado 1500, such as those included in the Enhanced Driver Alert Package. The Enhanced Driver Alert Package includes lane keep assist, forward collision alert and low-speed forward automatic braking technology, along with front and rear park assist. You can also choose to enable your Silverado 1500 work trucks with available OnStar technology, so that your team has the ability to ask for directions and seek help in an emergency – even when you're not available.
Give you and your workers the peace of mind of a job well done, and well done with safety in mind. Consider outfitting your Silverado 1500 with the advanced safety features and show your team that you don't put a price on their safety.
Get to Work With McCluskey Chevrolet
It goes without saying that the Chevy Silverado 1500 is a phenomenal work truck – however, we know it might not be the truck you need for your business. That's why we also carry cargo vans, cutaway vans and passenger vans as part of our commercial truck inventory. Come visit us at our convenient location at 9673 Kings Automall Road in Cincinnati, Ohio, and let us show you how McCluskey Chevy can help you grow your business, one Chevy work truck at a time