How a Commercial Vehicle Can Deliver New Customers to Your Door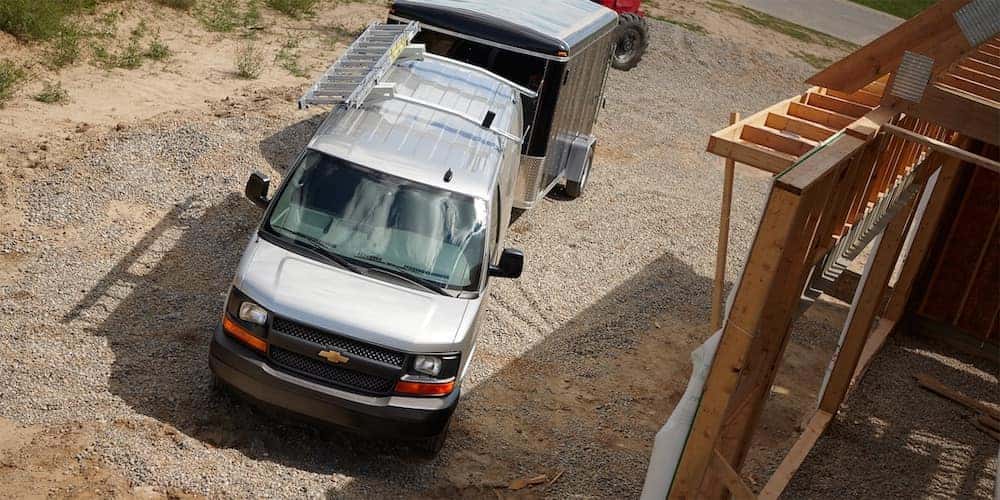 Regardless of the size of your company, the decision to purchase a commercial vehicle (of any kind) speaks to both ambition and legitimacy. It represents a commitment to servicing your customers more efficiently.
At McCluskey Chevrolet, we take great pride in our ability to help your company expand the scope of its operation. From work trucks to special conversions and mobile office-friendly vehicles, we have you covered.
Benefits of Branded Commercial Vehicles
If done properly, your decision to utilize commercial vehicles offers a more impactful return on your investment than just the utilitarian tasks it will complete. Branded vehicles serve as mobile billboards, reinforcing and legitimizing your company within the communities that it operates.
Consider these statistics:
In a major city, a branded vehicle can generate more than 65,000 impressions per day.
In a suburban area, a branded vehicle can generate more than 30,000 visual impressions per day.
98% of consumers feel that fleet branding creates a positive impression.
96% of consumers feel fleet branding is more impactful than billboards, or other outdoor media.
With these statistics in mind, it's easy to see why your decision to purchase one or more commercial vehicles is a wise one. By simply going about your business, your fleet will continually reinforce your presence in the consciousness of your community. We'll leave further discussion of how you intend to brand your vehicles to your marketing team, but let's explore some of the vehicle options that are available to you.
After all, a branded vehicle serves little benefit if it's not right for the job that needs to get done….
The Right Fit
Depending on the nature of your business, there may be any number of vehicle choices that are right for you. At McCluskey Chevrolet, we are dedicated to providing you with the perfect commercial vehicle for your company's unique needs, regardless of what those needs are.
For many companies, a car fleet is sufficient for use by sales, supervisory, compliance or inspection personnel. With increases in available technology, such vehicles provide employees with a well-equipped mobile workplace along (while the company's bottom-line benefits from increased fuel efficiency).
Other companies may employ the versatility, increased cargo space and updated feel provided by crossover and SUV offerings. Carrying over many of the same benefits as cars, these upsized vehicles also provide a slightly larger billboard maximizing the impact of any corporate branding.
Still, many businesses require task-specific, utilitarian vehicles in order to provide the services that their customers require. Ranging from pickups to conversion vans, and including specialty body styles, no requirement is too big for McCluskey Chevrolet. So let's take a closer look…
Chevy Trucks
Consider for a moment, the enduring popularity of both the Chevy Colorado and its stablemate, the Chevy Silverado. With the latter available in both 1500 as well as 2500 / 3500HD configurations, there is no shortage of suitability for the gamut of commercial needs. Whether you're looking for a barebones work truck or best-in-class horsepower and towing capability, Chevy has you covered.
The midsize Colorado offers a smooth ride and capable towing when properly equipped. Perfect for any requirement satisfied by a smaller overall footprint, the Colorado is available with a number of different cab and bed configurations as well as powertrain options.  From a base 2.5-liter I4 rated 200 hp &191 lb-ft to a 3.6-liter V6 channeling 308 hp & 275 lb-ft., the Colorado offers power and more nimble handling than its full-size counterpart. There's even a turbocharged four-cylinder diesel option delivering 181 hp & 369 lb-ft. Towing up to 7700 LBS (depending on the configuration selected) the Colorado is well-deserving of any business' consideration.
The full-sized Silverado is one of the most iconic trucks on the road today. Beginning with the 1500, we count three cab layouts, the same number of bed sizes and three powertrain options across six trims. Beginning with a 4.3-liter V6 you can expect up to 285 hp & 305 lb-ft. Opt for the 5.3-liter V8 and those numbers jump up to 355 hp & 383 lb-ft, while the top-tier 6.2-liter V8 serves up a staggering 420 hp and 460 lb-ft. Towing up to 12,500 LBS (properly equipped) the 1500 is built to perform.
The 2500HD is available with either a 6.0-liter V8 (360 hp / 380 lb-ft) or a beefy turbocharged 6.6-liter diesel V8 pushing out an earth-pounding 445 hp and 910 lb-ft. Towing numbers also jump up to 14,500 LBS (or 18,100 LBS with a fifth-wheel trailer). You can expect similar numbers from the 3500HD, covering every demand you can think of.
With chassis cab options, any of these trucks can be customized with job-specific body styles. Whether you're in need of a dump, service, platform or stake bed body McCluskey has you covered. We are glad to help, whether you're a contractor, landscaper, tower/hauler or plow driver.
Chevy Vans
Chevy's Express vans also provide a perfect basis for commercial use and, if needed, conversion. From the minivan-designed City Express to the aptly named Express Cargo and Express Passenger, there is a Chevy van with your needs in mind.
The City Express is a modest configuration of utility van perfect for urban navigation. Powered by a 2.0-liter four-cylinder, it is rated for 131 hp & 139 lb-ft of torque and offers better-than-average fuel economy (25 mpg combined).
The V8-powered Express Passenger (available in two load ratings) is powered by either a 4.8 or 6.0-liter V8 (channeling up to 342 hp & 373 lb-ft) or a more economical 2.8-liter four-cylinder diesel. The Express Cargo fifers comparable numbers with more expansive cargo space.
As with Chevy's trucks, the Express also comes with a cutaway chassis version that can easily be converted to job-specific body styles.
Make It Yours with McCluskey Chevrolet
With a car, truck or van ideal for every type of business, why wouldn't you want to increase the efficiency of your business with a vehicle that doubles as a mobile billboard for your products and/or services?
At McCluskey Chevrolet, we can help you to make it a reality, delivering new customers directly to your door.