McCluskey Chevrolet – A true car buying experience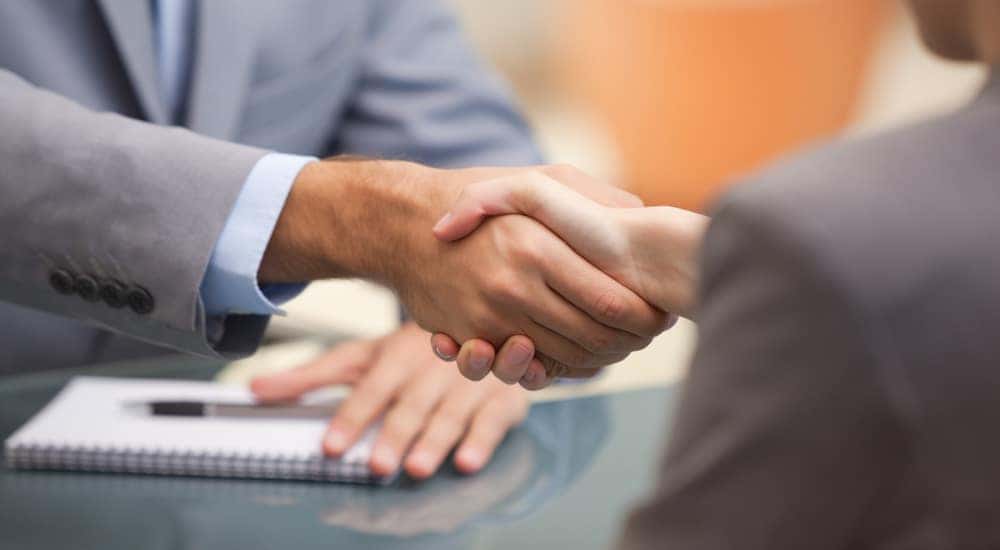 Are you looking for a Chevy dealer in Ohio, but aren't sure who you can trust? Here at McCluskey Chevrolet, we get it. Whether you are buying a car, selling your car, or looking to get your vehicle serviced, finding the right dealership can be a hassle.
Here at McCluskey Chevrolet, we aren't in the business of saying things just to get you in our doors. We stand by our service, quality, and commitment to our customers, and we let those speak for themselves. When guests walk through the McCluskey Chevy dealership here in Ohio, they immediately sense that they came to the right place. Maybe it's our pristine showroom, our friendly team members, or possibly it's the complimentary Starbucks coffee and chocolates in our waiting space. Regardless of why you come, or why you end up staying, our goal is that every person who walks through our doors, leaves with a smile on their face.
So sit back, relax, and explore why McCluskey Chevrolet is not only a name you can trust, but a name you will want to keep coming back to.
Impeccable Customer Service
Whether you give our dealership a call, come down to see us in person, or chat with a live team member on our website – the McCluskey Chevrolet customer service experience is always top notch. We believe that McCluskey Chevrolet has the best roster of team members than any other Chevy dealer in Ohio.
What makes our employees so great? For one, our employees are happy. They enjoy what they do, and that enjoyment reflects in every thing that they do for you, when you walk through our doors. From the warm smiles, the hot coffee, and the respect they give to all of our customers, our employees are what makes the McCluskey Chevrolet experience exceptional.
We have over 300 online reviews from our customers online, and nearly every one of those positive comments includes the name of one of our employees. Whether it was Kevin or Tony in sales, Bob in leasing, Chad in the body shop, or Mark in Finance – the McCluskey Family is one of the main reasons our customers enjoy their time at our dealership, and always come back again.
Clean and Welcoming
McCluskey Chevrolet is unlike any other Chevy dealer in Ohio. When you walk into our dealership, you will immediately notice that our state of the art building is clean, comfortable, and equipped for your needs. While you are here, be sure to visit our Internet Cafe, which offers complimentary popcorn, doughnuts, coffee, and bottled water during your visit. The same lounge features free high-speed wireless internet, along with iPads that are available to use during your visit.
Again and again, we hear from our customers that our Internet Cafe and Lounge is one of their favorite aspects of our dealership. Having a comfortable, clean, and welcoming place to shop for a new car, or wait while we service your vehicle, simply cannot be beat.
Be sure to bring the kids by when you visit. We have plenty to keep them occupied. After one visit, they will be begging to come back to McCluskey Chevrolet!
The Best Dealership Hours in Cincinnati!
There is no denying that here at McCluskey Chevrolet, we put our customers first. We are open seven days a week for the convenience of our customers. If there is one thing we understand, it's that purchasing a car should never be rushed. Our extensive sales hours allow you to take your time, and feel comfortable before you make your new vehicle purchase. We are open Monday through Thursday from 9:00AM until 9:00PM, Friday and Saturday from 9:00AM until 6:00PM, and even have hours on Sunday from 10:00AM until 6:00PM.
If you are looking to get service done on your vehicle, and are dreading finding the time – relax. Here at McCluskey Chevrolet, we have made it our priority to be flexible. That's why we offer service hours during the week until 3:00AM. That's right, 3:00AM! If you aren't a night owl, that's okay too. We open Monday through Friday at 7:30AM, Saturday at 9:00AM, and Sunday at 10:00AM. Our extensive service hours mean one thing – you will always be able to find time to get your vehicle serviced with McCluskey Chevrolet!
Convenient Location
Great hours for buying a vehicle and for getting your vehicle serviced don't mean anything, if you can't get to our dealership. That's why we are conveniently located right here in Cincinnati, Ohio at 9673 Kings Automall Drive. Whether you live in Indianapolis, Louisville, Columbus, or Cincinnati – we are easy to get to, located right off of Interstate 71.
If driving down to see us today isn't possible, you can still check out our entire inventory online. We offer the best new Chevrolet cars, trucks, and SUVs, with the most impressive prices. If you are looking for a quality pre-owned vehicle, we also have you covered! While Chevrolet vehicles are our speciality, we also have a great inventory of other major makes and models. Head to our online inventory 24 hours a day, 7 days a week. If you see something you like, give us a call at 513-761-1111 to set up a test drive. If you don't see what you are looking for, still give us a call. Our dedicated team members will help you find the perfect vehicle to suit your needs, and bring it right here for you to check out. That's just one of our promises!
Exceeding Your Expectations
Here at McCluskey Chevrolet, we always strive to go above and beyond what our customers expect. From our warm, inviting showroom, to our vast inventory or new and used vehicles, we have you covered.
Change your expectations about the car buying process, and check us out. Our sales team members will give you the space you need to peruse our inventory, and will be there to help when you need it. High pressure sales tactics aren't our style, so you can breathe easy knowing we have your best interest at heart.
Come down to McCluskey Chevrolet today, and allow us to show you what a true car buying experience is meant to look like.