McCluskey Chevrolet: We Put the Customer First, Always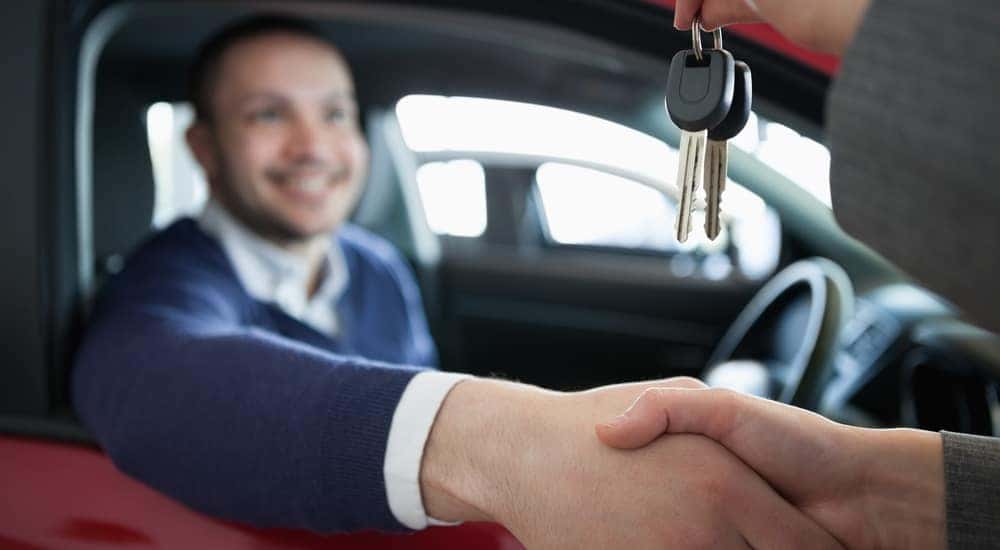 When it comes time to shop for a new or used car, SUV or truck, we know there are many Chevy Dealers in the Indianapolis area that you could decide to do business with. However, at McCluskey Chevrolet, we know that when it comes down to having the best car buying experience, no one does it better than we do at McCluskey Chevrolet. From our vast array of inventory to our stellar sales team, we keep your satisfaction in mind long after you've driven off the lot, which is why we offer top-notch service and repairs by our highly-trained technicians in our service center. With convenient hours and an easy-to-find location, there's no reason to waste your time shopping for your new or used car at any other Chevy dealer in Indianapolis; simply head to McCluskey Chevrolet and we'll show you how we put our customers first, always.
Vast Inventory, Stellar Sales Team
At McCluskey Chevrolet, we stock hundreds of cars, trucks, and SUVs right on site, which means that no matter if you're shopping for a brand new Equinox or a pre-owned Impala, we've got you covered with plenty of options. In fact, we even stock pre-owned cars that aren't even Chevy's! With such a wide variety to choose from, it's important to be able to seek guidance from a dedicated sales team, which is why our sales staff is always on hand to answer any questions you may have and to help you narrow down your choices from hundreds to a few, to finally the one perfect car for you and your family. Additionally, our sales team wants you to feel confident and comfortable when it comes time to make your final car choice, which is why they'll never push you into making a decision you're not comfortable with. We know that buying a car is a big commitment and we want you to love your car for years to come.
We also know that the commitment to your car doesn't start once you drive it off the lot – it actually begins the minute you decide you need to buy a new car – and that's because shopping for a new or used car means you have to commit your time to actually finding the right car. At McCluskey Chevrolet, we appreciate that it can be difficult to find time to visit and shop for cars while juggling work, school, kids and a social life, so we've tried to make our hours as convenient as possible. You can visit us and chat with our sales team Monday through Thursday from 9:00 AM to 9:00 PM, Friday, and Saturday from 9:00 AM to 6:00 PM and Sunday from 10:00 AM to 6:00 PM. You are also welcome to give our sales team a call with any questions you may have – our phone number is (513) 843-1985. Finally, if you're unable to make a call or you're doing a little car browsing late into the night, you can always utilize our great online chat feature located right on our website. There's no shortage of ways to communicate with us, so don't hesitate to reach out.
Top-Notch Service and Repairs
Once you have chosen your favorite car and brought it home, you're going to want to keep it looking and feeling as new as the day you drove off of our lot. To help you maintain your vehicle, we offer on-site service from our team of highly-trained technicians. From simple oil changes and tire rotations to heavy-duty repairs, our service team is ready to tackle any issue you may encounter while out on the road. In fact, because we know that sometimes things happen at the most inconvenient of times, our service team works nearly around the clock to make sure they are on hand for you whether it be day or night. You can schedule an appointment to bring your car into our service center Monday through Thursday from 7:30 AM to 3:00 AM, Friday from 7:30 AM to 6:00 PM, Saturday from 9:00 AM to 4:00 PM and Sunday from 10:00 AM to 4:00 PM.
We know that bringing your car in for service work is never exactly fun, so we've stocked our lounge with complimentary chocolates, popcorn, doughnuts and bottles of water. You also won't have to worry about having nothing to do, thanks to the iPads and high-speed Wi-Fi that we invite you to use. We've also made it as easy as possible to schedule your service appointments since we know keeping up a to-do list is a chore in and of itself. You are always welcome to call us at (513) 463-6031 to book your car in for its service, or you can simply schedule your service right on our website – it's easy and convenient to make your appointments no matter how you chose to do it.
We also don't want you to worry if the worst happens and you need a new part for your car, truck or SUV. Thanks to our on-site parts department, we can easily acquire any part that may need repairing or replacing. If there is a specific part that you've been shopping around for, why not give us a call at (513) 679-9300 and let us help you find it. Who knows, we may have the part in stock already. And of course, if you need or want help installing your new part, we are happy to help with that, too.
Easy-to-Find Location
By now you're probably wondering how quickly you can get yourself over to visit us at McCluskey Chevrolet. Fortunately, we are located right off Interstate 71 at 9673 Kings Automall Drive in Cincinnati, Ohio. We're proud to service Cincinnati and the surrounding areas and hope that you'll come visit us and experience the McCluskey Chevrolet way of doing business – which is by putting the needs and wants of our valued customers first, always
We look forward to meeting you soon!