Silverado 1500 vs. Silverado 2500HD: Which Should You Pursue?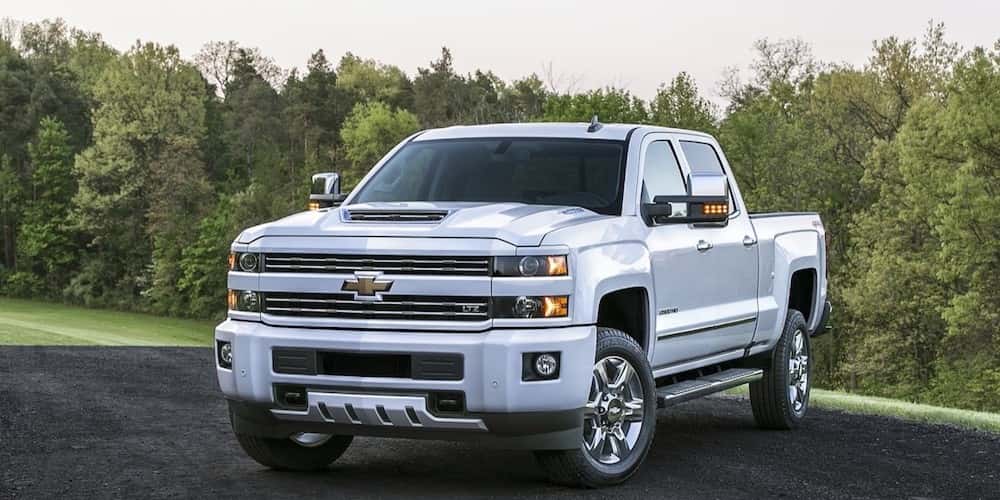 Have you been searching for commercial trucks for sale? Then you may naturally be attracted to Chevy's Silverado line, as these pickup trucks truly offer a number of unmatched specs, features, and capabilities.
Of course, it's especially important to recognize the difference between these pickup trucks. Below, we've compared the Silverado 1500 to the Silverado 2500HD, which should provide some clarity as you're looking for commercial trucks for sale.
Performance
Silverado 1500
The Silverado 1500 may not be accompanied by the "heavy duty" designation, but that certainly doesn't mean that the vehicle is incapable of pumping out a whole lot of power. In fact, the pickup's three available engine options promise a unique combination of power and efficiency, a pair of traits that are rarely included together in this specific segment.
The 6.2-liter V8 is the most hulking of the three available options, as the engine can pump out 420 horsepower and 460 pounds-feet of torque. When these two specs are operating to their full potential, drivers can expect a best-in-class 12,500-pound towing capacity. Even with all of this power emanating from under the hood, the vehicle still promises a phenomenal 21-mile-per-gallon highway fuel efficiency.
The 5.3-liter V8 sees minor reductions in these power specs, but this predictably leads to improvements in regards to efficiency. For starters, this engine is capable of delivering a mighty impressive 355 horsepower and 383 pounds-feet of torque, leading to an excellent 11,100-pound towing capacity. Meanwhile, the efficiency specs are improved, as owners can anticipate a best-in-class 23-mile-per-gallon highway fuel efficiency.
Finally, the 4.3-liter V6 is the most efficient of the bunch, as the engine promises a 24-mile-per-gallon highway fuel efficiency. Of course, similar to the truck's other engine options, the vehicle still manages to deliver plenty of power, as drivers can expect 285 horsepower and a best-in-class 305 pounds-feet of torque. Combine these two specs together, and the pickup should be able to haul up to 7,600 pounds.
Silverado 2500HD
This variant of the Silverado certainly earns its heavy duty tag thanks to the lone engine option, which delivers all of the specs a customer could possibly desire from a new pickup truck. The Vortex 6.0-liter V8 SFI engine is more than capable of providing drivers with all of the power they could ever need, as it cranks out an impressive 360 horsepower and 380 pounds-feet of torque.
Of course, similar to Chevy's other engine offerings, this unit still manages to maintain respectable fuel efficiency specs. Engineers cleverly included technologies like Variable Valve Timing, which ultimately leads to a respectable 16-mile-per-gallon highway fuel efficiency. Best of all, the unit drastically reduces emissions, meaning drivers can travel in their truck without worrying about their eco footprint.
Interior Features
Silverado 1500
Owners will presumably be spending the majority of their time inside their new pickup truck, and they'll surely be impressed with all of the technological amenities that engineers included in the Silverado 1500. They'll naturally be attracted to the Chevrolet MyLink system, which allows drivers to access their favorite radio stations and navigation applications. Thanks to the easy-to-use seven- or eight-inch touchscreen, drivers can access any of the amenities without having to constantly take their eyes off the road.
Meanwhile, the Silverado 1500's interior is also equipped with a wireless charging dock, which means occupants can constantly keep their smartphone juiced without having to finagle with any unnecessary charging cables. Finally, if any occupants desperately need to send an email or check a website, they can rely on the brand's 4G LTE Wi-Fi to keep them connected at all times.
Silverado 2500HD
The Silverado 2500HD includes many of the same interior amenities as the 1500, but this particular version of the pickup includes a number of additional features that will improve convenience. Ultimately, this ends up impacting the entire driving experience.
For instance, the pickup's steering wheel includes a number of controls that allows drivers to safely manipulate the accompanying touchscreen unit. These intuitive knobs and buttons are also easy to reach, allowing drivers to dedicate their focus entirely to the road. If drivers decide that they want to zone out and listen to their favorite tunes, then they'll appreciate all of the sound-deadening materials included throughout the truck. Inclusions like the inlaid, triple-sealed doors will allow drivers to hear their favorite musical artists, as opposed to the wind or engine.
Finally, the Silverado 2500HD includes the useful Customizable Driver Display. The 4.2-inch diagonal color screen will display essential information directly in front of the driver, meaning they won't have to strain their neck to access fuel efficiency, speed, or vehicle diagnostics.
Safety
Silverado 1500/Silverado 2500HD
It's rather difficult comparing the safety functions of these two pickups, as they essentially offer many of the same features. However, these amenities are truly too notable to ignore.
It starts with the various protective safety features, which will play a significant role in keeping drivers safe during a crash. The two pickups' six standard air bags and high-strength steel safety cage should provide more than enough protection, although drivers could alternatively rely on the OnStar Automatic Crash Response System if they desire more help. This inclusion will automatically connect the vehicle's operator with an OnStar Advisor, who can send emergency personnel directly to the site.
Meanwhile, the various preventive safety features should keep your new Silverado out of harm's way entirely. The pickups are equipped with functions that should greatly reduce the chance of an accident, including:
Low-Speed Forward Automatic Braking
Lane Keep Assist
Forward Collision Alert
Safety Alert Driver Seat
Front and Rear Park Assist
Rear Vision Camera
Side Blind Zone Alert
Lane Departure Warning
Regardless of which Silverado you decide to pursue, you should be opting for McCluskey Chevrolet the next time you're seeking commercial trucks for sale. The dealership promises the most competitive prices in the Cincinnati area, and drivers are essentially guaranteed an easy, low-maintenance car-buying experience.