The Best Ways To Upgrade Your Chevy Truck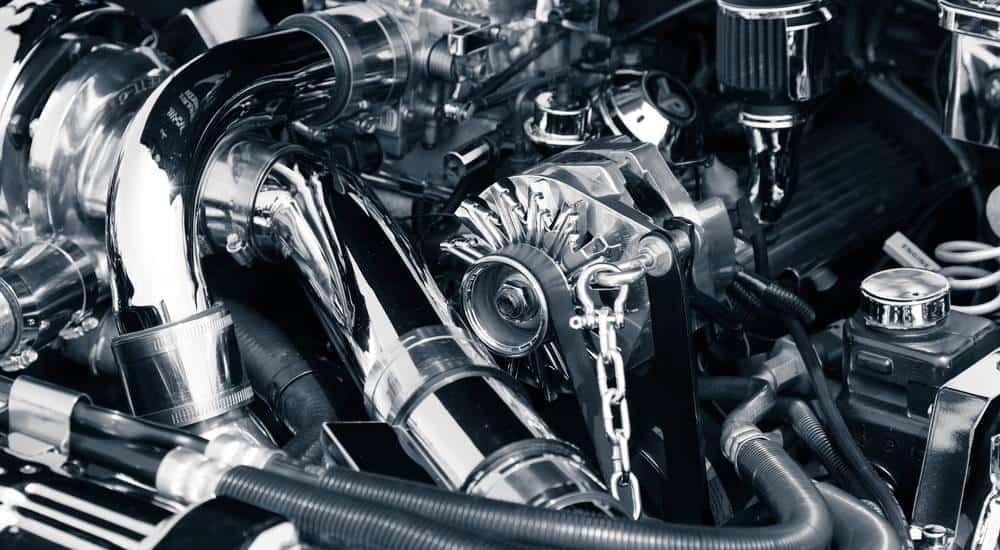 If you love trucks, you must love Chevy trucks. That's because nobody brings more style and more experience than this classic American automaker, whose trucks have been the stuff of legends for decades. But although Chevy manages to make their trucks fairly impressive off the line, what really makes the Chevy brand so impressive is its enthusiastic embrace of added parts, accessories, and features to help drivers make each Chevy on the road more powerful, more enviable, and totally and uniquely their own.
There is more than one way to upgrade your truck with quality Chevy truck parts, and having a plan as you get started on your Chevy improvement journey can give you a better sense of exactly how you're going to add your personal flair to your truck. Some drivers add on power-packed performance parts to make even the tallest mountain easier than a molehill; others pick maximum storage space and survival gear for those intense outdoor trips; and still others opt for the day's most impressive tech to rock harder and keep on the ball even when they're on the move.
So it all comes down to one basic question: which kind of driver are you? Know thyself and you'll know your truck – and then you can make sure you're getting the right parts for your perfect truck.
Performance Improvements for Added Roar
There's nothing wrong with a sturdy, dependable work truck – in fact, some of Chevy's best off-the-line models are those built for those who seriously need to get stuff done. But when it comes to bringing insane amounts of offroad and performance power to your Chevy truck, only a few key added parts will do – and they can turn your pickup into a fierce fighting machine.
Take Rocky Ridge trucks, for example. This widely-acclaimed truck lifting business is known internationally for their impressive conversion packages for trucks across the spectrum. For Chevy trucks, Rocky Ridge packages offer all the best off-road gear possible, from lifts as high as 6 inches and fierce features, like off-road wheels and all-terrain wheels, to distinctive side panels and emblem styling for that unmistakably tough look on the outside.
But as impressive as exterior styling and off-road equipment may be, a true offroader starts right down at the basic architecture. Add in highly capable crawling features like Rocky Ridge's Nitrogen-Charged Rear Shocks, Front Skid Plate Compression Struts, Front and Cross Rear-Members, and premium dual exhaust tips and you've got a truck that can conquer just about any peak you may come across.
Boost Your Storage for Those Long Adventures
Basic adventurers are satisfied with whatever they can bring along for the trek – maybe an afternoon's worth of gear for those fun weekend outings. But for those truck lovers with extended journeys to attend to, only a serious survival and off road ready truck will do. With a few impressive Chevy truck upgrades, you can have your pickup ready for the long haul just the way you like it.
Outfitting your truck to bring your favorite sporting gear along has never been easier, thanks to features like hitch-mounted racks for bikes and skis or ladder racks and roof rails for larger cargo like canoes or kayaks. For seriously huge loads that rival the total size of the bed, specially-built tie-down hooks attached to the cargo area can help offer a secure anchor to keep everything in its right place. And with bed enhancement features like Rhino Linings providing military- and professional-grade protection for all your toughest loads, you can punish your truck with cargo without having to break a sweat.
And for all your gear that doesn't belong in the back cab, added features like underseat storage below the rear seat row can provide a secure and hidden place to keep tools, personal effects, or whatever else you might have on hand. Or, choose the storage organizer for the central storage cargo bin and get all your most important gear in order and at arm's length for those busy afternoons on the road. Whatever you may be bringing with you, these Chevy parts turn your truck into a true cargo machine suited for any adventure ahead.
Pre-Load Your Chevy Truck with Today's Top Tech
These days, a truly great truck just isn't about all architecture and amenities. Today's trucks are as tech-savvy as the best consumer cars, and plenty pack in the latest connectivity and entertainment tools for your enjoyment out on the road. Getting your Chevy truck with these added accessories preloaded saves you time, money, and effort down the road. Plus, it ensures your truck's tech system works in harmony as one efficient and effective system, regardless of what you may be using it for.
Are you the kind to blast the best tunes if you've got to spend even a few minutes on the road? Try outfitting your Chevy with a top-tier sound system, like a Bose premium system with an available Kicker subwoofer to make the bass shake all the way down the block. Or, if you're the kind to take your truck for a fun day at the beach, Chevy offers a handy bluetooth portable speaker with up to a 100-foot range, letting you park and bring your tunes with you for tailgating and beach day fun.
Or, if you've got big work to do, Chevy makes getting down to business easier with tools like 4G LTE Wi-Fi throughout the cab for connectivity for you and all your passengers, even when you're on the move. Advanced camera and proximity sensors add both safety and deft control to your most delicate towing and parking jobs, and advanced preventative safety tech has your back and helps prevent crashes before they ever even happen.
Upgrade Your Truck and Conquer the Road Ahead
The choices for you to upgrade your Chevy truck may not be limitless, but they are extensive – and it really comes down to what you're looking for and how bold you're willing to be. Upgrade your Chevy truck today and claim the road ahead.