Upfit Your Heavy Duty Hauler into a Dump Truck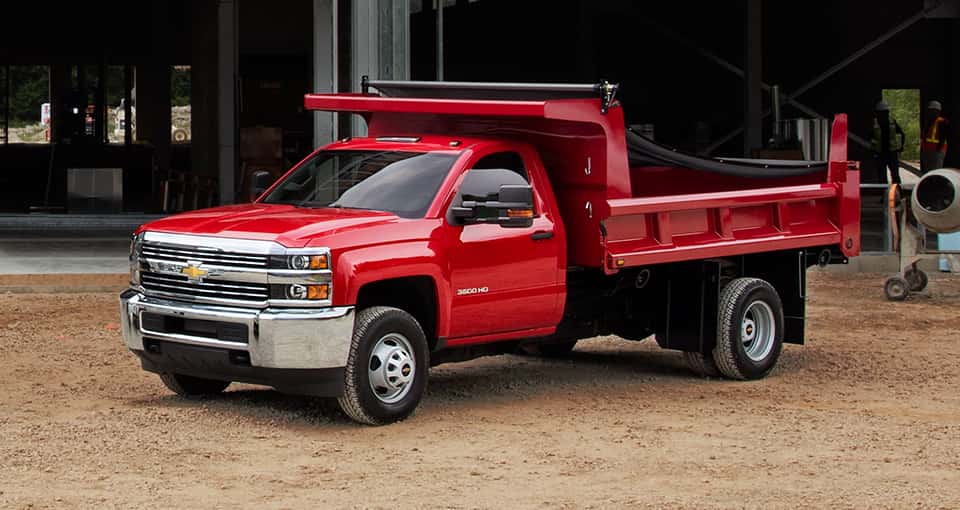 Are you a local business owner who is searching for a reputable dealership that you can forge a lasting relationship with? In today's climate, it can be hard to find the kind of relationship between a dealership and a small business that is created equal. Fortunately, residents and small business owners in and around the Cincinnati area can find all of their commercial trucking needs right here in town with McCluskey Chevrolet.
Our commercial truck dealership offers the most extensive selection of heavy duty pickup trucks than any other dealer in the area. Whether you are looking for dump trucks for sale, or are eager to upfit your Chevy Silverado 3500HD for hard-core hauls, McCluskey Chevrolet has all of your small business needs covered.
Converting Your Heavy Duty Pickup into a Dump Truck
If your small business requires the heavy duty hauling and loading that can only be provided by a dump truck, McCluskey Chevy has just the upfit to optimize your efforts. The two Chevy models best converted into dump trucks are the Chevy Silverado 3500HD and Chevy Silverado 3500HD Chassis Cab. Whether you prefer, or simply need, two-wheel or all-wheel drive, these dump trucks afford you maximum loading, both on and off the road, along with ultimate shock absorption. Chevy considers any work requiring the help of a dump truck, "severe service," and has made every effort to satisfy the needs of that service, while keeping the driver safely surrounded by a comfortable cabin.
Available configurations for a dump upfit include the regular, double or crew cabs, with towing capacities that range anywhere from 13,000-14,500 lbs. Maximum payload measures between 3,283 – 4,415 lbs, with curb weight coming in at 5,985 – 6,901 lbs. Depending on the configuration that best suits your small business' needs, Chevy's heavy duty pickup trucks offer a Gross Vehicle Weight Rating (GVWR) of 10,000 – 11,000 lbs.
With strength and capability like this, there is nothing your small business can't handle with the help of a Chevy dump truck.
Whether your work involves masonry, landscaping, construction, or any other tough-as-nails tasks, upfitting your Chevy Silverado 3500HD into a dump truck will lessen your load and take some serious weight off your shoulders.
What it Means to Partner with McCluskey Chevrolet
As a Chevrolet dealership here in Cincinnati, we understand that you have plenty of options when it comes to where you will invest in the future of your small business. At McCluskey Chevrolet, we are not only a great resource for commercial trucks, but we have been ranked the number one dealership for commercial trucking needs in the nation. Our location at 9673 Kings Automall Drive, right here in Cincinnati, is easily accessed by the entire city and its surrounding communities.
When you partner with McCluskey Chevrolet for your small business fleet needs, we promise to be as dedicated to your bottom line as we are to our own. With incredible benefits that no other dealership in the area can offer, McCluskey Chevrolet is not simply a place where you can buy dump trucks and other high-quality commercial vehicles. We are a family-run dealership that is committed to helping your business succeed. When you make the decision to purchase your commercial Chevy trucks with McCluskey Chevrolet, you will instantly become a part of the McCluskey family, and have the opportunity to take advantage of our many dealer benefits. Check out a small sample of what you will have access to once you choose to trust McCluskey Chevy with all of your commercial vehicle needs:
• Unbeatable Service Hours: When we say that our service hours are unbeatable, we mean it. Here at McCluskey Chevrolet, we understand that not everyone is able to make it in to have their vehicles serviced during regular operating hours. This is especially true for commercial vehicles, which likely can't be out of commission without negative impacting the productivity (and profits) of a small business. We offer service hours until three in the morning, because we never want to see your business lose out on a job due to routine or unexpected maintenance. Our skilled technicians are the best in the business, and we will only use certified GM parts on your Chevrolet commercial vehicles and dump trucks. If your time is as precious as we think it is, then partnering with McCluskey Chevrolet for your commercial vehicle needs is a no brainer.
• Lifetime Powertrain Protection: Buying commercial vehicles for your small business is not an ordinary purchase, and so should not be treated as such. McCluskey Chevrolet realizes that you work hard for the money that your small business brings in, and that your dealership should help you protect your investment in any way possible. That is why we offer a Lifetime Powertrain Protection program to all of our commercial customers. McCluskey Chevrolet is the only dealership in the greater Cincinnati area that offers this type of protection, which is good for as long as you own your vehicle. Whether you purchase one dump truck, or an entire fleet of commercial vehicles, McCluskey Chevrolet is the only place where you can do so with complete and total peace of mind.
• Complete Commitment: When you purchase a new Chevy dump truck or other commercial vehicle for your small business, don't settle for a dealer who puts their own needs above your own. At McCluskey Chevrolet, we know what it means to be in business, and we are fully committed to helping other small businesses succeed. We are family owned and operated, and Cincinnati residents have been putting their trust in us for decades. McCluskey Chevrolet doesn't just want to sell a few trucks to your small business and be done with it. Rather, we are sincerely hopeful that our business can provide yours with years of high quality service and dedication for increased success.
Whether you are in need of your own fleet of heavy duty dump trucks, or a single Chevy City Express, McCluskey Chevrolet is here to help your small business succeed by providing you with a large selection of high quality commercial vehicles from Chevrolet. We hope to speak with you soon, and begin the process of outfitting your small business with the fleet of vehicles it needs to ensure future growth.