Upfit Your Work Trucks… Upfit Your Company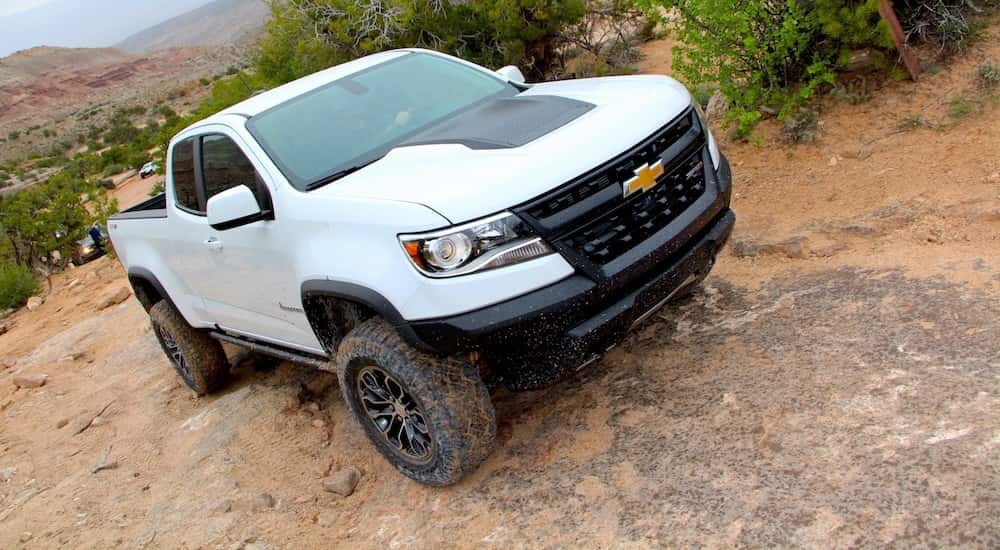 When you're searching work trucks for sale, Cincinnati has plenty to choose from. Look no further than McCluskey Chevrolet and you'll find an extensive inventory of vehicles designed for commercial use.
No matter what the job, Chevrolet believes that you should have the exact "tool" to get it done right. Perhaps you're in need of a vehicle that can double as a mobile office / command center, giving you the flexibility of moving from site to site. Maybe you require something more suitable for transporting your team, materials or equipment. Perhaps you're just looking for the right base for uplifts designed specifically for the demands of your work.
Pickup Builds
Whether you need to pick up a crew, transport equipment or just need to get from Point A to Point B, today's pickup trucks have a lot to offer. Chevy's award-winning line has garnered a number of awards, with both the Colorado and Silverado ranking among the most popular vehicles in the state of Ohio.
Starting at $20,995 MSRP, the midsize Chevy Colorado provides a smooth ride, great towing capacity (when properly equipped), and a wealth of available technology. Seating two, four or five, you can find the cab build that is right for you. Powered by a 2.5-liter inline four cylinder, the Colorado delivers 200 horsepower and 191 lbs-ft of torque, paired with a six-speed manual transmission. If you needs are more demanding, take the time to explore such options as a 3.6-liter V6 or our Duramax 2.8-liter Turbo-Diesel. Recognized by Kelley Blue Book as a '5-Year Cost To Own' winner, the Colorado can tow up to 7,700 LBS and performs just as impressively on the road, delivering as much as 30 mpg (highway), depending on the engine option.
Named by Vincentric as the 'Best Value Commercial Pickup Truck, the strong, efficient, and exceptionally capable Silverado slides in accessibly at $27,785. With a high-strength steel bed, the Silverado is designed to out-perform its aluminum-based competition in terms of durability. And in terms of performance, find the option that fits you best. The 4.3-liter V6 can deliver 285 horsepower, and a Best-in-Class 305 lbs-ft of torque. With 7,600 lbs towing capacity, and an EPA-estimated 24 mpg (highway, 18 city), there is a lot to like about the base Silverado. Consider upgrading to the 5.3-liter V8 and expect some jumps. If 355 horsepower and a Best-in-Class 23 mpg (highway, 16 city) aren't enough to grab your attention, try the 11,100 LB towing capacity. Atop the offerings sits the 6.2-liter V8 that serves 420 horses, 460 lbs-ft of torque and a Best-in-Class 12,500 towing capacity. With 21 mpg (highway, 15 city), the Silverado provides no shortage of options.
Van Builds
The Chevrolet Express remains one of the best-selling options for both commercial (and personal conversion). Offering more options than ever, the Express line is deserving of its popularity.
Beginning with the City Express, Chevrolet offers a small cargo van ideal for serving as a mobile office. Starting at $22,405, the compact City Express offers impressive maneuverability for urban use, and an EPA-estimated 24 mpg (City, 26 highway). Powered by a 2.0-liter four-cylinder engine, the 131 horsepower is tailored to in-city driving. With 82.8" of depth, the 53" (h) x 48" (w) storage area is deceptively accommodating. And since connectivity is crucial to the success of any business, the City Express is Bluetooth-enabled with optional 4G LTE Wi-Fi, providing an adaptable workspace designed to keep you in contact.
At $30,745 MSRP, the Express Cargo provides a more expansive space, which can be configured for storage or to seat up to five – perfect for more moderately-sized crews. Available in both 2500 (3,234 LB max payload) or 3500 (4,192 LB max payload) builds, either can be ordered as standard or extended wheelbase. The standard 4.8-liter V8 is paired to a six-speed automatic transmission, delivering 285 horsepower and 295 lbs-ft of torque. Additional powertrain options include a 6.0-liter V8 that serves up 342 horsepower and 373 lbs-ft (as well as a 2.8-liter Diesel yielding 181 horsepower and 369 lbs-ft).
The Express Passenger provides a more passenger-friendly alternative, with seating for up to 15. The standard 4.8-liter V8 engine delivers 285 horsepower, while the option of a 6.0-liter V8 jumps it up to 342. You an also opt for the 2.8-liter Diesel which, paired with an 8-speed automatic transmission, delivers the max towing capacity of 6,200 LBS. Beginning at an MSRP of $33,140, the Express Passenger is perfect for the daily task of transporting your crew.
Chassis Builds
If your needs are more specific, Chevrolet offers a number of chassis builds designed for customization. From the Silverado Chassis (starting at $33,755 MSRP), to the Express Cutaway (starting at $29,550 MSRP), these pick-up and van-inspired cabs provide blank slates for the unique needs of your business. For even more demanding applications, consider the Low Cab Forward (starting at $39,775 MSRP), which is available in a number of configurations and engine options, delivering a range of performance expectations. Visit our Work Trucks tab on mccluskeychevrolet.com and find out more about the options that are available to you, with a full breakdown of upfit builds for our chassis cab and cutaway vehicles.
Upfit Your Company
If you're going to do the job, trust the team at McCluskey Chevrolet to help you find the vehicle to do it right. A commercial vehicle is more than just the purpose that it serves; it is an extension of your company, and its brand identity. With Chevrolet's array of offerings, we can find the right option to enhance your company, exceed the expectations for performance, and fit the budget. Visit us today and see for yourself the work trucks for sale that Cincinnati has to offer