Why Chevy Customers Come Back Again (& Again)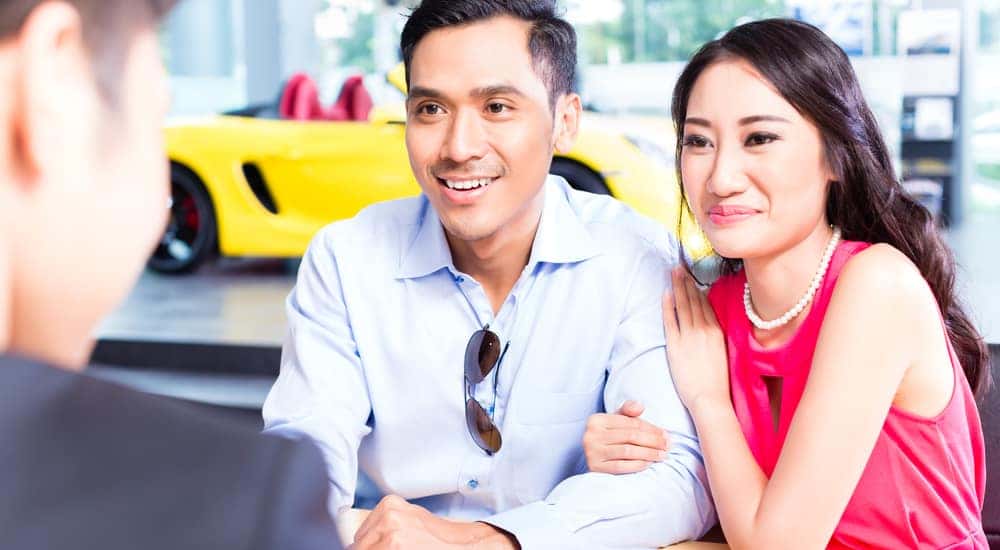 What is it that brings you to your Chevy Dealer? The fact that Chevy dealerships are an extension of the most awarded car company three years in a row provides compelling enough argument. We'll circle back to some of those awards, but your Chevy Dealer provides countless reasons why they are the right choice for you. This is especially true for car buyers in and around Cincinnati, who have the distinct advantage of working with McCluskey Chevrolet.
Unrivaled Inventory
Whether you're looking to buy or lease; whether you're interested in new, pre-owned or Certified, it's important to work with a dealership whose inventory is extensive enough to provide the selection you deserve. From a brand-new Corvette Z06 to an earlier model Malibu priced with the buyer in mind, we are here to help you find that the perfect fit for you, your lifestyle and your budget.
Simplicity & Transparency
Not only do you have a standing invitation to visit McCluskey Chevrolet and explore our vast selection of offerings, but you can also do the same from the comfort of your home laptop, tablet or smartphone.
At mccluskeychevrolet.com you can find an online profile for every vehicle available on our lot. We take great pride in maintaining these thorough profiles for two reasons. First, it helps us to be respectful of your valuable time. And second, it helps us to empower our customers with the information they need, in order to buy with confidence.
And within each vehicle profile, you can expect to find that wealth of information. From original manufacturer specifications to information specific to that vehicle, we believe in creating a fully transparent buying process. With the click of the mouse or a swipe of the finger, we invite you to compare pricing within Kelley Blue Book's 'Fair Market Range' and (on used vehicles) to explore each vehicle's CARFAX vehicle history report. Still not sure? Why not use our Consumer Reporting tools to see what others have said about the vehicle(s) that you have found yourself looking at?
Online Tools
Also within each vehicle profile, you'll find a number of online shopping tools, designed to simplify your buying experience.
Do you have a vehicle that you intend to trade in? Find out your 'True Market Value' via our edmunds.com tool, or get an instant Kelley Blue Book cash offer. With a better idea of the trade-in value you can expect, you're better able to determine the adjusted price of your new vehicle.
Still not sure if the vehicle fits your budget? Use our Payment Calculator to run the numbers.
Want to schedule a test drive? You can do that right here at mccluskeychevrolet.com, saving yourself even more time.
And if you need financing? Why not apply online for our Guaranteed Credit Approval.
As mentioned above, we understand the value of your time. Helping our customers to buy cars may be our business, but we know that there are far more important things for you to be doing with your limited free time. By offering up such tools, you can shop for your next Chevy on your own time, and on your own terms.
New Offerings
Across Chevy's line of cars, trucks and SUVs Chevy stands as the only automaker to win J.D. Power and Associates dependability awards across all three segments. Even more impressive, is the fact that they've done so two years in a row. While those particular accolades belong to the Camaro, Silverado HD, and Tahoe, respectively, it's only a small portion of the awards earned in the most recent model year.
Explore Chevy's offerings and one could (almost) grow tired of seeing IIHS 'Top Safety Picks', Kelley Blue Book '5 Year Cost-to-Own' awards, U.S. News & World Report recognition of countless vehicles as being 'Best' in class and Car and Driver's '10Best'. Add in the Bolt EV's commendation as 'Car of the Year' by MotorTrend and Green Car Journal and the newest Chevy's certainly, offer up enough awards to go around.
That's a lot to be excited about.
GM Certified
Not sure if you're interested in buying new? Perhaps it's worthwhile to consider a GM Certified Pre-Owned vehicle.
To achieve GM Certified status, a previously-owned vehicle must be less than five model years old and have been driven less than 75,000 miles. Once eligible, the vehicle undergoes a rigorous 172-point vehicle inspection, performed by GM-certified technicians. Any parts or major systems that do not meet factory specifications are then refurbished, repaired or replaced using GM-certified parts.
In addition, the assurances offered above, GM Certified vehicles sweeten the deal further. First, consider the value of a 6-year / 100,000-mile (whichever comes first) Powertrain Limited Warranty, and a 12-month / 12,000-mile Bumper-to-Bumper Limited Warranty. Both extended warranties come standard with the purchase of a GM Certified vehicle, and with a $0 deductible. Contingent upon a scheduled maintenance program, you can buy with confidence in knowing that both GM and your dealership are committed to offering you a high-quality vehicle and high-quality service.
And should you decide (within 3 days or 150 miles) that you new GM Certified vehicle isn't the right vehicle for you, you can exchange it for one that is. These aren't the only perks to buying a GM Certified Pre-Owned vehicle but, then again, how much more do you need for it to be 'worth considering'?
Why McCluskey Chevrolet
As we said at the beginning, there are countless reasons why so many car buyers prefer Chevy. The numerous awards bestowed upon Chevy's newest model year and the compelling assurances offered within the GM Certified Pre-Owned program are just a few.
And if their choice of Chevy Dealer is based on selection and ease of buying, we are confident that you'll find McCluskey Chevrolet to stand head and shoulders above the competition. Being exploring the McCluskey difference today, and we're confident that you'll build your own list of reasons to let us help you, again and again.