Why the 2016 Chevy Silverado Received a Redesign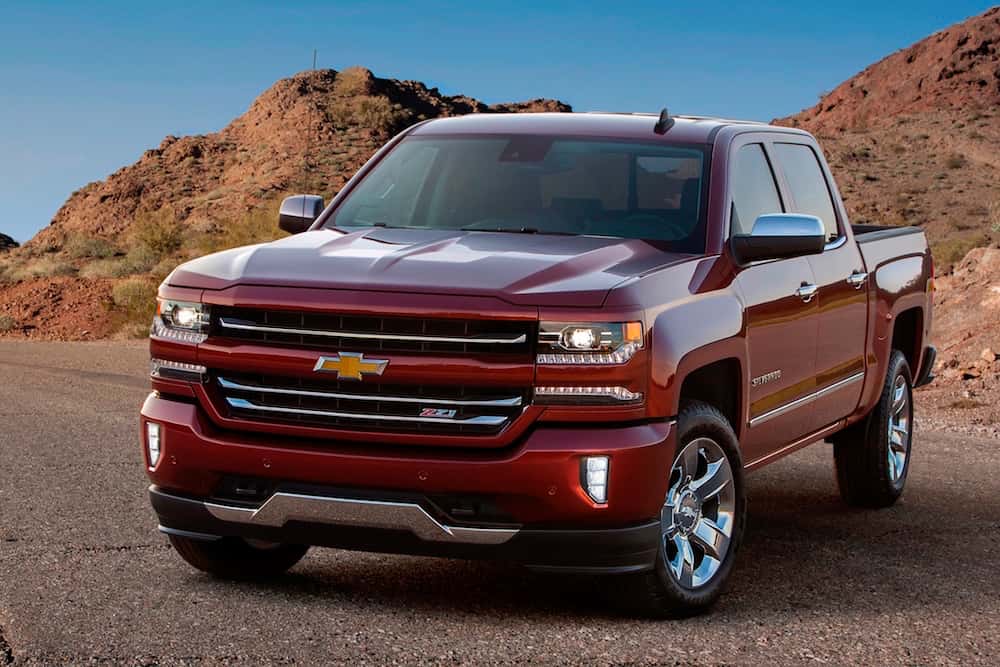 The 2016 Chevy Silverado has been making headlines well before its release with photos being sneaked to the press and rumors flying around of redesigns. As it turns out, those rumors were true and the 2016 Chevy Silverado did, in fact, get a redesign.
Given that the last time the Silverado received an update was only last year for the 2014 model, it is rather unusual for the top-selling full-size pickup to get yet another redesign.
So it begs the question, why would you redesign of your top selling vehicle so quickly?
Even though GM's sales are sufficiently up, so are the competitors sales. Now more than ever it is important to keep that edge. Currently Ford is their biggest competition and this upgrade is in direct response to their upgrades.
Competition: Only the Strong Survive
Since the introduction of the Silverado 1500 in the spring of 2013, its sales have grown by more than 10% each year. Just this past year the Silverado 1500 was the fastest growing full size pickup in sales. However, it still hasn't beaten Ford where it counts.
The Ford F-series is currently the best selling full size truck. Even though Ford's sales are down from last year, it still is in the number one position. GM follows with the next best, Chevy's Silverado and GM's Sienna.
Most recently Ford redesigned their F-150 choosing an aluminum frame consequently dropping 700 lbs. GM is keeping their steel frame and choosing to point out in a new advertising campaign that Chevy trucks are still made with steel; solid strength, unlike their competitor.
Right now, GM is building on their reputation of reliability and dependability. The 2016 Silverado is an example of how to stay current and to keep challenging your best.
While it is rumored that this is update curiously coincides with Ford's decline in sales as well as their choice for aluminum frame, GM doesn't need Ford's help in proving they make quality pickups. As any good company knows, the time for change and progress is always now.
2016 Chevy Silverado: New Face of Strong
When you have a midsize truck that is as top quality as Chevy's Silverado, it's not too often that it needs to be changed. Still, to keep its appeal fresh and and its approach modern, updates and redesigns must take place. So, in a desire to build on last years full size pickup sales, they're keeping the momentum up with aggressive new tactics to entice buyers.
Enter the redesign
The 2016 Silverado's front looks completely different compared to the 2015 model. That's because there are no more stacked headlights for the Silverado and the chrome is gone. Being that stacked headlights have been an iconic part of Chevy's front end appearance since the 1980's, this change has been received with mixed reviews. However, it's hard to argue when there are new LED lights that illuminate the way. Sure, they're different, but their new design is bold and sharp. The chrome being gone from the front grill is a nice change.
Like a teenager fresh from the orthodontist, the Silverado is smiling pretty sans all the blinding metal.
Eight Trims of Your Choosing
With eight trims to choose from, there is no question of whether Chevy has thought about what you need in performance, energy, cargo space, fuel efficiency and the latest in technology. Eight trims that speak to the needs of everyone who needs and wants to own a pickup. Eight trims to specifically fit to your world and lifestyle. Eight trims that celebrate the cowboy, police officer, weekend warrior and renegade in us all. There is no shortage of options. Chevy has you covered.
Powerful Performance
Taking from Chevy's 5th generation of legendary small block engines that use three proven fuel-saving technologies: Active Fuel Management, Direct Injection and Continuously Variable Valve Timing, each delivers impressive efficiency and a powerful performance. A 4.3L Ecotec 3 V6 engine produces 285 horsepower and provides 18 city/24 hwy mpg and can tow up to 7600 lbs.
Next is the 5.3L Ecotec 3 V8 which produces 355 horsepower, can tow up to 11,100 lbs. This engine provides the best-in-class fuel economy at 16 city/23 hwy mpg. Finally, the most impressive engine offered on the 2016 Silverado is the 6.2L Ecotec 3 V8 that delivers 420 horsepower with a best 12,000 lbs. towing capacity and a fuel economy of 15 city/21 hwy mpg.
Transmission That Works For You
Providing optimal balance between power and acceleration is the addition of the 8-speed transmission being offered to both V8 engines. Providing a higher first gear ratio, it aids in more confidence when accelerating when hauling heavy loads. It also has a lower rear axle ratios that reduces engine rpms when on the highway increasing highway fuel economy.
Reportedly weighing the same as a 6 speed, it's presumed that the lack of difference in weight will improve its fuel economy. For the fourth quarter, it was a goal of GM's to produce a pickup that was better on fuel economy. The 2016 Chevy Silverado makes it look promising.
Off-Roading Package
In a way to capture the market for those who still love to take their car out and get dirty, the 2016 Silverado is including a new package specifically for off-roading. The legendary Z-71 Off-Road Package provides off-road capability from a tuned suspension featuring Rancho shocks, skid plates, as well as an automatic locking rear differential.
Updated Technology
Now, Chevy's infotainment system MyLink syncs up with Apple's CarPlay and Android Auto, allowing access to certain iPhone or Android apps through the 8-inch touchscreen. The new Silverado is included in the models being upgraded to the new MyLink system, so whether you have an iPhone or Android device, you'll have access to the latest and greatest technology.
Overall, the 2016 Silverado is not meant to be a radical redesign, but it fits perfectly into Chevy's plan to become the #1 pick-up brand in America.