Oil Change
Oil change s are one of those car maintenance procedures that come around once every few months and just needs to get done. Like fueling your vehicle, oil changes are a necessary component to keep your car running. At McCluskey Chevy, we know that this can sometimes be an inconvenience during your busy schedule, so we are proud to offer a quick oil change to get you in and out the door in a timely and expedient fashion. We understand that taking care of your car is of the utmost importance, but that your time is valuable. To help get you started, here is everything you need to know about getting an oil change with McCluskey Chevy.
Why McCluskey Chevy?Service InfoSchedule Service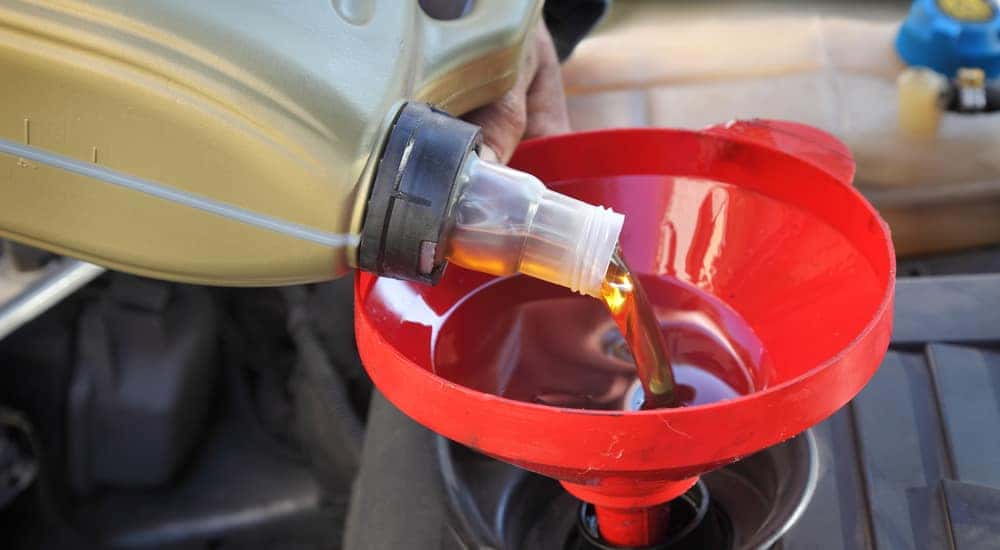 How Often Do You Need an Oil Change?
In order to determine when you should get the oil changed in your vehicle, it is relevant to know the year of your model. If you own a 2008 model or newer, we recommend changing the car's oil every 7,500 miles or every six months, whichever comes first. If you own a vehicle that's older than 2008, we recommend changing the oil every 5,000 miles or every six months, whichever comes first.
How you drive your vehicle is also important to keep in mind. If you have less typical driving habits, such as driving at low speeds for long distances, driving in dusty conditions, hauling heavy payloads, or excessive idling, we recommend changing your oil more frequently. For example, 2008 and newer we recommend every 5,000 miles or every six months. For 2007 and older we recommend changing the oil every 3,000 miles or every three months.
In addition, it's always good practice to check your owner's manual and see what your manufacturer states for the oil change. No matter what make or model your vehicle is, the manual will have help guidelines for the maintenance that is required for your vehicle. If the manual has been misplaced, you can easily find the information provided in the manual online.
Newer vehicle models should also have an oil gauge which should alert you when it's time for an oil change. Either way, it's a good idea to keep these timelines in mind so that you have a car that remains in peak condition and runs smoothly and without issues.
How Does an Oil Change Benefit Your Vehicle?
There are a number of benefits that come with changing the oil in your vehicle. The primary benefit is keeping your engine clean and running like-new. When a mechanic or service team changes your oil, they install a new engine filter, drain the old oil, and replace it with new oil. This ensures that the engine maintains optimal performance. Cars with old oil can contain debris and particles that can damage the engine and negatively affect how it operates. Ensuring that this oil is replaced with clean oil enables the engine to continue operating smoothly.
In addition, regular wear and debris on the engine can shorten engine life. By changing the oil, this ensures that the engine will last longer and work proficiently. A cleaner engine also means cleaner emissions and exhaust. When the oil is clean, it can absorb harmful particles that can go into the air or back into the car, changing the oil every few months ensures that these particles won't damage your vehicle.
Finally, clean oil lubricates the engine, resulting in better and more efficient gas mileage. Getting your car oil changed can pay for itself, and you can spend less money pumping gas at the gas station. At McCluskey Chevy, we perform a quick oil change and without fuss and you can leave knowing that your vehicle has been in excellent hands.
What Else Do You Get With Your Quick Oil Change?
When you come to the McCluskey Chevy Service Department, we offer a number of complimentary services along with your oil change. We will inspect the car for any wear and damage with our free 27 point safety inspection. We will check all of your car parts and double check to see if anything has been worn or damaged. Having a routine check-up like this ensures that your car continues to run smoothly for years ahead and enables you to check on your vehicle every few months instead of just once a year. We make sure that everything from the engine to the belts are running as smoothly as they should.
In addition, while you wait for your quick oil change, we have a great lobby you can sit in while we get the job done. We have complimentary Starbucks coffee, water, chocolate, and snacks. We want our customers to be as comfortable as possible while we perform your service. In addition, we also provide a free car wash so you will leave with a clean exterior and clean engine. Be sure to go online to book an appointment or feel free to call one of our representatives if you have any questions!
What Will A Quick Oil Change Cost You?
Our oil change prices vary from model to model, and if you have any questions about our prices feel free to contact our service team at 513-697-5200 for your quick oil change.
Who Is Performing Your Quick Oil Change?
At McCluskey Chevy, we only hire the most highly trained and professional technicians to change your oil. We invest heavily in our technicians education on new models, makes, and techniques to ensure that you are getting the best service possible. A quick oil change is our priority and all of our technicians our trained to do the job well at our high standards, as well as in an expedient amount of time.
We also know that people's schedules are busy and our Service Department has extremely flexible hours to fit with any of our customer's schedules. Our service hours are Mon-Thur 7:30am-3:00pm, Friday 7:30am-6:00pm, Saturday 9:00am-4pm and Sunday 10:00am to 4:00pm. Our extended Monday through Thursday hours are intended to work for you, and we are happy to help you between any of these times day or night.
Quick and Quality Experience at McCluskey Chevy

When you come to McCluskey Chevy, you can rest easy knowing you are in the very best of hands. We are the best in the business and our highly trained technicians with decades of experience will get your quick oil change done fast and at our premium, high standards and rates. Our service team is open seven days a week to fit your schedule, and we pride ourselves on our excellent customer service and complimentary benefits and services. If you happen to want to look at our inventory while you're stopping by, feel free to talk to one of our knowledgeable Sales Team members who will be happy to talk to you and show you around our impressive inventory of vehicles. At McCluskey Chevy, your local Chevy dealership, the customer is our priority. Whether you are a first time customer or repeat visitor, we are happy to see you, show you around, and answer any and all questions you might have about our dealership.