Silverado Mud Flaps
At McCluskey Chevrolet, we offer the best variety of vehicles as well as all the essential accessories that make them go from ok to beyond fresh. The best equipment you can get are the ones that both protect as well as style your vehicle. One essential item on your accessory list should be mud flaps. Especially bigger models, such as the Chevrolet Silverado, require Silverado mud flaps to keep your own truck as well as other cars on the road safe and in peak condition.
Why McCluskey ChevyOrder PartsIncentives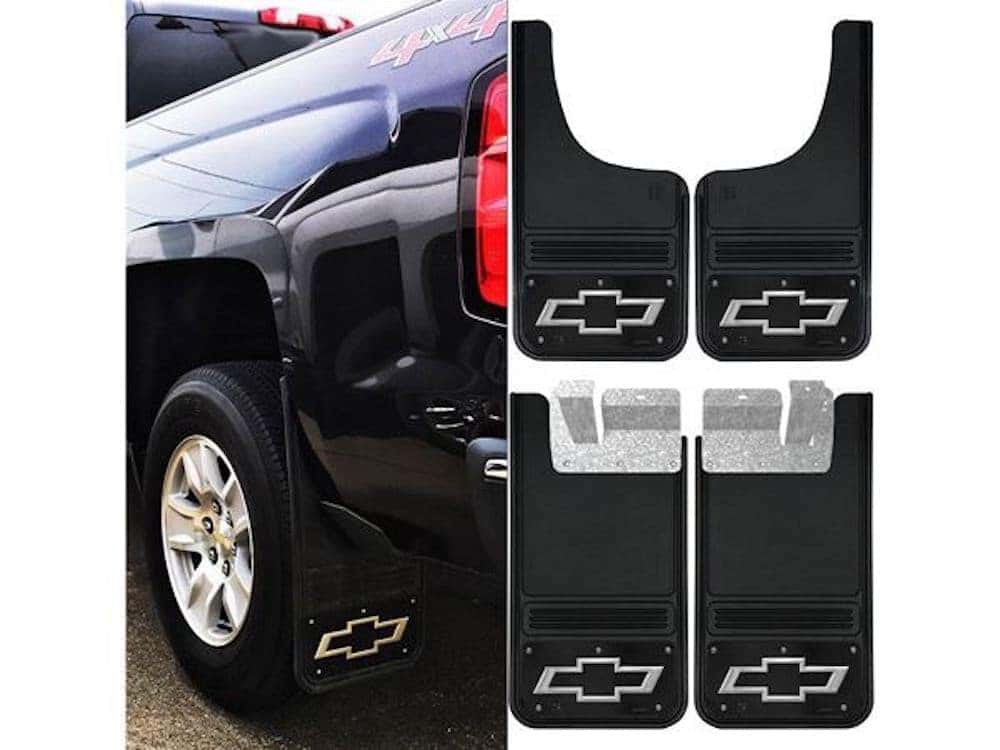 What are Mud Flaps?
Mud flaps sometimes referred to as splash guards in different reigns, were invented with the purpose of preventing weather and terrain damage from affecting our vehicles and cargo. They attach to the wheels of your car, SUV, or pickup and prevent backsplash from things such as water, rocks, and clearly mud.
An interesting fact about this beneficial invention is that it is kind of unclear exactly how it was invented, but there is a prominent theory. Some suggest that the first mud flaps were invented by Oscar Glenn March who was honorably discharged from the U.S. Army and Air Force and retired as a motor pool driver in April 1983. While working at Tinker Air Force Base, he came up with the idea of mud flaps because big rig wheels would always cause way too much damage so he noticed a tarp could easily be cut and strapped on to the wheel and trap the backlash to completely solve this common issue at the time. He was known as a very humble man and rarely discussed his hand in this revolutionary invention.
Why Do We Need Mud Flaps?
Silverado mud flaps are the only thing keeping your vehicle safe from a heavy and nasty buildup of crusty dirt, mud, and water damage. Not only are these frustrating to clean, but they can also cause faded or chipped paint or even fender rusting which would completely ruin the aesthetic of your vehicle unless you pay out of wallet to have it touched up. Silverado mud flaps are not just saving your vehicle's appearance though. Imagine the harm a rogue rock slamming against your windshield can do, or worse if you caused a rock to hit an innocent vehicle. Without these handy helpers, you would probably experience that horror much more often when gliding the highways. Deflecting what could turn into possible dings and dents is the main priority of mud flaps, and they do it with flawless precision. You could even say they don't just protect vehicles; they protect our peace of mind on every mile of every road.
Types of Mudflaps
Despite mud flaps being a fairly simplistic invention, they do come in several varieties. Even though each typing focuses on convenience, each type also aids in a slightly different way. So here are all of the marketed mud flaps of today:
No Drill Mud Flaps
Made of thermoplastic material these no-drill mud flaps are mostly black and rely on the digital fit technology to mount vehicles. Digital fit technology combined with a quick turn fastening system will allow these mud flaps to easily be fitted onto your vehicle while the tire is still on.
Husky Custom Molded Mud Flaps
Also favoring thermoplastic and black, the husky custom molded mud flaps are on either the rear or front wheels. Each packaging comes with a pair of flaps and mounting hardware to make installing a breeze.
Universal Splash Guard Mud Flap
The universal mud flaps are, as expected, thermoplastic and will fit any vehicles rear and front wheels. These 19-inch flaps come in pairs and again come with mounting gear for convenient fitting and installing.
Lund 930 Series Single Wheel Mud Flap
On a more stylish note, the Lund 930 series are made of aluminum with a Brite anodized finish. Their main appeal is clearly their flashy design. Each packaging again contains a pair of mud flaps with mounting gear that can be done at your own home.
Plastic or Rubber?
Both plastic and rubber mud flaps will give you the same protections, but plastic is best for smaller cars, while rubber is the common option on heavy-duty trucks. The reason plastic mud flaps are ideal for lighter cars is that they can survive more extreme conditions for a longer time. Rubber flaps are just as durable but have more impressive flexibility.
Customized
Most Silverado mud flaps come in solid black, but you can always customize that to fit your own unique style and add a little extra flair to make your vehicle pop. You can even have them display a meaningful message, a favorite character, or a sports team you have always supported. The coolest thing about mud flaps is how their versatility is only matched by your imagination.
Chevrolet Silverado
The Chevrolet Silverado comes in the 1500, 2500HD, and 3500HD models that increase in size as well as towing capacity the higher the number. They each offer a variety of configurations that allow for three cabs and two box options to keep things stylish and convenient. Horsepower ranges from 285 to 445, providing 305 to 910 ft-lb of torque. As for towing capacity, you can haul anything from 5,500 to 14,500 pounds. The trucks in the Silverado line-up are true beasts of the road, and without the proper protection, they can cause some serious damage. So, be sure to invest in some Silverado mud flaps.
Since the Chevrolet Silverado family is considered a 4×4 pickup with plenty of power to spare, any rubber mud flaps should work well for keeping it well guarded. Invest in laser measured and quick turn fastening mud flaps, and your Chevrolet Silverado should have no issues getting on its fresh and sleek accessory, and be ready to tear up the town in no time at all.
Mud Flap Pricing
You can purchase a quality mud flap from a large number of stores, especially automotive dealerships like us at McCluskey Chevrolet, and the pricing is nothing compared to the benefits they offer. Your basic mud flap will be at most $30, but if you really want to show off, you can get ones that are beyond high-quality made of stainless steel for about $100.
Drivers want the best for their precious vehicles, and if you don't invest in Silverado mud flaps, you will only be watching as it decreases in value and risks serious damage. Vehicles are expensive, don't let a $30 mud flap be the cause of its downfall
Get In Touch