Design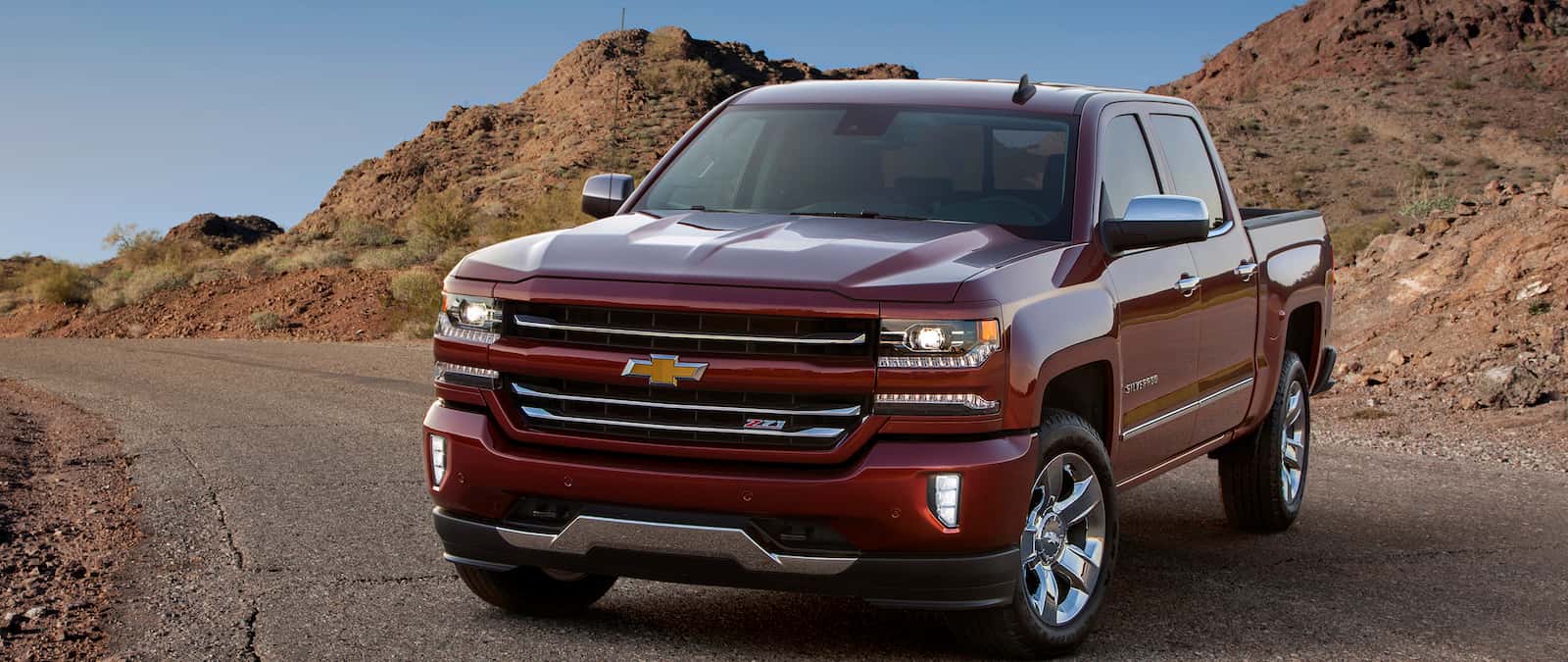 New Design for the New Year
Chevy needed to come up with a fresh look for the Silverado, as Ford recently released an overhaul of the F-150. They upgraded the truck with complete precision, focusing on little variations that would make big impacts on the Silverado's profile. Overall, it's one of the largest-looking pickups you'll see on Cincinnati roads now thanks to its new front-end design.
There is a new group of LED lights on upper trim levels that accompany the new slimmed down headlights. Since the stacked headlights are gone, the front end appears to be low and wider than ever before. The hood now takes an interesting shape, providing powerful and aggressive ridges that match the rugged idea of a truck. Other than that, there are really no more aesthetic changes. Chevrolet listened to what the consumers wanted, and then delivered, leaving us with a better looking version of the 2015 model.
The actual size of the vehicle varies with trim level, and is the same as the 2015 model. The wheelbase of the Silverado is 119 to 153 inches with an overall length of 205-239 inches. The width is 80 inches and it sits at 73-74 inches tall. The curb weight is 4,550-5,700 pounds. The weight is probably thanks to the high-strength steel frame that runs throughout the truck, making it a durable and rugged vehicle.
Compare

How it Stands Up Against the F-150
It's hard to be class-exclusive nowadays when it comes to in-car technology. If it hasn't been done by one manufacturer, it's probably been done by another. But Chevy dealers in Cincinnati have been on a rampage against manufacturers that are behind the times and have been able to offer plenty of unique bits of technology to 2016 Traverse owners.
What is most notable is the towing capacity that appears to be the same for both trucks. However, the F-150 requires an added heavy duty payload package with 18-inch wheels to carry that weight. The 2016 Silverado reaches the 11,100 pound towing capacity standard.
Additional standard features on the 2016 Silverado are the rear park assist and lane keep assist functions. Both features are available at additional costs for Ford. The 2016 Silverado also gives more than the F-150 is cab space. It's understandable that a truck is not just for work, it's also used for pleasure and as such being able to accommodate passengers is high on the priority list.
With 65.73 inches of legroom in the rear seats of the Silverado, passengers will have 32.23 more inches of space to enjoy the ride. When it comes to technology, the 2016 Silverado offers more features that aren't even available on the F-150. Each Silverado comes standard with wireless charging in the center armrest and available Apple CarPlay to enhance your driving experience.
Performance

Silverado Performance
Those of you who have been long standing Chevrolet truck owners already know what you can expect out of you Chevy engines.
Besides the dependability that comes from Chevrolet, the new 2016 Chevy Silverado has a few additional enhancements that will make most Chevy Truck owners extremely excited.
All the engines offered the in the 2016 Chevy Silverado feature aluminum blocks and heads. Chevy realized that aluminum blocks and heads offer incredible durability and dependability all the while making the engine much lighter. It really is a no-brainer and most Chevy truck owners will be impressed.
Also, in order to gain more power and not sacrifice fuel efficiency every Chevy Silverado engine will now be equipped with direct injection, cylinder deactivation, and continuously variable valve timing. The decision from Chevy engineers was another indication that they are looking to make one of the toughest trucks around but are not willing to sacrifice fuel efficiency or weight to achieve that goal.
Looking at the base engine offered for the Silverado and you'll discover the EcoTec3 4.3-liter V-6. Estimated to put out 285 horsepower and 305 lb-ft of torque is impressive even with heavier crew-cab models. Next step up is the 5.3-liter V-8. You'll see a significant jump in power as you will be looking at approximately 355 hp and 383 lb-ft of torque. This will be an excellent combination for hauling and towing. For the most serious power for towing, hauling, or just ripping stuff up go with the top of the line 6.2-liter V8. This bad boy will give you 420 hp and 450 lb-ft of torque. No worries on what you can haul.
You should be able to tow up to 12,000 pounds without issue. Any more than that and you're going to need something more commercial.