Engine Specs

When it comes to performance, the 2017 Chevy Colorado can't be beat. It's that simple. With a lineup of gas-powered and Duramax diesel engines, the new Colorado provides a level of versatility, power, capability and fuel-efficiency that's never been seen in the midsize truck market before.
<h3>3.6-liter V6</h3>
A new 3.6-liter V6 LGZ gasoline engine makes its debut on the 2017 Colorado. This new LGZ engine marks the second-generation of GM's dual overhead cam engines. Since it replaced the previous V6 engine, total power has increased slightly. Increasing the output to 308 horsepower and 275 lb.-ft. of torque. Perhaps the biggest perk the new V6 LGZ has, is that it comes with Active Fuel Management, which will deactivate a certain number of cylinders that aren't needed at the time, in order to burn less fuel. The new V6 is also paired exclusively to the new 8L45 8-speed automatic M5T transmission.
On the fuel-efficiency side of things, you're most-likely looking at 18 mpg city/26 mpg highway for two-wheel drive models, and just slightly less if you opt for the four-wheel drive.
Apart from the addition of this new V6, the other two engines carry over into 2017 unchanged.
<h3>2.5-liter I-4</h3>
The 2.5-liter I-4 engine comes back, and is still producing that same 200 horsepower/191 lb.-ft. of torque. For fuel-efficiency, you're looking at 19 mpg city/25 mpg highway when paired to the manual transmission. Expect a bit of a drop in those figures if you opt for the automatic setup. Regardless, towing capacity comes in at 3,500 pounds.
<h3>2.8-liter I-4 Duramax Diesel</h3>
The 2.8-liter I-4 Duramax Turbo-Diesel will undoubtedly do extremely well in 2017, considering it's still a new engine. Kicking out 181 hp and 369 lb.-ft. of torque, you can expect great acceleration, good fuel economy, and exceptional towing. 22 mpg city/31 mpg highway are the numbers for the diesel engine, and the Colorado is able to tow 7,700 pounds when this engine and the proper accompanying equipment are on board. That's more than double the towing capability of the 2.5-liter, and it gets even better fuel-efficiency than both vehicles.
Now you know why Motor Trend loved the diesel-powered Colorado as soon as it made its debut.
Revamped Technology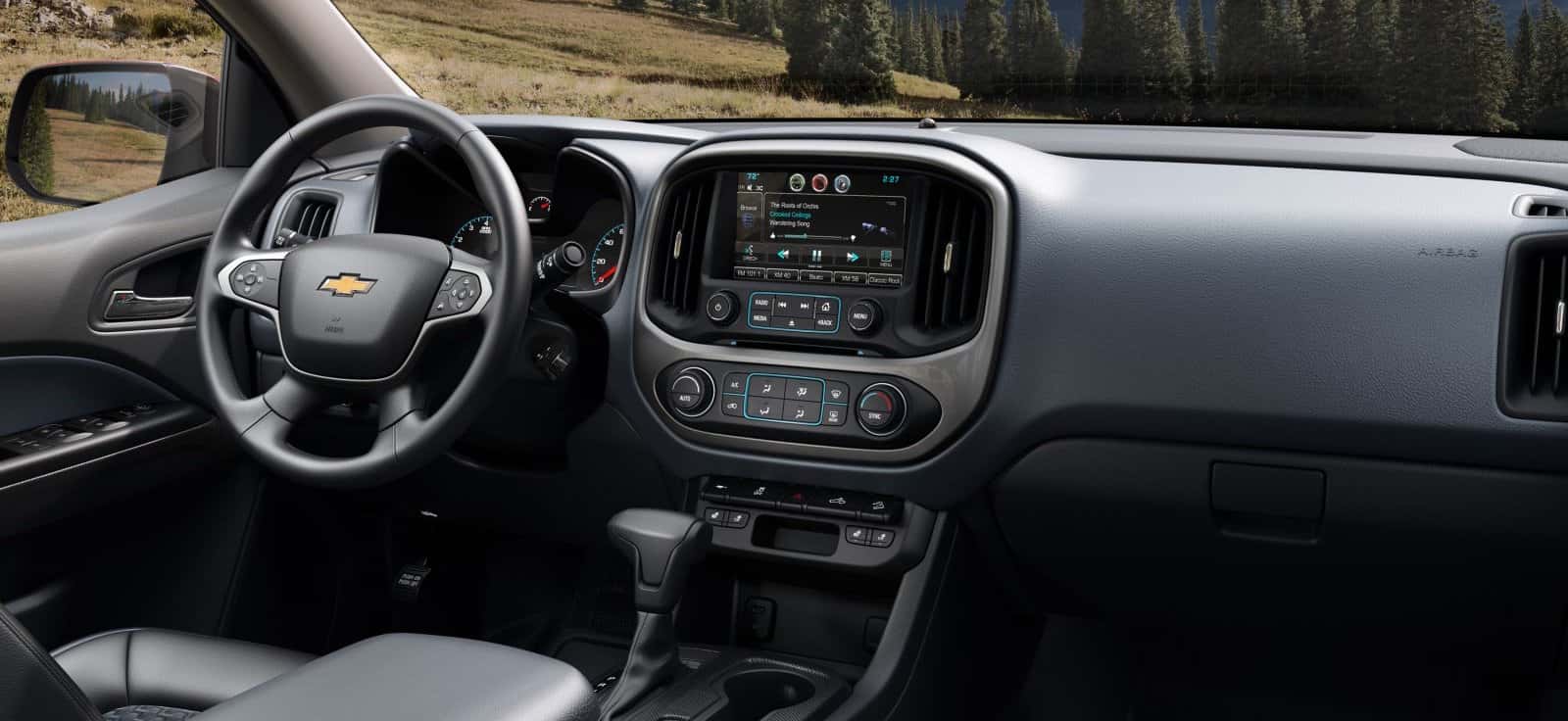 Even tech-heads will find this truck appealing, with all the technology available on the new Colorado. Not only is Chevy's new technology tagged on, but the touchscreen also gets a significant upgrade.
<h3>Touchscreens</h3>
The 4.2-inch Io4 MyLink radio retires, and a 7" diagonal color touchscreen MyLink radio has been added on as the new standard, but you can also still expect to find the 8" touchscreen as the optional choice.
Apart from the new touchscreen, the Colorado retains the same well-loved technology that consumers and expert reviewers alike know and love.
<h3>myChevrolet Mobile App</h3>
The myChevrolet Mobile App turns your phone into a mobile command center for your Colorado. Letting you do things like lock and unlock the doors, start and stop your engine, or even view diagnostic information. Setting parking reminders, and sending destinations to the navigation system from your phone aren't out of the realm of possibility either.
<h3>Apple CarPlay/Android Auto</h3>
The Colorado is also able to boast connectivity for both Apple CarPlay and AndroidAuto. So, regardless of which brand you support more, you'll be able to enjoy the best smart phone experience the Colorado has to offer. That means integrated functionality like hands-free calls and texts, directions, audiobooks, music, and a lot of fan-favorite apps found on your Android or Apple device.
<h3>4G LTE Wi-Fi</h3>
An available feature that not too many other brands offer is a 4G LTE Wi-Fi hotspot, powered by OnStar. With this hot spot, you'll end up getting faster speeds than you would using just data. Plus, up to seven devices can be connected at one time. If you opt for this, you'll have Wi-Fi almost wherever you decide to go.
These aren't the only features found on the Colorado, and there's plenty more standard and available pieces of technology that can be had.
Trusted Safety

When it comes to safety, there's no doubt about it - Chevrolet is quickly becoming one of the most reliable and trusted companies and that's why Chevy engineers are constantly trying to figure out ways to make their vehicles safer. One way is by making the Chevy-exclusive Teen Driver Technology available across board for all 2017 Chevy models.
<h3>Teen Driver Technology</h3>
What is teen driver technology? Simple, it's a suite of safety features that are all designed for one purpose: keeping your first-time, new driver safe on the road. The main purpose is to promote safe driving habits, and it does so in a few ways.
Perhaps the biggest step in making teenagers practice safe driving habits on the road is by providing an in-vehicle report card. All you need to do is enter your pin number, and look at how your teenager did behind the wheel. It shows the distance driven, maximum speed, overspeed warnings, and if any safety features were activated.
But, it doesn't just stop there. Teen Driver technology will also do things like mute the audio until front seat occupants are buckled, and allow you to set custom limits and corresponding alerts. For instance, you might only allow the vehicle to reach a certain speed, or adjust how loud the volume on the radio can be raised.
Unless your son or daughter knows the pin, he or she can't tamper with any of it. So, of course, teen drivers hate this technology, but at least you - and Chevy - knows they'll be safe out on the open road.
<h3>Other Safety Features</h3>
Chevy still provides a 3-part answer to the question of safety — prevent, protect, and respond. Carefully designed, but different features all work together towards the same goal: keeping drivers safe before, during, and after a collision.
Features on the Colorado like lane departure warning, forward collision alert, and a rear vision camera are all there to help drivers avoid getting into an accident to begin with. And the high-strength steel frame and airbags are there to provide you with all around protection if an accident does occur.
When it comes to responding to an accident, the OnStar Automatic Crash Response system will connect you (automatically) to an OnStar Advisor after built-in sensors detect a collision. The Advisor will then ensure you're safe, and even dispatch emergency services to your location, if necessary.