Exceptional Performance

Hands down, the Sonic is one of the best small cars on the market when it comes to performance.
Why? Well, ride quality is better than most of the other small cars on the market, no matter which body style you choose. On top of that, it also has plenty of engine options. While the base engine returns slightly lower fuel-efficiency than average, it still gives the Sonic plenty of kick in lower gears. If more power is desired, the Sonic also offers an available turbocharged engine.
There is an upgraded engine, but you don't have to upgrade to that to have a great time on the road. In fact, the Sonic is one of those rare vehicles where the basic performance features leave nothing to be desired.
1.8-liter
The standard engine choice for the 2017 Chevy Sonic is a 1.8-liter four-cylinder. This engine produces 138 horsepower and 125 lb.-ft. of torque, which is directed towards a five-speed manual transmission. A six-speed automatic is available for those unfamiliar with driving a stick-shift, with a hill-hold feature that comes standard.
1.4-liter
A turbocharged 1.4-liter four-cylinder comes standard on the Premier trim, and is optional on the LT. The horsepower replicates the 1.8-liter's (138 horsepower), but the torque increases to 148 lb.-ft. Another difference is the torque is now sent through a six-speed manual transmission, with a six-speed automatic as the optional choice.
With the the increased torque provided by the turbocharged engine and wider gearing range on the transmission, thanks to the six-speed manual, the Sonic gets an opportunity to take its performance to the next level and outshine the competition.
Fuel-Efficiency
Regardless of which body type you choose, the fuel-efficiency is going to remain relatively the same. The 1.8-liter engine returns 25 mpg city/33 mpg highway, and the 1.4-liter engine delivers 28 mpg city/38 mpg highway. These numbers might be a little below average for the class, but the Sonic makes up for it with a 0-60 mph time of 8.4 seconds — when the turbo engine is equipped with a manual transmission. That's an exceptional time for this segment.
Top Safety Scores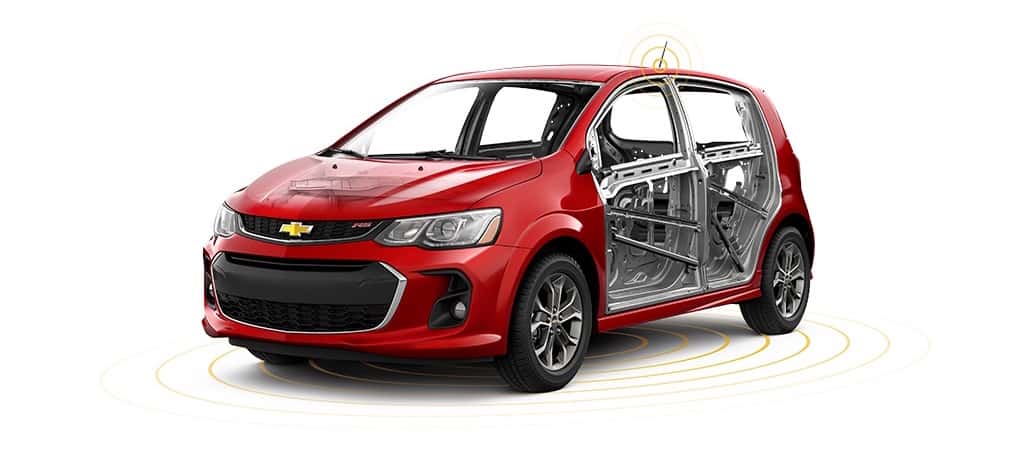 The 2017 Chevy Sonic boasts a vast variety of advanced safety features to help keep you and your loved ones safe. Like most other Chevys, the safety features support the idea of prevent, protect, and respond. Here are a few of the more noteworthy bells and whistles.
Prevent
A standard rear vision camera let's you see what's behind you when backing out of a space, or onto a busy road. Combine that with the available rear park assist, and you have a dynamic duo for rear safety. If this system detects there are vehicles about to cross behind your car from the left or right side, it will provide a warning to let you know it's not safe to back up. Forward collision alert will tell you if an object in front is getting too close, and lane departure warning will let you know if you're unintentionally drifting out of your lane. This is detected if you don't use a turn-signal to indicate a merge.
Protect
In order to keep you safe during the event of a collision, the 2017 Sonic is equipped with 10 standard airbags and a high-strength steel safety cage that surrounds the cabin. If you start to slip, traction control with StabiliTrak will help get you back on course.
Respond
For those who want extra peace-of-mind, the OnStar Automatic Crash Response system comes with an OnStar Guidance Plan subscription. If the system detects a collision has occurred, it will contact an Advisor who will then check in on you, and, if necessary, help you by dispatching emergency services to your location. This is especially helpful if you are unable to call on your own behalf after the collision, and ensures that you and your loved ones get help - no matter what.
Top Safety Scores
In government crash tests, the Sonic received a perfect five-star safety rating overall, including five stars for total frontal impact safety, and total side-impact safety. The IIHS (Insurance Institute for Highway Safety) gave the Sonic a top score of "Good" in the moderate-overlap and small-overlap frontal-offset, side-impact, and roof-strength crash category.
The safety rating of the Sonic speaks for itself.
Versatile Design

The great thing about the 2017 Sonic's design is that it's available as both a hatchback and sedan. This gives it a huge advantage over the compact cars that only offer one body type because the Sonic is able to attract both hatchback and sedan fans, allowing them to pick the same model with all the same great features and performance, but in the style they prefer.
Hatchback
Naturally, the hatchback is taller and provides less headroom in the back. But on the plus side, it bumps up the storage space to 19 cu. ft. When the seats are folded down, it extends that space to hold up to 47.7 cu. ft.
Sedan
The sedan is on the opposite side of the coin, and is able to provide more passenger space while sacrificing trunk space. Although, it's important to note the Sonic sedan has trunk measuring 14.9 cu. ft., which is one of the largest trunks in the segment. Not to mention, if the 60/40 rear folding seats are engaged, you can increase that space considerably.
The important thing to realize here is that regardless of which model is chosen, each style has above-average interior volume, which makes them both a great choice in this class of car if that's what you're worried about. On top of that, the performance, safety, and technology will all remain relatively the same, whether you go sedan or hatchback.
In classic Chevy fashion, it's another one of the brand's models where you don't have to settle for less to get exactly what you want.