Celebrating 100 Years of Chevy Trucks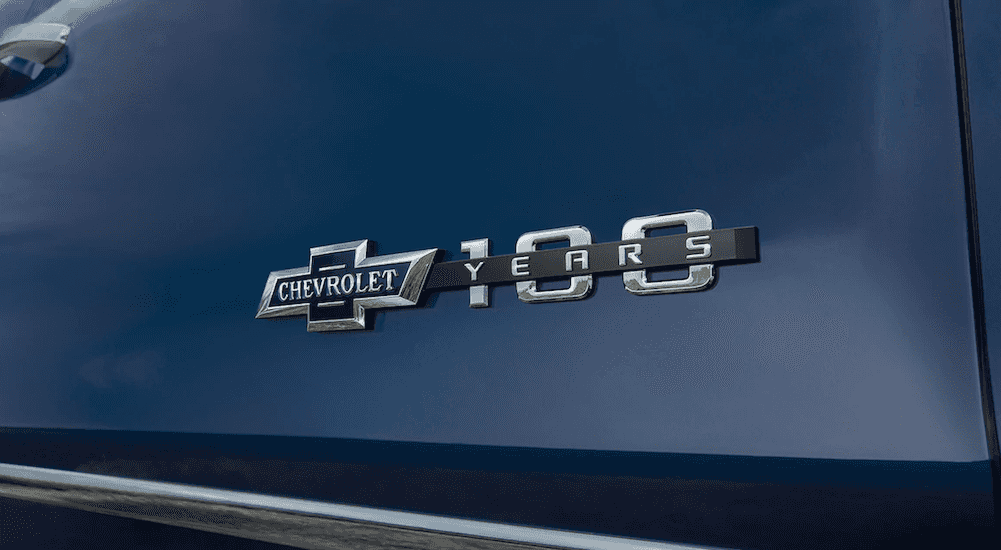 In 1918, Chevrolet debuted its very first truck: the One-Ton. Modelled after Model 490 car chassis, the Chevy One-Ton kickstarted a line of Chevy trucks still thriving to this day. In 1999, Chevy introduced its classic Silverado 1500, one of the most popular and dependable pickup trucks on the road today. This early Silverado had a more heavy-duty design than previous Chevy trucks and included a V8 engine and hydroformed frame. As a counterpart to its muscular Silverado line, Chevy created the Colorado in 2004 to be a smaller, lighter alternative for truck drivers.
2018 marks the 100th year of reliable, innovative Chevy trucks. Not content to live in the past, Chevy has announced new features for upcoming models and unveiled a promotion to celebrate its loyal customers.
The 2019 Silverado boasts eight new trucks, all with different trim levels and performance customization options in order to meet the needs of each and every one of the company's loyal customers. Additionally, Chevy's utilization of technology straight from Silicon Valley allows the truck's engine to save fuel by varying the number of active cylinders depending on the performance needed. Researchers estimate that the Dynamic Fuel Management Technology available on the V8 engines will increase fuel economy by as much as 15 percent.
Since launching its line of trucks in 1918, Chevy has produced more than 85 million trucks, and its customers keep coming back for more. For the past two years in a row, Chevy has topped the charts in customer loyalty, winning the HIS Markit's Loyalty Award for overall loyalty to manufacturer.
Along with the changes to the 2019 Silverado, Chevy launched a new loyalty program specifically for its truck drivers: Chevy Truck Legends. To reach "legend status," a driver must have accumulated over 100,000 miles on a qualified Chevy truck or currently own a Chevy truck and have owned or leased one more before. Members of Chevy Truck Legends get access to exclusive Chevy merchandise, invitations to Chevy events, and discounts from Chevy partners. This new program only proves that once customers get Chevy trucks, they never want to settle for anything less.
Colorado
The Chevy Colorado may be a lightweight truck, but it still holds its own in Chevy's family of trucks. It's one of the most fuel-efficient pickup trucks on the market, getting an estimated 30 mpg on the highway and going 600 miles on the highway between refuelings. Three different V8 engines are available to choose from, depending on the driver's specific needs, from working to off-roading. With its maximum payload of 1,500 pounds and its ability to tow up to 7,700 pounds, the Colorado is one of the most heavy-duty mid-size trucks on the market.
Silverado 1500
The Chevy Silverado 1500 is a classic Chevy truck that has stood the test of time to become one of the leading full-size pickup trucks in America, only behind the Ford F150 in sales.
It is made of high-strength steel, which allows the Silverado 1500 to be tougher and lighter than trucks made with traditional steel. The Silverado 1500 tows a maximum of 12,500 pounds, and it offers features that detect and correct a swaying trailer as well as assisting in driving up hills. There are a variety of V8 engines to choose from for this model, and the Silverado 1500 gets an estimated 24 mpg on the highway. Its many different capabilities make it one of the most dependable and versatile full-size trucks on the market.
Silverado 2500
The Chevy Silverado 2500 is one of the toughest full-size trucks on the market. With a 6.6L Turbo-Diesel V8 engine, 445 horsepower, and 910 pounds per foot of torque, the Silverado 2500 can get almost any job done. It's capable of carrying a maximum payload of over 3,500 pounds and towing up 18,000 pounds. There is nothing to worry about when hauling with a Silverado 2500, as it has features that help with trailer sway and steering in addition to climbing hills. The 2500 is built to last, making it one of the longest-lasting full-size trucks on the road.
Silverado 3500
The Chevy Silverado 3500 is the most heavy-duty of all of Chevy's full-size pickup trucks. It has immense hauling capacities, its able to tow over 23,000 pounds, and has maximum payload of a whopping 7,000 pounds. Like the 2500, the Silverado 3500 has a 6.6L Turbo-Diesel V8 engine, 445 horsepower, and 910 pounds per foot of torque, giving it the power to get almost any job done. The Silverado 3500's power is always ready to assist in any situation; its dependability is so stellar that it received the J.D. Power Award for the most dependable large heavy-duty pickup for three years in a row.
Centennial Edition
In order to celebrate the 100th anniversary of Chevy trucks, the company is making a special centennial edition of the Colorado and its iconic Silverado 1500. The centennial edition contains all of the features on the LTZ Z71 Crew Cab. What makes the centennial edition special is the classic shade of blue paint on the exterior, bowties on the front and rear of the vehicle, 100-year door badges, a spray-in bed liner with the bowtie emblem, and floor liners with the same bowtie emblem. The centennial Silverado also includes 22-inch painted wheels with chrome inserts, all-terrain tires, chrome tow hooks, and a chrome bowtie on the steering wheel.
Commercial Trucks
In addition to its lineup of pickup trucks, there are also several different commercial Chevy trucks available. These trucks include the Express Cutaway, the Silverado Chassis Cab, and the Low Cab Forward. All of these Chevy trucks have a variety of hauling capabilities and features to meet the needs of any truck driver.
Chevy has been making high-quality, dependable trucks for 100 years. The company has invested so much of its time and resources into researching and developing new technologies to make its trucks better and better. Chevy's customers agree that there is nothing like a Chevy truck, which is why the company has had the highest customer loyalty ratings for the past two years. When you think of innovative, reliable, and powerful trucks, think of Chevy trucks