Choosing the Right Bed Protection for Your New Chevy Pickup Truck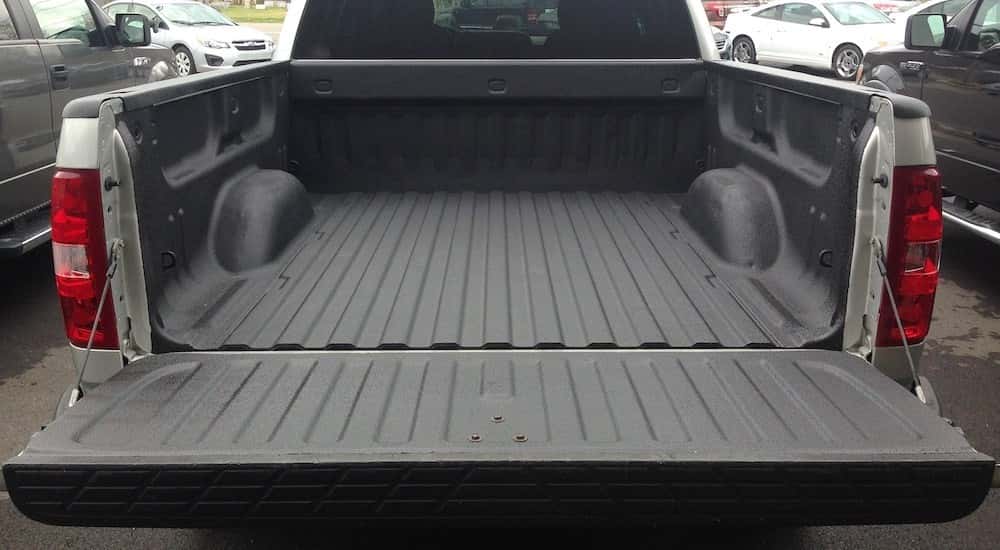 When you purchase your new Chevy pickup truck from McCluskey Chevy, you'll want to ensure that you keep your valuable vehicle as clean and protected as possible. One important area is the truck's bed. No matter if you use your truck for contracting needs or everyday use, you'll want to protect it with a bed liner. Think of all of the possible items you'll be placing in the bed: furniture, lumber, grocery bags, luggage, sports equipment, etc. And then think of how those items could damage the bed with dents, scuffs, scratches, dings, and other wear-and-tear. A bed liner will add excellent protection and keep your truck in amazing condition, thus sustaining its value. Not only will it protect your cargo, but it will protect your knees when working from or climbing into this area. You'll have several options. Should you choose a truck bed liner, a truck bed mat, or a spray-on? To answer that question you'll need to decide on two key factors: how much coverage you want and how much money you want to spend. Let's look at the different options.
Bed Liners
Truck bed liners deliver complete coverage from dents and scratches caused by shifting cargo, for every inch of your truck's bed. No matter if you have a short or long box, a bed liner protects the inside of the bed from damage, keeps your cargo in its place, and ultimately protects the truck from rust. Bed liners are designed to extend across the entire flat surface of your truck bed and continue up along all three sides. These bed liners are made from a range of materials and designed for easy clean-up.  When installed, they are usually permanent or semi-permanent. That said, installing a bed liner may make it more difficult to access anything hidden in the bed's compartments. Plus, you'll need to be prepared to have more in your budget since truck bed liners are usually more expensive.
Spray-On
If you have a custom-made truck, a spray-on truck bed liner might be your best choice. That's because these liners are sprayed onto the bed of your truck with a custom coating, and then given time for the layer to set. This option has been a popular choice over the past decade. You can do the job yourself or have someone do it for you. The key to getting a smooth, perfect lining is preparing and cleaning the bed before applying the liner. However, it only needs to be applied once. But once this extremely durable and incredible protection has been applied, it will last the lifetime of your truck.
However, there are a few considerations to think about. Before a spray-on bed liner can be applied onto your truck, you need to have the paint scuffed in the bed. This will void your factory paint warranty. Once you begin the job of painting, spraying, or rolling the liner onto the bed, you'll quickly see what a messy project it can be. Perhaps hire a skilled OSHA regulated installer to do the job easily and correctly. In addition, a spray-on bed liner can be costly. Its abrasive texture can also damage your cargo and will not always hold your cargo in place. It can also be susceptible to weather damage. The hot sun can chalk the paint material and initialize fading or peeling. Finally, since the spray-in bed liner does not cover the sidewalls or tailgate of your truck, it will not prevent dents to those areas.
Bed Mats
Another option for truck owners is a bed mat. This choice is constructed from durable materials, such as plastic, rubber, and carpet, and provides easy clean-up. It is long-lasting, less expensive, non-permanent, and will provide damage protection, but only covers the entire flat surface of your truck bed and will not cover the sides of your truck bed, the wheel wells, or the inside of the tailgate. Since it is a simpler design, it provides easy installation and removal. However, since it is unsecured, bed mats can slide forward, fold, or even fly out of the truck. Truck bed mats can be custom-made for a specific pickup or you can trim and tailor a piece of the material to your own desired dimensions.
Drop-in Bed Liners
If you're seeking a custom-molded bed liner that is easy to install, perhaps the drop-in bed liner would work best for you. As the name implies, this option is made of hard plastic that simply either slides underneath the top of the bed rails or fits over the rail and is secured firmly into the bed of your truck. It has been custom-molded for your particular truck and its dimensions. It offers easy-to-install protection and demonstrates a factory-installed appearance. However, there are precautions to take. The drop-in bed liner must be fully checked to ensure that it fits perfectly and completely or it may rub the paint off of your truck bed and give way to rust. Its hard, slippery plastic might make it easier for your cargo to slide around in the bed of the truck. That could mean that heavy cargo, such as a toolbox or machinery, might slam into the front of your truck when you make a quick stop. Another factor to consider before you buy a drop-in bed liner is that you might not have full access to your truck's tie-downs.
Your new Chevy truck from McCluskey is a valuable vehicle for your everyday errands, as well as business tasks. While a truck has a reputation for being more durable than a car or SUV, it still needs personal care and the right accessories to keep it running for a long time. A truck bed liner should be considered standard issue for any vehicle. Please visit us at McCluskey if you have questions about which truck bed liner you should purchase for your particular Chevy vehicle