Truck Bed Liner
There's a lot to consider when it comes to selecting a truck bed liner for your truck. First, you'll need to figure out if your truck is even compatible with the type of bed-liner you want. Granted, spray-on bed liners are compatible with all truck beds, but a drop-in one might not be. More on that later, because that information won't help unless you know what a truck bed liner is. Of course, most of you probably do. If not, I'll explain it briefly and review why it's necessary to have one. Then, I'll walk you through the two major types of bed liners on the market, and quickly discuss some of the other materials you might see them made from. After that, I'll discuss some of the benefits you'll glean from getting one for your truck. Finally, you'll want to know where to buy and who to buy one from. I have answers for this as well:
McCluskey Chevrolet has all the resources you need to get a Rhino Lining truck bed liner properly applied or installed in your truck bed. Since McCluskey Chevrolet is an authorized Rhino Lining applicator, we've got you covered.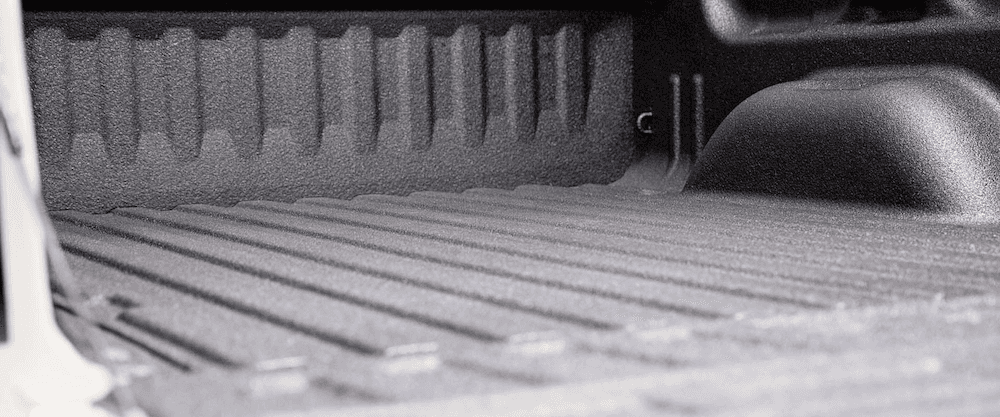 What is a Truck Bed Liner? Why is it Necessary?

A truck bed liner is as simple as it sounds: it's a liner for your truck bed. Think of it as a product that's installed (in multiple ways, and made out of varying materials) in order to shield the inner-side and floor of a truck bed from damage. Some of the bed liners installed also allow increased surface grip, depending on what material it's made out of. As a general rule of thumb though, spray-on bed liners prevent items from sliding around better than the drop-in liners.
Why is it Necessary?
A truck bed liner is necessary for more reasons than you may think. Of course, there's protection against impact that might create dents and dings in your truck bed on the sides or floor. But those two problems are much less of a concern compared to a hole punctured from a sharp object, which can lead to all sorts of problems. One of which could release loose material as it falls through the hole while you drive.
Truck bed liners can also help protect the metal of the truck bed against corrosion and rust. Spray-on bed liners do a better job of this than drop-in bed liners, but a drop-in bed liner is better than nothing.
Of course, there's the other obvious protection against abrasive materials (dirt, sand, cinder blocks, gravel, etc.) or objects that might create scratches or gouges in the sides and floor of the truck bed.
A liner also makes your truck bed much easier to clean out. Since you don't have to worry about corrosion or rusting of the metal due to water, you can just hose out the back of your truck at the end of a long day's work.
Now, I can't tell you how to spend your money or what you deem necessary or unnecessary depending on your lifestyle. Unless of course, you do a lot of work with your truck in the landscaping, construction, or other trade fields. Then a truck bed liner is absolutely a necessity.
Different Types of Bed Liners

Before we jump into the two types of bed liners that dominate the market, let's discuss some of the materials you might see a truck bed liner made out of. While spray-on bed liners are a type of polymer/polyurethane that's applied through an application device, drop-in bed liners you'd get through a dealership are typically a hard-shell plastic piece that, quite literally, is dropped into the bed and bolted on.
Now, you could see some makeshift bed liners made out of wood. But more likely than not, that's just someone looking for a quick fix to protect their truck bed. Carpet is a little more common than some plywood bolted down, but makes for transporting, removing, and cleaning gritty materials out of the carpet more of a pain. You could even see some plexiglass if someone is feeling motivated enough.
Point is, not all bed liners you see are made from the best type of material to use, which is why they're broken down into two overarching categories: spray-on bed liners and drop-in bed liners.
Spray-On
Like I said previously, a spray-on bed liner is literally sprayed-on to the truck bed. It's great for a more custom appearance if desired, or better fit if you have an odd-shaped truck bed. Because of the easily applicable nature, it can also be applied to other parts of the truck, such as bumpers, fenders, etc. It adheres directly to the metal of the truck bed, and creates an air-tight seal. While it's more complicated and expensive to install than a drop-in liner (as in, you need someone to install it for you), the airtight seal, ease of upkeep, and minimal infringement upon cargo volume is worth it.
Drop-In
A drop-in bed liner is typically a hard-shell of plastic that is pre-cut to fit the specific shape of a truck's bed. It's easy-to-install protection, and can be done by you if you so desire. Since it's held on by bolts, it has a chance to dislodge itself (which happens more frequently than you'd think) due to bolts loosening up over time, going over a large bump, or other factors. This dislodgment can not only mean more upkeep for you over the years, but potentially be counterproductive to providing your truck bed with proper protection.
Which One's Better?
Spray-on bed liners are certainly the way to go, all things considered. Check out the advantages tab for a more detailed explanation of why spray-on bed liners are worth it.
Advantages of Spray-On Bed Liners

It might take extra time to get installed, and it might be slightly more expensive than a drop-in liner. But, if you're serious about giving your truck bed the ultimate protection, this is the way to go. Apart from easy maintenance and the minimal infringement on cargo volume, the surface also provides more traction than the smooth plastic of a drop-in liner.
More importantly, it's able to provide exceptional protection compared to the other liners out there. Even though it's thinner, that doesn't mean it protects less against impacts, scratches, gouges, or punctures. In fact, it's just as strong (if not stronger) than the drop-in plastic liner if applied properly.
The airtight seal it creates is the real benefit though. This prevents sand, water, mud, or any other substances from getting lodged in between the bed liner and the side or bottom of the truck bed, all of which can happen with a drop-in liner. An airtight seal against water also means no space for moisture to build up, giving you a rust-free truck bed for many years to come.
Hands down, a spray-on bed liner is favored by those looking to seriously protect their truck bed from just about every type of damage imaginable.
Rhino Lining Is A Legendary Brand
For the best spray-on bed liner out there, Rhino Lining is the way to go. Rhino Lining has the history, experience, and high-quality products that you need to successfully protect your truck bed from all the different types of damage possible.
Rhino Lining has close to thirty years in the industry, and has been developing quality, tested, proven, high-performance spray-on polymers. As the leading name in the truck bed liner industry, they have more than 2,000 applicators and contractors in more than 80 countries around the globe. Clearly, their reputation speaks for itself. So, let's explore a few of the products they offer.
With polymer sprays that resist against impact, abrasion, slip, UV protection, and even color match, you're sure to find a Rhino Liner that's right for your truck. All of the liners are corrosion resistant, and help protect against hazardous spills as well.
Rhino Lining's products are so trusted, that they've developed materials for every branch of the military in order to protect personnel, buildings, boats, and vehicles. Truly, Rhino is a legendary name in the spray-on truck bed liner market.
McCluskey Chevrolet: An Authorized Rhino Lining Applicator
As an authorized Rhino Lining liner applicator in Cincinnati, OH, McCluskey Chevrolet is able to offer you the best truck bed protection for whatever truck you are driving. Since installing a spray-on liner is half the battle, we have the proper tools and space to get the job done right so you can enjoy long-lasting protection for your truck bed.
McCluskey Chevrolet's Custom Cars

From our Custom Car parts and accessories installation program, to selling new and used cars — it's all about simplicity and transparency at McCluskey Chevrolet, which is why we have things like instant and guaranteed credit approval. Ensuring that everyone can shop with us shows our commitment to the simple way of selling cars. No hassling when you walk through the door, or questioning stares when you tell us about your credit score. We'll get you in a car, and get you in one fast.
Other dealerships don't always have what you're looking for, which can also create hassle and stress. At McCluskey Chevrolet, we've eliminated that courtesy of our Nationwide Car Search, which gives us access to over 100,000 new and used vehicles across the USA. In other words, we're guaranteed to find a car that works for you.
Being Ohio's #1 car dealer also means affordable prices and clear-cut sales. There's no dancing around the price or haggling here — because our prices are consistently low, which is typically another stressful encounter at the dealership that you don't have to worry about.
With the Tri-State's only Exclusive Lifetime Mechanical Protection guarantee on the vehicle you purchase, our service department will be there to help you even after you've left our dealership.
At McCluskey Chevrolet, we truly care about our consumer satisfaction. It's not just a point of pride – we honestly believe that it's a necessary component of a successful car dealership.


Get In Touch