Reliable Engine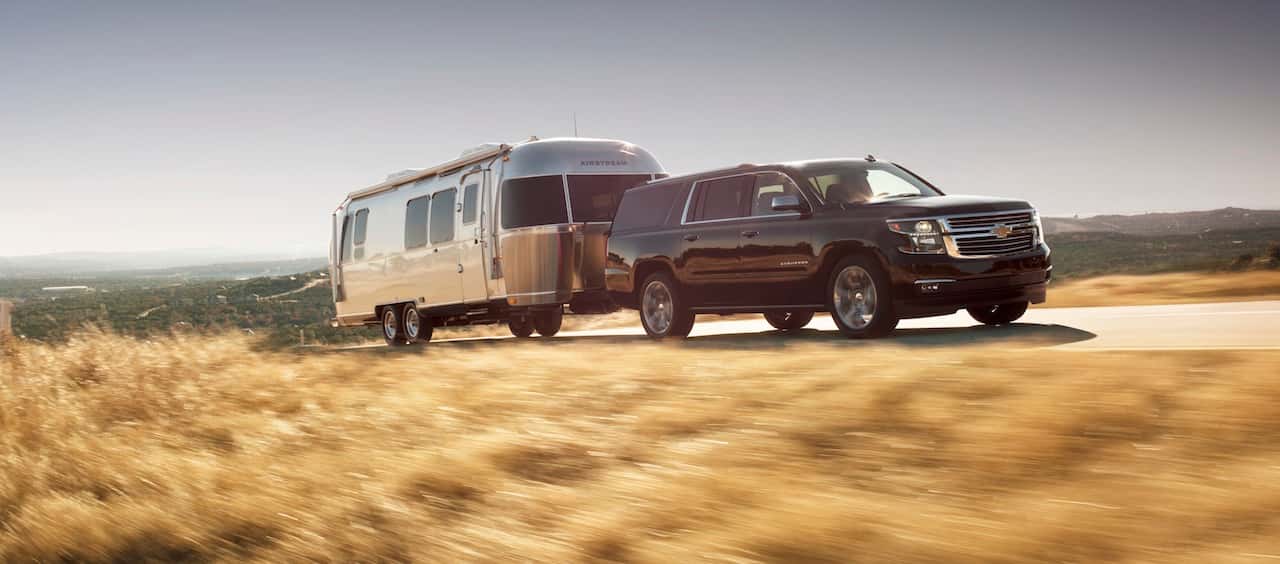 It's an age-old equation: big vehicle, big engine. For those who like big engines, the 2017 Chevy Suburban won't disappoint.
Under the hood, you'll find a massive 5.3-liter V8 engine eagerly awaiting for you to step on that gas pedal and unleash its 355 horsepower and 383 lb.-ft. of torque on the tires. It doesn't matter how much the Suburban weighs; with an engine that big under the hood, it will move if you step on the gas. Don't believe me? Well, consider that it can do a 0-60 mph sprint in 7.2 seconds. Even without comparing it to other vehicles, you can tell that's fast for a vehicle that weighs close to 7,500 pounds when fully equipped.
This engine is paired to a six-speed automatic transmission. Standard, you'll find rear-wheel-drive on the Suburban. Along with a locking rear differential for hazardous weather or rugged trails at a construction site. Four-wheel-drive is optional, but should only be chosen if that rear locker won't be enough. For the consumer who's using the Suburban as a daily driver, it should be more than enough.
Towing and Fuel-Efficiency
The towing capacity of a properly equipped large SUV is no joke, even if it is the family-friendly version of a truck. The Suburban proves that yet again, with an 8,300 pound-towing capacity when the two-speed transfer case on the Max Trailering package is tagged on.
For those looking for a more off-road oriented ride, the Z71 Off-Road package also comes with the two-speed transfer case.
Fuel economy isn't the best, but that's to be expected. You can expect 16 mpg city/23 mpg highway on a rear-wheel drive model. On the bright side, fuel economy only dips slightly to 15 mpg city/22 mpg highway when four-wheel drive is preferred.
Cargo and Passenger Space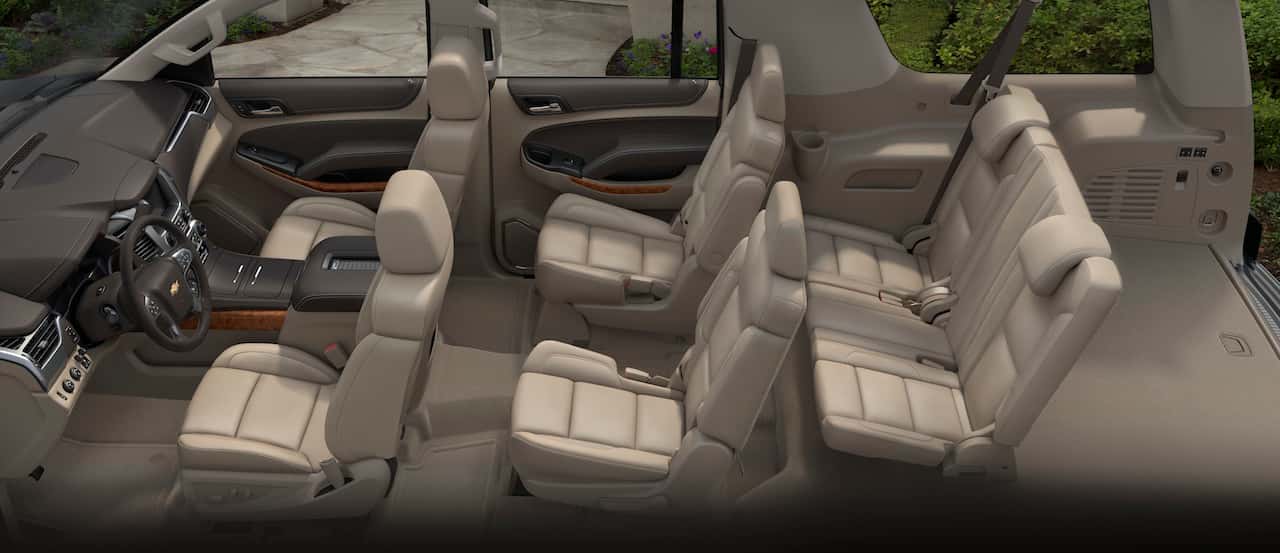 Cargo and Passenger Space
A traditionally large body-on-frame construction for the Suburban also means it has an exceptional amount of cargo and passenger space. While it has plenty of luxury-oriented features like 12-way power-adjustable heated seats, leather upholstery, tri-zone automatic climate control, a rear-seat DVD system and much more, it's still an SUV at heart. During the design phase, utility and practicality will always come first and that's one reason why the Suburban has a notable amount of total interior volume.
It's a seven-passenger ride, even with two bucket seats in the second row, offering more than enough room to carry the entire family. Furthermore, there is 39.3 cu. ft. of storage space behind the third row alone. Couple that with storage spaces in the door (big enough to fit an umbrella) and a center console that's big enough for a full-size lap top, and you have a vehicle that can carry the whole family and even a few friends at the same time.
If you absolutely need more storage space, then you can simply take out the second-row seating, and fold the third row seating down. Doing so opens up a massive 121.7 cu. ft. of total storage space for cargo.
Traditional SUV Design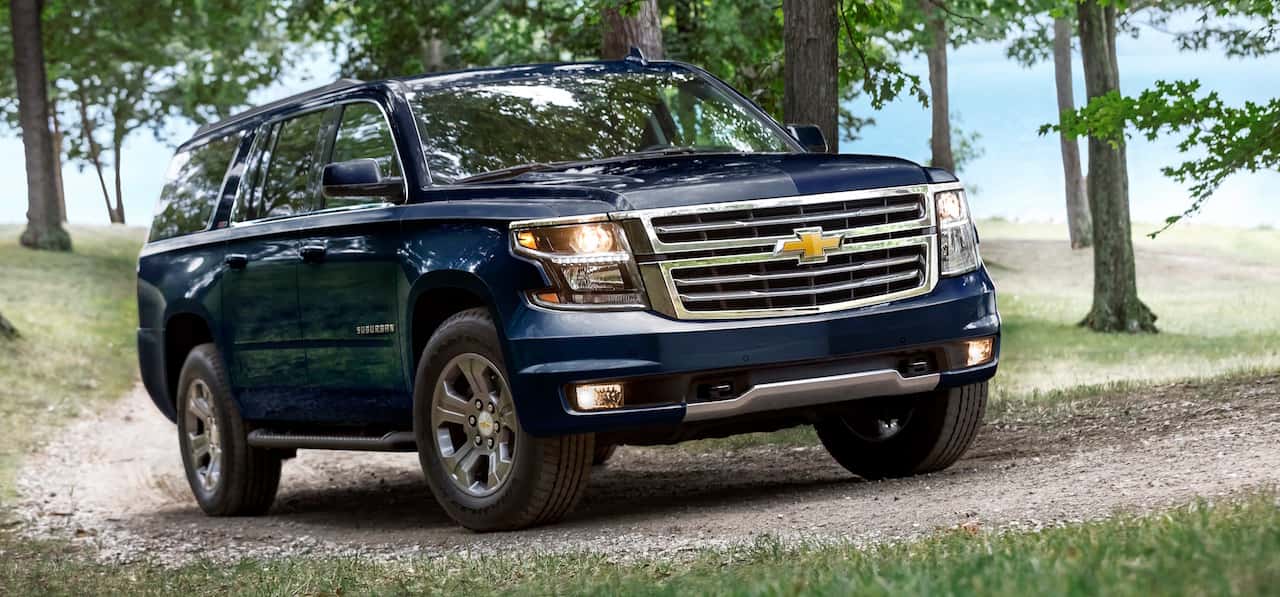 It's important to understand that there are a few downsides when it comes to driving a traditionally designed SUV. First, it's big, which means lower fuel economy when compared to a family-sedan. But, that shouldn't be a surprise. Secondly, you'll have to get used to driving a bigger vehicle. Fine for some, but might be considered cumbersome in a city environment. If you can get by the lowered fuel economy and learn how to do three point turns in a parking lot, then you're rewarded with one of the best vehicle constructions in the market: a body-on-frame design.
Body-On-Frame Design
This, the body-on-frame design, is the original method of building automobiles, and is the process of mounting a separate body to a rigid frame. This makes the overall vehicle extremely tough, especially in off-road conditions. Not to mention, it's much more stable than a unibody construction, or some of the other crossover SUVs out there that are built on a car-based platform.
A design like this is what you're looking for when it comes to trucks and SUVs. Simply because it allows them to tow more (and better), handle rough roads more easily, and give you a safe and secure ride quality.
Utility
Towing is only one of the tasks the Suburban is able to do effectively. Thanks to a body that's nearly 17 ft. long, it has no issue carrying a lot of cargo or passengers. Furthermore, four-wheel drive is also present on most body-on-frame vehicles. The Suburban is not an exception to that rule by any means - you can pretty go wherever you please in this vehicle, and bring plenty of pals along for the ride.
Traditional Looks
It's not just the engineering of the 2017 Suburban that's considered traditional; it's also the way it looks. In a world where SUVs have slowly been switched over to car-based crossovers, the Suburban remains steadfast in its looks and traditions. It's rugged and rectangular, just like the previous generations. Not to mention, it still has the same aggressive stance that's typical of SUVs of old.
In other words, everything about the Suburban is traditional. It just has a modern twist thrown on it. For true SUV and truck lovers, you know that's a good thing because there's no better feeling that stepping-up into a big and beefy vehicle.