Essential Info on Truck Bed Liners; Rhino Lining vs LineX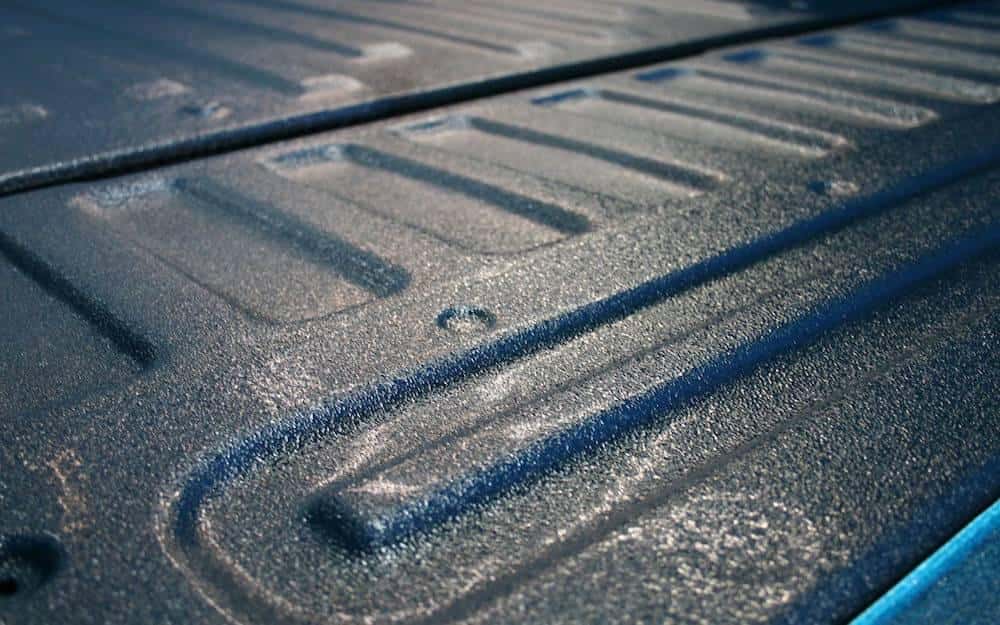 Considering getting a truck bed liner for your truck? That would be a smart move. But before you start reaping the benefits that a truck bed liner has to offer, it's important to understand the difference between the two major types of liners out there: drop-in and spray-on. Also, you'll want to make sure you're buying a good brand on truck bed liner. While manufacturers do offer OEM liners, dealers like McCluskey Chevrolet are also certified truck bed liner applicators for Rhino Lining; who is a prestigious truck bed liner company. When compared to LineX, another big brand, Rhino blows them out of the water.
Let's get started on the essential information that you need for truck bed liners, and the advantages of one. Then take a closer look at how Rhino's products beat LineX's, and how McCluskey Chevrolet can quickly and efficiently install Rhino Liner for you.
Two Types of Truck Bed Liners
There's two types of bed liners on the market: drop-in and spray-on. Typically, drop-in liners are offered by the manufacturer as an OEM part. Whereas the spray-on liners are aftermarket parts. Typically, it's smarter and safer to go with OEM parts over aftermarket parts. But, when a prestigious brand like Rhino Lining has a connection to a dealership that's a certified applicator, it's safe, cheaper, and a more quality choice to go with an aftermarket part like a spray-on liner.
Drop-In
A drop-in bed liner is a hard piece of plastic that is cut to fit the shape of the truck bed. It provides easy-to-install protection, and is therefore something you could do for yourself if you really wanted to. Typically, it's held on by bolts.
Spray-On
A spray-on bed liner is perfect if you're looking to get a more custom appearance and protection. This is applied by an application tool, kind of like spray paint, and simply adheres directly to the metal of your truck bed. It takes a little longer than installing a drop-in liner, and is something that you'll want a trained professional to install. Since it's also slightly more complicated than just putting in a few bolts.
Spray-On is the Way to Go
But, if you don't mind the extra time and money, then a spray-on bed liner is definitely the way to go for ultimate protection. Since drop-in liners aren't truly airtight (like spray-on ones) dirt, water, and other loose materials can fall between the gaps of the liner and get lodged between the bed and underside (or side) of the liner. This can cause scratching, rusting, corrosion, and all sorts of other damage depending on the material. On top of that, the bolts will loosen up over time, and the liner will shift around in the bed. Potentially dislodging itself enough to stop protecting the truck bed properly if you don't notice.
Spray-on bed liners don't suffer from any of those issues, thanks to an airtight seal. That means not water, dirt, or other materials can touch the truck bed. On top of that, you don't lose nearly as much cargo volume as a thicker drop-in bed liner. With products like Rhino Lining's liners, you don't have to worry about dents or dings in your truck bed; even if it's not as thick as a drop-in liner. How? Thanks to impact-resistant technology used in some of their products.
Which means spray-on liners have no drawbacks. Except for being a little more pricey, and finding a certified applicator to install it.
Advantages of a Truck Bed Liner
The main advantage of a truck bed liner (a spray-on liner, in particular) is it prevents harmful damage. Even something as simple as a grocery bag can act like sandpaper when it slides over that metal surface, scuffing the metal surface. Dirt can scratch your truck bed, a heavy object could dent it, a sharp object could puncture it, and water/moisture can cause it to rust. A spray-on bed liner that's 100% airtight is able to prevent against all of the harmful damage mentioned above.
If applied right, it can also provide cosmetic enhancements to your truck. I mean, what self-respecting truck lover doesn't want to make their truck as cool as possible? Spray-on bed liners can be sprayed-on in a variety of colors, in black, or you can even get them tinted.
They also have a grip-friendly surface. Thanks to this, objects won't slide around in the back and bang into the sides of your truck bed, or against the tailgate. Making it easier and safer to transport items. Also, it's helpful if you are trying to keep a more delicate object stationary.
Finally, spray-on bed liners are low maintenance when compared to drop-in liners. No bolts to tighten, or no need to readjust the bed liner. Also, it's more low maintenance for keeping your truck bed clean. Since you aren't worried about moisture with a spray-on liners airtight seal, simply spray your truck bed down with a hose to clean it. Or, sweep it out with a broom that's a bit on the rough side. All without risking harming your truck bed, making it all-around lower maintenance in general.
Rhino Liner vs LineX Liner
Now that you're convinced that a spray-on truck bed liner is a must-have for your vehicle, it's time to look at brands. I can tell you right off the bat, Rhino Lining and LineX are two big names in the industry. But, which one is better?
Installation is Half the Battle
It's important to first understand that with spray-on liners, a proper installation is half the battle. Actually, it's more like 3/4 of the battle. You could have the best product in the world and find an applicator who installs it poorly, and have horrible protection for your truck bed compared to the guy who bought a cheap spray-on liner and had it installed properly.
Which Brand is Better?
Therefore, choosing a brand largely comes down to product quality, and how reputable of a source they are.
With close to thirty years in the industry, Rhino Lining has an exceptional reputation. LineX only has twenty years, and while they're both global brands, Rhino Lining has more than 2,000 applicators and contractors in more than 80 countries around the world. More than that, their products are also favored by all branches of the military. Rhino has developed materials for military buildings, personnel protection, and even used spray-on material for protecting military vehicles. While LineX has a spray-on blast mitigation coating that's been tested by the Army Corps of Engineers and Air Force Research Academy, Rhino Lining's products are actually being used in the military every day; for multiple purposes.
Quality isn't an issue for Rhino, but what about application? Considering Rhino Lining's extensive history in the business, it means they've trained their certified applicators properly. Ensuring that state-of-the-art application equipment is used at their Rhino Lining sites. Which means you can rest assured your product will be installed properly the first time.
But, what if there's not a Rhino Lining plant near you? Well, there's a dealer for that.
Looking for Rhino Liner in Cincinnati? There's a Dealer for That
If you're down in Cincinnati, OH, McCluskey Chevrolet can apply a Rhino Liner for you. Why? Because, we are a certified Rhino Lining applicator. Which means we can provide the same type of service and protection that you're truck would get at the HQ of Rhino Lining themselves.