Parts of the Whole (McCluskey Experience)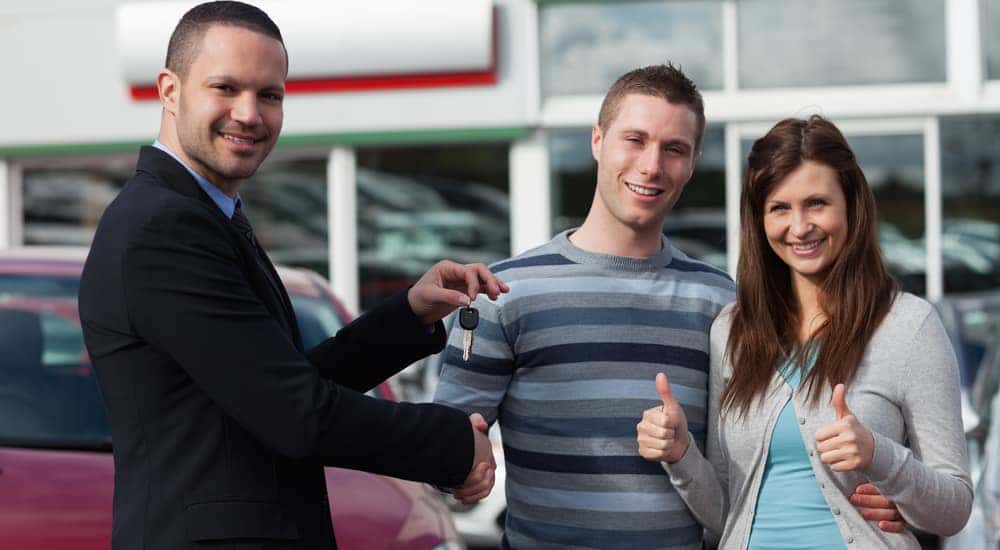 It's a simple truth: ownership of any vehicle will inevitably result in the need for car parts and accessories. Whether required to keep your vehicle operating at an optimal level, installed to improve its performance or to enhance its overall aesthetic, the right parts can make all the difference.
And while many drivers are more than capable of installation, some may not be as skilled, or may simply prefer to enlist the help of a professional. No matter which description best suits you, it's beneficial to have a trusted partner, be it to install – or simply source – the best quality parts and accessories.
At McCluskey Chevrolet, our skilled and helpful Parts and Service Departments exist to help you, our valued customers. But first, we feel that it's important to provide you with useful tools intended to help inform your decision.
Search, Find & Order
At mccluskeychevrolet.com, we've aimed to create a website that empowers our customers in all areas of car-buying (and car-owning). For Chevrolet, Buick, GMC and Cadillac customers in the market for car parts and accessories, we've built a tool specifically intended to help.
Under our Service tab, you can find a link to our 'Buy Accessories' database. Simply enter the (i) Model Year (ii) Make, and (ii) Model Year, and you can begin your search for items tailored to your specific vehicle. You can even optimize your search results, by using your 17-digit VIN (Vehicle Identification Number) instead!
Enhance your vehicle's overall performance by upgrading your engine, exhaust, suspension, braking (or anything that exists between bumpers). Consider the visual enhancement that your vehicle would enjoy as a result of installing redesigned wheels, bodyside molding, decal packages or any number of aftermarket accessories. Imagine the benefits (in terms of retaining resale value) of upgrading your floor liners to protect upholstered surfaces from wear and tear. Think of how you could enhance the cabin experience for your passengers, making use of countless entertainment technologies. Take a moment to appreciate how well our cargo management solutions could help to improve your vehicle's utility. The possibilities are nearly endless.
Also under our Service tab, you can find a link to 'Order Parts' online. Simply specify whether or not you would like to include installation in your order, and we'll take it from there!
Installation, Service & Repair
Just as GM vehicles and products are built on a foundation of quality and trust, our dedicated and fully-trained staff is committed to offering you every assurance that our installations, service, and repairs are equally well-founded.
Aside from the parts and accessories that you opt to have installed in your car, think of the regularly scheduled preventative maintenance that your vehicle requires. Think even of the repairs that you may never even see coming.
By having a trusted partner such as McCluskey Chevrolet, we are able to make such burdens as stress-free as possible. But the best-quality parts and skilled technicians are only the beginning. Being able to stand behind the quality of our work, we make timeliness a priority in order to get you back on the road as soon as possible.
Part of our ability to do so is by committing to carrying many parts in our in-house inventory. And those that aren't readily-available, can be sourced promptly from any number of equally reliable sources. The McCluskey Chevrolet Service Department is always ready, regardless of your needs.
This includes bodywork. As an I-CAR Gold and ASE Certified collision repair shop, we are trained to repair all makes & models (with the option of certified parts on all GM vehicles). In fact, our team is not only highly-trained but are required to particulate in continual education and training, to provide the best possible results. All body repairs are documented with a Free Safety Inspection. And with our extended drop-off, pick-up and shot hours, we reaffirm our commitment to minimize any inconvenience to you. After all, you've got places to go and things to do.
One-Stop Shop
Our goal is to provide our customers with an unparalleled level of attention, care, and service. While no vehicle is built to last forever, we can help you to get the very most out of each and every car that you drive.
And when the time comes that life requires you to seek out new transportation, we hope that you'll come back to McCluskey Chevrolet. Applying the same dedicated pride shown by our Parts & Service Departments, we maintain the finest and most extensive selection of new, pre-owned and GM certified vehicles.
With a century of dependability under its belt, Chevrolet continues to serve up the winningest line of vehicles. With their car, truck and SUV lines receiving the J.D. Power Dependability Award for the last two years, and countless Safety Recognitions from IIHS (Insurance Institute of Highway Safety) and NHTSA (National Highway Traffic Safety Administration) it's easy to appreciate the appeal of Chevy vehicles.
That said it's more than just dependability and safety. Diverse, the line offers something for everyone. Impeccably-styled, it represents the hottest trends in design, color, and material choices. And Chevy stands head-and-shoulders above most competition thanks to their inclusion of available technologies across their entire line.
Whether you're looking to explore our new vehicle inventory or look into our pre-owned offerings you can find every bit of information you require, here on mccluskeychevrolet.com.
Parts of a Greater Whole
Whether we talking about selection, service or ease of shopping we're talking about parts; parts of the whole that set McCluskey Chevrolet apart from other dealerships. With that in mind, think of those differences when you're thinking about car parts and accessories.
Your vehicle represents an investment, financially and in terms of all of your resources (including both time and trust). Why trust a dealership without a proven dedication to meeting every one of your needs, and exceeding every one of your expectations?