The Best Car Accessories for Your Dog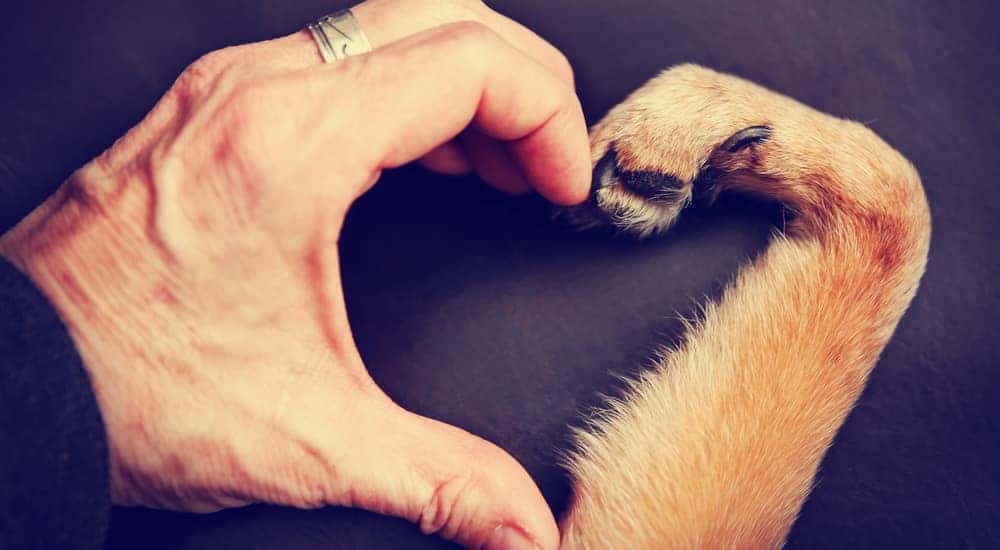 When you have a dog, they're more than just a fluffy lump that lays around the house eating everything in sight (kind of). That furball is your family. And like any member of the family, you want them to be happy with the important life decisions you make (roll with it). And, just like the human ones, your four-legged family members are going to have some strong opinions about those choices. That includes your preference of vehicle and the car accessories that go with it.
After all, your best friend is going to be spending some time in your new car and is going to want to be comfortable and enjoy their experience just as much as you will. As excited as your pup may be to hop into the car for a leisurely drive, toting the kids along can be a bit of a hassle.
It's time to lay that angst to rest. These 8 car accessories are pooch tested and owner approved, so you and your dog can sit back and enjoy the ride.
Dog Harness
Unfortunately, car accidents happen, and when they do, you want your dog to be safe. While some harnesses only prevent your dog from distracting you while you're driving, you want to choose one that is going to provide protection in the event of a crash. While plastic kennels don't fare well in general, pet harnesses rate pretty high in crash testing. Harnesses are built with a padded vest, providing a wider area of the dog's body to distribute the force of a sudden stop and reducing the change of a serious injury. This is one car accessory you don't want to be without.
Seat Hammock
Another great safety option when it comes to car accessories for your dog is a seat hammock. These seat covers attach to the front and back headrests and tuck into the seat, which creates a safe, roll-free space for your dog to hang out without falling into the foot space and potentially getting injured. Many of the available options are waterproof or resistant and washable for easy cleanup.
Handheld Vacuum
As any good-natured pet owner can attest to, as much as we love our dogs, their hair we do not. It is the bane of our existence. It's happened to all of us at one point or another. You're cruising down the highway, windows down and music blasting, Fido isn't even in the car. You're singing along to your favorite T-Swift tune when it hits you. Straight to the jugular. A mouth full of dog hair. Dog hair that's been hanging around in the car can be a real pain—literally—but so can dragging out that massive clunker of a vacuum cleaner mom bought you for Christmas. Well, fear not. Someone just as tired of choking on Fido's fur came up with a handheld vacuum. You can find battery-powered options or ones that will plug directly into your car, and they will fit nicely in your trunk.
Travel Water Bowl
Being best friends doesn't have to mean swapping saliva, especially when that best friend goes around sniffing and eating everything in sight. Thankfully, there are dozens of options available when it comes to collapsible portable water bowls. Bring your own water bottle for the trip and one for your furry friend. Simply pop open the bowl and pour out some water. Then, the bowl folds up and slides into a back seat pocket, glove compartment or side pocket.
Pet First Aid Kit
Not unlike regular first aid kits for people, kits for dogs contain many of the same products, and you'll want to keep one handy whenever you travel with your pet. Some items that you will want to make sure your pet kit contains are:
Tweezers (for removing splinters, spurs, ticks, or other items stuck in paws or fur)
Gauze and antiseptic (for minor cuts and injuries)
Disposable gloves (for you)
Blanket and cold pack
Phone numbers for animal poison control and an emergency veterinarian
There are pre-made kits available from retail stores, however, making your own pet first aid kit is pretty simple and cost-effective. Plus, you can personalize it with your pup's favorite treats to keep him/her calm.
Cargo Liners
Similar to the seat hammock, cargo liners offer a comfortable and easy-to-clean option for your pet to hang out in the back of your car and typically come in cloth or rubber styles. Both styles should be water-resistant and easily removable for washing. You should also look for options that protect the walls of the cargo area and create a liquid-trapping lip. Most auto manufacturers make cargo liners specific for their models.
Ramps and Steps
Ramps and steps make it easier for dogs to get into and out of vehicles, putting less stress on their joints and paws. They also protect your vehicle from scratches resulting from dogs with not-so-great aim. You'll want to look for sturdy ramps and steps that have a non-slip surface.
Car Door Protectors
If your pooch likes to watch the world go by through the car window or rest on the armrest of a passenger door, car door protectors can go a long way towards protecting the interior of your vehicle from scratches and slobber. They're easy to install and typically tuck into the window securely. Many even come with storage pockets so you don't lose any functional space.
Just in case dog-friendly car accessories aren't cutting it for you, Nissan introduced the Rogue Dogue, a canine-conscious version of the 2017 Rogue. It has some pretty handy features for your furry friend, including some of the accessories listed here already built in. The Dogue is designed with your four-legged friend in mind, with a padded and easy-to-clean cargo area complete with clip-on safety harnesses and stow-away spill-proof water and food bowls. It also comes with a slide-away loading ramp, built in seat hammock, and a pet first aid kit. The furball-friendly features don't stop there. There is a removable pet partition, multiple leash-attachment points in the second row and cargo areas, a storage drawer for treats and a leash, and a side-mount waste bag dispenser. And the pièce de résistance is a 360-degree dog shower and dryer with a 10-gallon water supply and rear-compartment blower, so you can wash and dry Fido before he mucks up the house. But before you start wagging your tail over this dog lover's dream car, the Dogue is currently a project vehicle not yet available for order. In the meantime, this list of doggie car accessories should keep you and your pooch comfortable and safe until a real Dogue is on the market