Used Cars in Cincinnati OH
Shopping for Used Cars in Cincinnati With McCluskey Chevy
Looking for used cars in Cincinnati? Look no further, McCluskey Chevy will have what you are looking for at a reasonable price and with the quality customer service that we know our customers need. We have taken great lengths to ensure that every customer who enters our lot, ends up leaving a satisfied customer for years to come. We know that the car buying process has a bad rap and we have looked closely at all of the common consumer complaints that many people encounter when looking for a new or used vehicle. In this manner, we are able to tailor the training that all of our team members receive to ensure that our customers do not encounter the same disappointments from our quality showroom, Sales Team or Customer Service. We strive to make certain that every person who enters our lot and showroom receive the best assessments and are given exemplary information to help make the process of buying their next vehicle a worry-free and seamless experience. When you are looking for used cars in Cincinnati, make certain that McCluskey Chevy is on your list and find out what "The McCluskey Difference" is all about.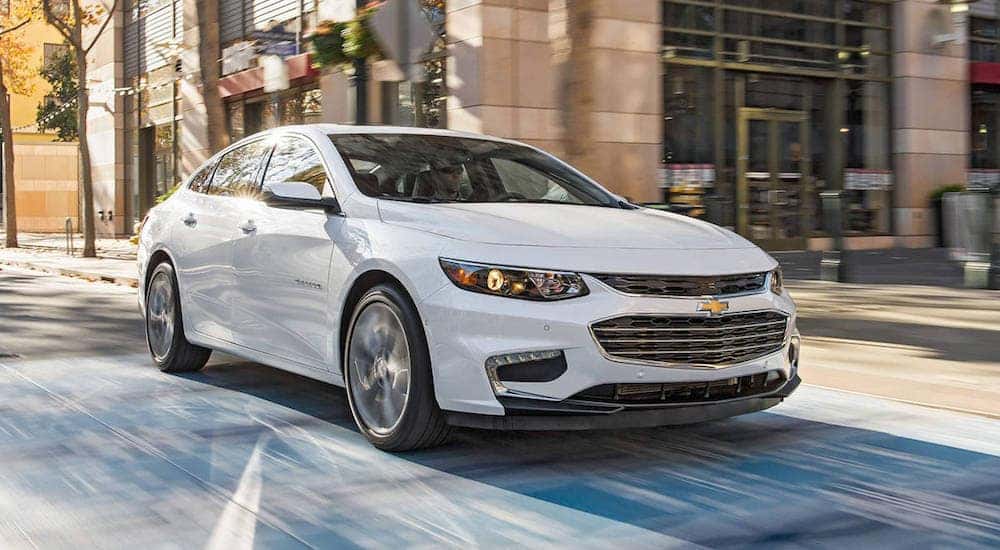 What to Expect At The McCluskey Showroom
When you enter our showroom or our lot, you will no doubt notice that the atmosphere and attitude of McCluskey Chevy is different from any other showrooms or car lots that you have experienced. We aim to make available the finest vehicles for your perusal in a pressure-free and accommodating environment where you are likely best able to make this important decision that will affect you for years to come. We intend to make certain that all of the best up to date information is available for anyone that looks to any of our team members for answers and know that it is imperative that you have it. When you make the decision to consider used cars in Cincinnati as your option for purchase of your next vehicle.

The McCluskey Inventory
One of the biggest factors that you will notice is our impressive inventory of used vehicles that are available for purchase. We make certain that only the finest used vehicles end up on our lot and we spend a lot of time to determine the best pricing to suit the needs of the budget savvy consumer. You will find quality vehicles that you will be able to depend upon for years to come and at competitive pricing. We pay close attention to the feedback that we receive from our consumers and make certain that when we look to make vehicles available for purchase on our lot that they are only the best. We have acres upon acres of these fine vehicles available for you to check out. Our Sales Team members will be happy to sit down with you to make this process a little easier and assess where you are at with your budget and lifestyle to help determine the best vehicle fit for you. We are pleased to note that all of our members of our sales team have received rigorous training and ongoing up to date information with regards to every vehicle that comes on our lot. We try to make our sales team able to answer your questions in a competent manner and expertly assist your choice making in this important venture.
The McCluskey Sales Team
Due to the fact that the training received by our Sales Team was developed with the customer's wants and needs in mind. You will notice that all of our Sales Team members are accommodating without putting pressure on your decisionmaking process. They are experts in their field and we are pleased to receive many accolades that attest to that fact. A member of our Sales Team will sit down with you to assess your wants, needs and lifestyle to help you to determine which vehicle would be the best fit for you. After this is accomplished, they will happily show you to the vehicles and answer any questions that you might have with regards to them or the car buying process. They receive ongoing up to date information with regards to every vehicle on our lot so that they are able to direct you to the best vehicles to suit your needs based on the information that is derived from your first "sit down" with them.
The McCluskey Finance Team
We have many financing options for every consumer looking to purchase a vehicle from McCluskey Chevy. We realize that everyone is different and as such, each financing approach needs to be different. As a result, we have every financing option available to make the purchase of your new, or new-to-you vehicle an easy one. A member of our Finance Team will sit down with you to review your budget, credit and then help you to develop a plan so that you can purchase your vehicle. Each member of our Finance Team is an expert in their field and is able to find you the best financing for every situation and budget. We are pleased to be able to offer such a strong team to help our customers with such an important venture that is sure to positively impact their car buying experience for years to come.
Financing Options with McCluskey
Because we understand that every financial and credit situation is different. We offer many options for financing your new, or new-to-you vehicle. From "Buy here, pay here" to standard bank financing with competitive interest rates, we are pleased to be able to have it available to all of the customers who look to us for their financing needs. We understand that this is a difficult and stressful decision and we intend to make certain that one of the factors that make up the "McCluskey Difference" is that the transaction is seamless, stress free and without unnecessary pressure. We believe that we have accomplished this due to the many positive reviews that our Finance Team receives from our satisfied customers.
Customer Service with McCluskey
As we mentioned above, we carefully planned our trainings to provide our service members with the best information so they can focus on the customer's needs and wants. In this way we are able to brand not just our cars as a different caliber, but also our approach to sales, finance and customer service. Our Customer Service Team members undergo rigorous initial training and are continually receive training to become experts in their area of expertise. We believe that attention to detail, reliability and dependability are vital traits for a good Customer Service Team member and we are pleased to note that all these attributes can be said about each and every one here at McCluskey Chevy.
The next time that you need to look for used cars in Cincinnati, check out the selection at McCluskey Chevy. You will be pleased to not only encounter what you are looking for but will also be pleased to discover "The McCluskey Difference" that everyone in the automotive field is talking about. From the first time that you enter our showroom to when you drive off of our lot in your new, or new-to-you vehicle you will experience a hassle free and seamless experience that will make you a satisfied member of the McCluskey family.