Cheap Oil Change
A Well-Oiled Machine

Do you know how often you should be changing your oil? Odds are you're either doing it too often or not nearly enough. For being such an important procedure, there is a lot of misinformation out there on oil changes, including basic information like frequency, brand, and type of oil. When looking for a cheap oil change, don't rely on conjecture and old wives' tales. When you bring your Chevrolet or General Motors product in for an oil change at McCluskey Chevy, we will make sure that you're getting the right oil to reach your vehicle's peak performance. Afterwards we'll let you know when to schedule your next oil change, making sure you can hit the road with confidence.

Why McCluskey Chevy?Service DepartmentSchedule Service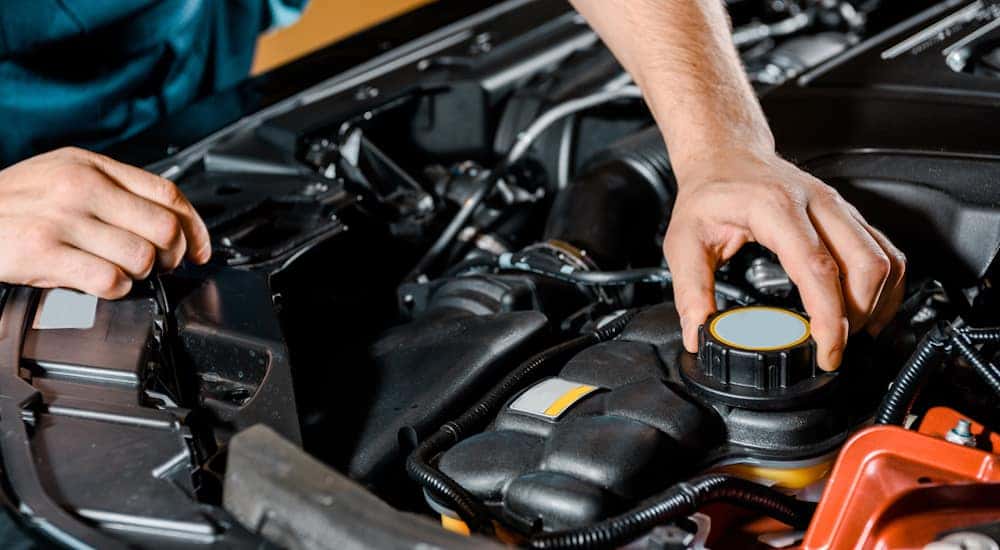 Oil and Gas
To start, what is the difference between oil and gas? With American slang terms, it can be hard to discern which product is being discussed. On a news report on gas prices, you'll often hear the price of oil by the barrel. The gas you put into your car with regular frequency, whether it be diesel or petrol, is derived from crude oil. It is highly flammable and creates power for your car through a series of small, controlled explosions that work the pistons in the engine. The oil you need to change every few thousand miles is also derived from crude oil but is used as a lubricant and not an accelerant. Both are critical to the basic function of your vehicle.
 
The Importance of Oil
It's easy to take oil for granted or simply forget about keeping up with your manufacturer-recommend oil change intervals. It's easy to tell when your car runs out of gas or the tires wear down. It is almost impossible to know when your oil is running low without opening the hood. Part of this is because the consequences of not changing your oil may not be immediate.
 
As a lubricant, oil wears down over time from usage instead of being completely used up. Your car won't run as soon as it runs out of gas, and a weak tire will often pop or tear to stop you in your tracks; oil's breakdown is not so quick. When your car runs out of oil, the parts of the engine receiving the oil just stops receiving additional lubrication. As the lubricant wears down and isn't replaced, friction increases inside your engine. When the friction becomes too much, engine components break. Although a low oil level may be harder to detect, you can be sure that replacing broken engine parts is going to cost far more than a can of oil or a new set of tires.
 
By sticking to your manufacturer-recommended intervals or working out a schedule with your dealer, you're making sure that a valuable part of your engine's maintenance is receiving the care it needs. While it may not be fun to take your car in for service, the time and money you spend on a relatively cheap oil change today will pay off down the road. If you haven't brought your Chevy in for an oil change yet, you can check the level on your own. To get the most accurate reading from your dipstick, make sure to follow the directions in your owner's manual, which include a warm vehicle on level ground. If the oil is below the minimum mark, it's time to get to your dealership. If you don't want to deal with opening the hood, our tech's will be happy to help.
 
Conventional or Synthetic
When asked on the spot, it's hard to remember what kind of oil you want to use in your vehicle. While we offer both conventional and synthetic oil we generally recommend conventional oil. The main difference between synthetic oil and conventional oil is the level of refinement. Conventional oil more closely resembles crude oil than synthetic. Synthetic oil also contains additives that, in theory, should make your car run better while increasing performance. In fact, many high-end sports cars strictly require synthetic oil. But for the regular consumer, the cost of synthetic oil outweighs many of the benefits. Unless you're taking your car out for track days or running it extremely hard, it's hard to justify spending almost double on synthetic oil. Even with synthetic oil lasting slightly longer, conventional oil is the best bang for your buck.
 
Conventional oil is also the standard in the industry. Your Chevrolet most likely came to you with conventional oil, and most dealerships and auto shops use it as their default option. If your vehicle is on the older side, conventional is your best bet. Synthetic oil is finer and flows more smoothly through the engine, while this is a benefit for new cars; older engines actually work better with the slower flow of conventional oil.
 
Chevy Knowledge


At McCluskey, we know Chevy products like the back of our hands. The vast majority of cars that enter our shop are Chevrolets and our techs are experts on what does and doesn't work when it comes to Chevy products. Even if you bought your Chevy somewhere else, we're happy to help you get the oil change you need. No matter how good your local auto shop or 10-minute oil change business is, they're most likely just typing your car into a computer and then matching an oil to its profile. We use our deep well of experience with your car to choose the oil we know will work with your specific model and year. Auto shops and other dealers simply can't match our level of expertise. We also know exactly when you should come in for your next oil change. Through the manufacturer's suggestion and our years of expertise, we'll find a schedule that works for your specific vehicle.
 
While it can be tempting to change your oil on your own, we believe it best to leave it to the experts. The cars of today are increasingly intricate and specialized – as our cars become safer, more efficient and longer-lasting, they also become more complicated. Our service experts will save you time and headaches, helping you spend more time in your serviced vehicle than in your garage. Our deep knowledge of the right oil for your engine also saves time spent at the auto-parts store searching for the right oil from an aisle full of products.
 
The McCluskey Difference
McCluskey Chevrolet is your place to get a cheap oil change for your new or used Chevy. Whether you're looking for a synthetic blend or a conventional oil we'll be able to help you find what you're looking for quickly. Our highly-trained and well-respected staff members will be able to assist you and will provide you with exemplary customer service. If you're someone who has had a poor experience with oil changes in the past, don't let that sway you from stopping by McCluskey Chevrolet. We will show you the respect that you deserve and provide you with a selection of oil choices and brands that will give you peace of mind out on the road. If you're ready to get a cheap oil change, or you simply have questions for the experts, it's time to stop by our conveniently located dealership. We're sure you will be glad that you did.