Discount Tire Cincinnati
When it comes to new tires, we know that purchasing and installing new tires can be a pain and a hassle. At McCluskey Chevy, we aim to sell our tires at discount prices at the highest possible quality. Whether you need a tire rotationon, alignment, or a tire replacement, at McCluskey Chevy we have the service and the discount tires in Cincinnati you need to keep you covered.
Why McCluskey Chevy?Order PartsContact Parts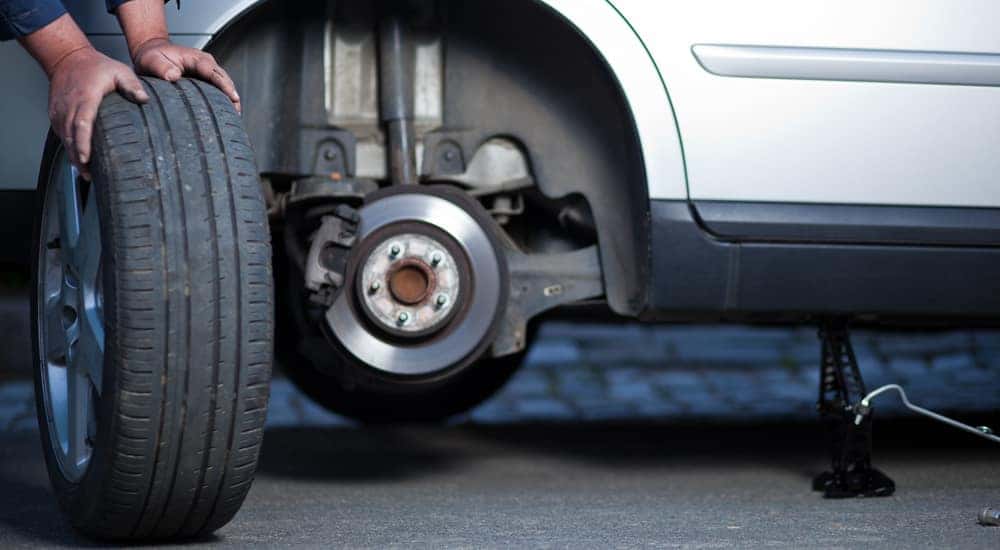 When Do You Need New Tires?
There are a number of ways you can determine whether you need new tires for your vehicle and at McCluskey Chevy in Cincinnati these are the factors we recommend you look out for:
1) Treadwear
If you notice that the tread is worn on your tires or that wear has occurred unevenly, then it's probably time for new tires. Luckily, there is a super easy method to check and see if the tread is too low and require replacement. Take a penny and insert the penny (head down) into the groove on each of your tires. If any part of Abe's head is uncovered then you need new tires and should go to a professional to get them replaced promptly.
You can also purchase a tire gauge to determine if the amount of tread wear calls for replacement, however, the penny method costs just a penny! So we recommend this method overall. If you are ever unsure while using one of these methods, visit McCluskey Chevy and we will be glad to assess your tires for you.
2) If Your Tires Have Cracked or Have Weathered Sidewalls
If you notice that the sidewalls of your tires are cracked and are no longer even or smooth, it's time for new tires. Take your tire to a professional, like the technicians at McCluskey Chevy, to get them replaced or repaired.
3) If You Have Periodic Low Tire Pressure
If you notice that your tire pressure is continually low, even after filling them up with air, then your tire probably has a slow leak and requires replacement. You should check your tires at least once every month to ensure that no rocks or glass are embedded anywhere in the tread.
4) If Your Tires are Over Ten Years Old
Most mechanics will recommend getting your tires replaced once they hit ten years of age. At six years of age, we recommend getting them inspected at a service department to ensure that they are in the best possible condition. However, this can be even sooner depending on the kinds of terrain and conditions you are used to driving in.
5) If There are Bulges or Blisters on Your Tires
If there are bulges or blisters on your tires then it's definitely time for a tire change. Bulges or blisters means that your tires have probably encountered a very hot surface and have been warped or damaged by heat. Getting these tires replaced soon is essential as it can eventually lead to a blowout and cause further damage to your vehicle.
6) If You Notice Odd Vibrations
If you notice that your car is vibrating more than normal, then it's time to take it to a mechanic. This could indicate that your tires are not aligned properly, or there is damage to the overall vehicle. Go to a mechanic or dealer, like McCluskey Chevy, immediately to get your car inspected.
What Do New Tires Do For My Vehicle?
New, fresh tires offer a number of benefits for your vehicle, and if you buy with McCluskey Chevy in Cincinnati you'll get all these benefits with our discount tire prices:
1) Improves Your Vehicle's Overall Handling
In poor weather conditions, new tires can be essential. If you're still using tires where the tread is low and worn, this can increase the risk of hydroplaning in the rain as well as skidding in icy conditions.
2) Improves Stopping Ability
New tires can improve stop and start ability. Additionally, you should notice an overall smoother, and more sensitive vehicle performance when you purchase new tires.
3) Improved Gas Mileage
New tires can produce better gas mileage since the car won't have to work as hard to get its power to the ground. Once your tires are mounted, aired, and aligned properly, your vehicle will not have to work as hard and will be able to perform smoother and with superior fuel efficiency.
4) Longer Life Expectancy for Your Vehicle
Replacing your tires regularly means your vehicle can handle more miles and more terrain. By replacing your tires every six to ten years, and checking them monthly for wear, this ensures that your vehicle is maintained at the best possible conditions and will last the longest amount of time.
Types of Tires
There are many tire models out there, and at McCluskey Chevy we offer the best discount tires in Cincinnati with the best possible performance. When you're looking to buy new tires here are some factors to keep in mind:
1) Consult the Owner's Manual for Size
Consulting the owner's manual is essential as it will detail the best tire size for your vehicle. In addition, there should also be a placard in the jamb of the tire side door where the tire measurements will be available. If you are unable to find these, then take your vehicle to a dealer and they will be able to help you.
2) Determine the Type of Tire
When you're looking to purchase new tires, it's important to figure out what type of tire you need. There are tires for all sorts of weather and terrain, so it's important to determine which kind of terrain and climate you're in the majority of the time, and purchase tires based on that criteria. There are a number of all-season tires out there, as well as winter/snow tires, and summer season tires. Summer and snow tires are especially important, as the weather and terrain will affect the vehicle's performance and are essential for safety during these weather conditions.
3) Truck Tires
If you own a truck, then selecting the right tires is especially important. The size and strength of the tires are essential, especially if you're hauling heavy loads or working in dusty conditions with lots of debris. Finding a tire that can handle wear and tear, and that fits your business or work requirements is paramount. Talk to your dealer o to find the right tire for your truck today.
Discount Tire Services at McCluskey Chevy Cincinnati
At McCluskey Chevy in Cincinnati, we are the premier Chevy Dealer in the region to handle all of your car buying, vehicle service, or vehicle repair needs. When it comes to tire replacement, we have the inventory and selection at our best discount prices. From all season tires to different sizes and models, we have the selection that will meet each and every one of your needs. With our knowledge and know-how, we can give you the best possible tire inspection, and the best advice for tires based on weather, road conditions, and your driving habits. Come to McCluskey Chevy for your discount tires in Cincinnati, where your vehicle needs are our first priority.