Express Oil Change
Getting an oil change on your vehicle is one of those necessary evils in life. They are a hassle, they are time-consuming, they take time out of your already busy schedule. However, an oil change is one of the more vital procedures needed to keep your car, truck or SUV running in optimal condition. You could choose to go to one of those impersonal big oil and lube places that have shops everywhere, or you could come to McCluskey Chevrolet and have our highly trained technicians perform the
express oil change
you need in a matter of minutes.
Engine oil keeps all the moving parts of your engine lubricated. It keeps all the moving parts moving the way they are supposed to. When your engine oil gets too old, it will lose its fluidity and become more viscous. This is very dangerous territory because old and thicker engine oil could cause catastrophic damage to your engine. It is much more cost effective to have your oil changed regularly than to have to replace all or part of your engine or, even worse, total out your vehicle.
There are more than a few drivers out there who prefer to do this type of routine maintenance on their own. That is completely fine if you know what you are doing. If you are not as handy under the hood of the car, and you make a mistake, you could have a big problem on your hands. At best, you could make a huge oil spill. At worst, you could cause serious damage to your vehicle. We don't want to see either of those things happen.
For those who are not the do-it-yourself type when it comes to the finer aspects of automobile care, you may not know that there is a huge difference in engine oils. There are different weights, different blends, different brands and different qualities. Going with the cheapest version you can find at your local auto parts store could end up being a massive mistake. It is a mistake that our service technicians know how to avoid.  
Why McCluskey Chevy?Service DepartmentSchedule Service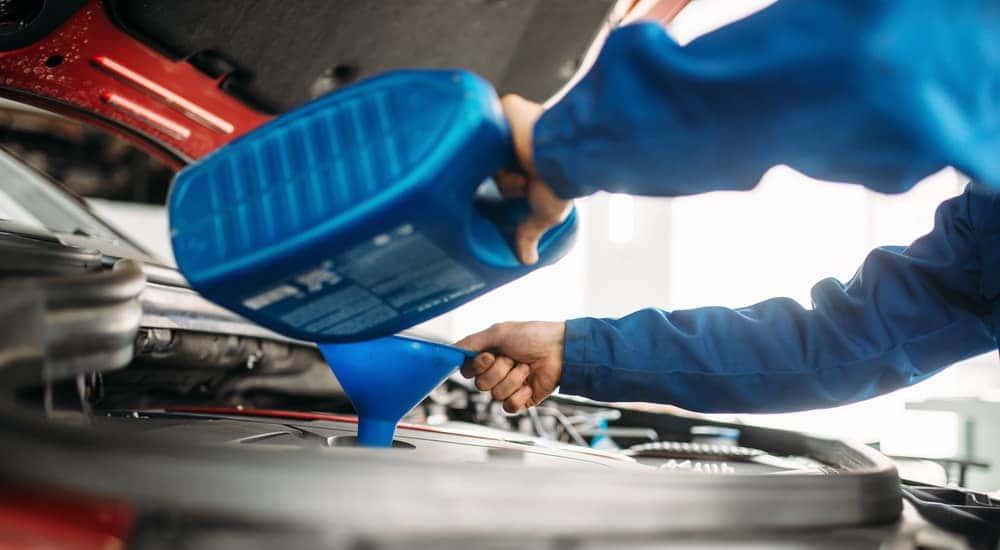 Our Service Center
Our service technicians at McCluskey Chevrolet are highly trained and work on a multitude of vehicles every day. Express oil changes at McCluskey Chevrolet are simple and take a matter of minutes, in most cases. We know the importance of this most routine of procedures, and we take that very seriously. We pride ourselves on offering our customers the highest quality workmanship. This is not only for our returning customers but also extends to new customers. We want to make sure you know that our mechanics and technicians will treat your car, truck or SUV as if it was one of our own.
We also recognize the importance of prompt service. Many drivers take their vehicles for granted. We underestimate how vital they are to our daily lives, especially when a time comes where we are without them, even for a matter of minutes. We want to ensure timeliness in our service, second only in importance to the quality of the service itself.   
To that end, we offer plenty of ways that you can schedule your maintenance. Of course, walk-ins are always welcome. You can also call ahead and make an appointment. You can even set up a service appointment online. That way you can see what times are best to fit around your busy schedule.
Scheduling Your Express Oil Change
Once we have you in our service department, we can set you up on a maintenance schedule for oil changes, tire rotations, filter replacements and much, much more. Your vehicle is a finely crafted machine with thousands of moving parts. Each part must be working at its best in order for your vehicle to run at its best. Many of these parts need routine maintenance that extends far beyond that pesky oil change.
Depending on your driving habits, some of these procedures need to be done more or less frequently. If you spend more time on the road than average, you may need to get your oil changed more frequently. If you spend more time on the highway than you do in stop-and-go city traffic, that could affect other parts of your engine's normal wear and tear. If you have unusual driving conditions, such as living or working on a dirt road, that will cause your filters to need more frequent changing.
We Have You Covered

At McCluskey Chevrolet, we can easily take care of all of those procedures. And, once we have an idea of how you use your vehicle, we can set you up with a maintenance schedule. This schedule will keep your vehicle running as it should for years to come. We will know how often and when to perform such things as oil changes and tire rotations. We will know when to expect any sort of transmission checkups, flushes, brake repair and a host of other issues that, if left unchecked, could cause you serious problems down the road.
As you can see, we are far more than just an express oil change shop. We offer comprehensive services that the chain places often do not. Would you want to go to one place for an oil change and an entirely different place for a diagnostic check? Would you like to have to have your tires rotated at a tire shop, then drive all the way across Cincinnati for a front end alignment?
Of course not. You want to be able to have all of that handled in one trip. At McCluskey Chevrolet, you can. Our highly trained technicians can do a complete bumper to bumper checkup on your vehicle, all at a low price and in a timely manner. On top of that, and most importantly, we stand by the high quality that we give each and every one of our customers, whether they have been coming to us for years or they are a first time walk in.
On top of all of this, we understand that keeping track of your oil changes can be an inconvenience. What happens if that little sticker falls off? Did you actually make a note of it in your owner's log? Do people really do that?
Additionally, you have other routine maintenances to keep up with. Tire rotations, lube jobs, wiper replacement… the list can get quite long. Unless you have a very good habit of taking detailed notes or an electronic ledger, these things can get a little confusing.
You know who does have an electronic ledger? The fine service department at McCluskey Chevrolet. We make it a point to keep up with all of your services, from oil changes to belt replacements and everything in between. Our system is designed to keep your vehicle in line with the next procedure required, always taking into account your individual driving habits, the type of vehicle you own, your daily mileage and other factors.


Express Oil Changes at McCluskey

Next time you are in need of an oil change, we encourage you to head down to McCluskey Chevrolet and meet our fine service department. We can handle anything you need done under the hood. We even have a body shop, but that is for another day. You can easily make an appointment by phone or via our website. You can even register your vehicle with us online, so we will know more about you ahead of time.
Of course, you are always welcome to just pop in and say hello. We love those kinds of good surprises.