Quick Lube – Cincinnati, OH
For a lot of people, vehicle maintenance is not something they consider to be particularly fun or exciting. It is something we all have to do to take care of our vehicles, but it is often seen as an inconvenience that takes time away from doing the things we really enjoy. That is why a quick lube job can be so beneficial: you get the maintenance you need done, without taking up a lot of time. Choosing the right place to get any kind of work done on your vehicle, however, is extremely important.
It is also very important that you understand when a visit for a quick lube job is all you need and when you should consider a more thorough full-service appointment. Taking care of your vehicle is the most important thing you can do to make sure you stay safe on the road and keep the value of your car or truck as high as possible. Proper maintenance and routine inspections goes a long way to taking care of your vehicle, and a regular quick lube trip to change your oil is an important part of that.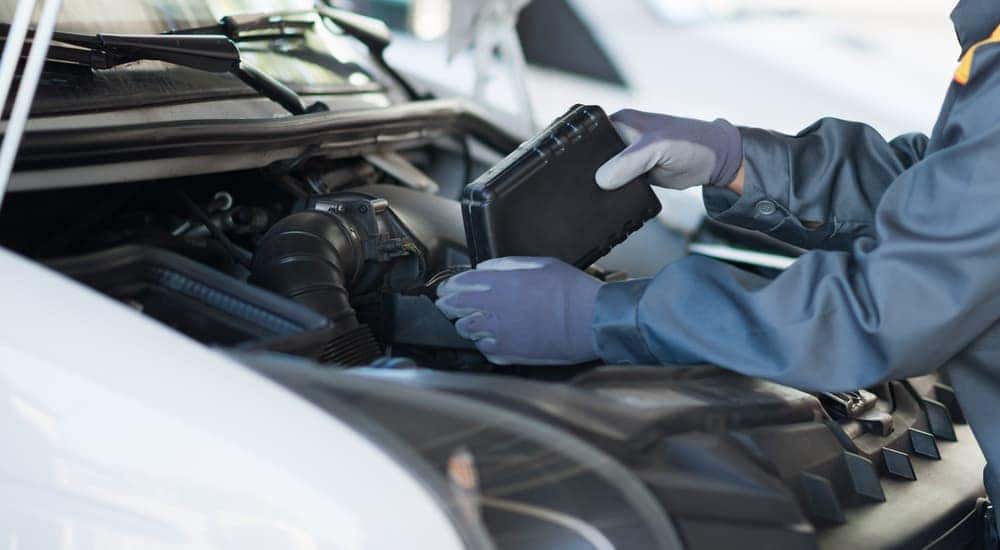 While a lot of places promise quick lube work for a very low price, you often end up getting exactly what you pay for: poor service from people who are undertrained at a location that is understaffed. When you bring your vehicle to us, however, you know you are entrusting your car to professionals who are well trained and who specialize in your make and model choice. At McCluskey Chevy, we pride ourselves on our customer service and providing everything you need to take care of your vehicle long after you drive off our lot.
A Quick Lube
A quick lube job or service visit typically refers to any time you take your vehicle into a service location to have just the oil changed in the engine. Motor oil in your vehicle is very important because it keeps all the moving parts of your engine lubricated, which lets them move more smoothly and evenly. Heat is a vital part of an internal combustion engine, but heat can also cause a lot of damage to engine parts. Without motor oil, the basic functions of your engine would create so much heat and friction that it would essentially destroy itself.
Over time, the oil in your engine breaks down and gets dirty, picking up grime and particulates from the parts of your engine as it works each day. If you do not change your oil on a fairly regular basis, then the oil stops working as well as it should, and you can end up with your engine being damaged over time. When you come in for a quick lube job, we raise your vehicle up on a lift, drain out the old oil from your engine, and then replace it with new oil. This keeps your vehicle running smoothly and helps prevent damage to your engine, which can cost you a lot of money if you do not take care of it properly.
Quick Lube vs. Full Service
As you can see, a quick lube visit is pretty simple and often only takes a few minutes, so long as we are not very busy with other customers on any particular day. In contrast to a quick lube job, a full-service visit is likely to take quite a bit longer, but it is equally – if not more – important as a quick lube service. A full-service lube job means we do not only replace the oil in your engine but check and potentially replace other fluids and lubricants throughout your vehicle.

Cars, trucks, and SUVs have a lot of moving parts throughout them; many of these require lubrication to keep them working properly and not break down too quickly. For example, your brake system has grease and lubrication that keeps it working well and helps prevent damage from excess heat. When you come in for a full-service lube job, we check your fluid levels and lubrication throughout your vehicle.
We then replace or reapply grease as needed when we find that it has been used up or grown too dirty. This type of visit takes more time and is more expensive, but without it, you can end up with serious issues arising that could have been easily prevented. It is much better to spend a few hours of your day getting preventative care done than to be without your vehicle for a week due to the need for costly repairs or replacement of parts.
Frequency of Service
How often you need to come in for a quick lube or full-service visit depends on your vehicle and the instructions by the manufacturer. In the past, there were suggested rules on how often you needed to have your motor oil changed, but these rules are no longer accurate. Vehicles today are made to be much more efficient, and motor oil has been engineered to last much longer while still being effective. Check your owner's manual for your vehicle to see how often the manufacturer recommends you get your oil changed and follow that guideline.
Conventional vs Synthetic Oil
When you come in for a quick lube job, you will probably be asked if you want to have conventional or synthetic oil used to replace your motor oil. There are a few important things to keep in mind when making this decision. First of all, when it comes to cost, conventional oil is typically much cheaper than synthetic oil. Synthetic oil works much better than conventional oil, however, and helps keep your engine cleaner, which can prevent damage to your vehicle and keeps it running more smoothly.
You can swap between them with each visit so it can be cost-effective to choose conventional oil one time, and synthetic the next, to help clean out your engine but go easy on your wallet. Just keep in mind that you should not combine them, so if you need to top up your motor oil, use the same kind as what is already in it. There are also conventional-synthetic blends that are less expensive than purely synthetic oil, while still giving you a lot of their benefits.
Come to McCluskey Chevy for All Your Maintenance Needs
Come visit us at McCluskey Chevy. We are conveniently located in Cincinnati, Ohio, only a short drive away from Louisville and Columbus. We are well-known and respected for our customer service as our relationship with you and our previous costumers does not end when you drive away with a new vehicle. Our fully-trained and Chevy-certified service experts are here to help you with any questions you might have and to make sure your vehicle keeps running smoothly for years to come. Whether you just want a quick lube job or need full service, we are here to help you seven days a week. We also offer additional services, including front end alignment, brake adjustments, and replacements, and vehicle checkups to make sure you will pass an emission inspection.
You can come by any time, or make an appointment today to ensure you get in and get your vehicle serviced as quickly as possible. Do not trust your vehicle to someone who has received limited training and is paid as little as possible to get cars in and out as fast as he can. At McCluskey Chevy, we specialize in Chevy vehicles and can provide any kind of care or maintenance you need. Let us help keep you driving safely and enjoying the road for thousands of miles to come.