Used Cars Dayton Ohio
The Best Place to Find Used Cars in Dayton, Ohio
Time to replace your current vehicle? Then, you've probably been searching for a reputable business that sells used cars in Dayton, Ohio. And if you're looking for a dealership that offers an extensive used car inventory, there's one dealer that stands out among the rest. At McCluskey Chevy, we are proud to say that our used car inventory includes hundreds, and we mean hundreds, of high-quality vehicles in a variety of makes and models. A large portion of this inventory is even priced under 10K, and an even larger portion includes our carefully maintained certified pre-owned vehicles. Whether you're looking for an efficient sedan for your daily commute or a spacious and versatile SUV, you'll be able to find the perfect used cars for sale in Dayton, Ohio on our lot.
However, the benefits of McCluskey Chevy don't end there. Drivers who choose to browse for used cars for sale with McCluskey Chevy can also enjoy our haggle-free pricing, superior customer care, and highly trained finance and service departments. Ready to learn even more about what makes McCluskey Chevy the best used cars dealer near Dayton? Let's take a closer look.
Why McCluskey Chevy?Used VehiclesFinancing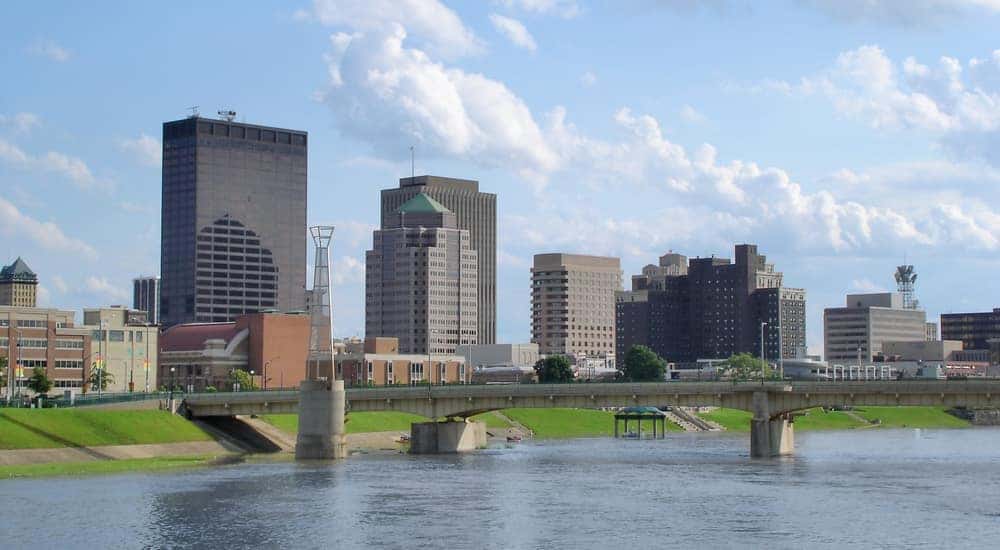 The McCluskey Chevy Advantage
Choosing to shop with McCluskey Chevy for your next vehicle has many advantages. As your local Chevy dealership, we are proud to offer high-quality used cars in Dayton, Ohio paired with the service and convenience our customers deserve.
Customer Service
At McCluskey Chevy, we strive to offer unmatched customer service to each and every customer that steps on our lot. When you visit McCluskey Chevy, you can feel confident that you'll be greeted by a warm and friendly staff that is dedicated to helping you find the perfect vehicle for your lifestyle and budget. Our team will happily guide you through our extensive inventory of used vehicles, answer any questions that you may have, and even get you a beverage to enjoy while you shop. No matter what department you're working with, you can look forward to a kind and knowledgeable team that is happy to help you take care of all of your automotive needs.
Flexible Financing
If you're worried about getting approved for financing with less than ideal credit, don't be! The finance team at McCluskey Chevy is expertly trained to secure financing for all types of credit backgrounds. Whether you have poor credit or perfect credit, you can feel confident that our finance team will set you up with a loan that you're comfortable with. Our finance team will listen to your monthly budget and keep you informed through every step of the financing process, while trying to find a loan with terms that suit your needs. We have several options for drivers with low credit and are more than happy to discuss them with you. When you've completed your financing through McCluskey Chevy, you can drive off the lot in your new vehicle in confidence.
On-Site Service Department
One of the most convenient features of McCluskey Chevy is our on-site service center, staffed with certified experts in everything Chevy. Whether you need to schedule routine maintenance or have a complex repair completed for your vehicle, the technicians at our service center can handle it with ease. Our technicians are properly certified to work on Chevy vehicles, and receive regular training to keep them up to date on any new vehicles that enter our lot. If you're interested in purchasing accessories for your next used car in Dayton, Ohio, the technicians at McCluskey Chevy will happily assist you in picking them out and even installing them for you. And to ensure that your new-to-you Chevy vehicle remains as dependable and reliable as when you purchased it, our service center will even help you create a personalized maintenance schedule.
Our Used Car Inventory
At McCluskey Chevy, we offer an extensive amount of used cars for sale in Dayton, Ohio. Sport sedans? Versatile SUVs? Powerful pickup trucks? No problem. As your local Chevy dealer, we have it all! In fact, we have hundreds of vehicles for sale in our used car inventory alone. Not sure what type of vehicle you're interested in? Here are a few of our most popular used cars for sale:
Chevy Malibu
Chevy Equinox
Chevy Traverse
Chevy Silverado
Considering other brands of used cars during your search? We also carry a variety of other brands, including:
Ford
GMC
NissanM
Kia
Toyota
Jeep
Hyundai
and many more!
In fact, the makes and models of our non-Chevrolet brand vehicles make up a large amount of our total used inventory. So, no matter what kind of vehicle you're looking for, you're sure to find a perfect match among our massive used car inventory. And no matter what make and model you choose from McCluskey Chevy, you can feel confident that the vehicle has been well-maintained and is of the highest quality. Every member of the McCluskey team is dedicated to caring for each and every vehicle on our lot, and we pride ourselves on the quality of our inventory. In addition, we strive to make our prices easy to understand and haggle-free, meaning the low price that you see is the price you pay.
If you're looking for high-quality and affordable used cars for sale in Dayton, Ohio, McCluskey Chevy is the best place to shop!
Used or Certified Pre-Owned?

At McCluskey Chevy, we also offer a wide selection of certified pre-owned vehicles for sale as well. If you aren't sure exactly what a certified pre-owned or CPO vehicle is, don't worry! We're about to fill you in. A CPO vehicle is a used vehicle, however it has undergone an incredibly strict inspection and qualification process in order to achieve its certified status. A used vehicle can only qualify for the CPO program if it is of a recent model year, has low mileage, and is in like-new condition both aesthetically and mechanically. Certified pre-owned vehicles will also come with an excellent warranty, which often features roadside assistance, and are even preferred by many financing institutions compared to used vehicles. It should be noted that CPO vehicles are more expensive than used vehicles and may result in higher monthly payments. However, either option is still less expensive than purchasing a new vehicle.
Overall, deciding whether a used or CPO vehicle is the right choice for you depends on your budget, lifestyle, and vehicle preferences. To learn more about the certified pre-owned vehicles available from McCluskey Chevy, be sure to visit our website or give us a call.
How to Find Us
At, McCluskey Chevrolet we're grateful to be the dealership of choice for so many people from Dayton. Whether they've come looking to buy new, used, or GM Certified Pre-owned, we never tire of hearing how the combination of a short drive, expansive selection, customer-centered service, and welcoming environment make it worth the quick trip to Cincinnati!
Directions From Dayton
For those visiting us from Dayton, McCluskey Chevrolet can be found 46.9 miles southwest of Gem City. Equating to around a 51 minute drive, you can throw in colorful and scenic stops in both Yellow Springs and Fort Ancient, in order to make a day of it. Or, you can always come straight here and take in everything that Cincinnati has to offer! Via US-35W follow I-75 South for approximately 45 miles (or 41 minutes) merging onto I-275 East and then I-71 North in the process. Take Exit 19 onto Mason Road towards Fields Ertel Road, and turn left onto Kings Automall Road. Another four-minute cruise, and you'll find McCluskey Chevrolet on your left.
Come visit us, and we're certain that you'll come to quickly understand why McCluskey Chevrolet has become such a popular destination for those Daytonians in search of a truly satisfying car-buying experience.
Looking for Used Cars in Dayton, Ohio? Visit McCluskey Chevy!
If you're looking for used cars in Dayton, Ohio, you'll want to check out what McCluskey Chevy has to offer. From a wide selection of used and certified pre-owned Chevy vehicles to numerous makes and models of non-Chevy vehicles, you can find just about anything you're looking for among our pre-owned inventory. And when it's time to purchase your next vehicle, don't forget some of the incredible benefits offered at our dealership including flexible financing for all credit backgrounds, on-site servicing, and excellent customer service throughout all of our departments. So, when the time comes to begin your search for used cars in Dayton, Ohio, visit McCluskey Chevy! We can't wait to help you choose the perfect car for you!