2022 Chevy Silverado 1500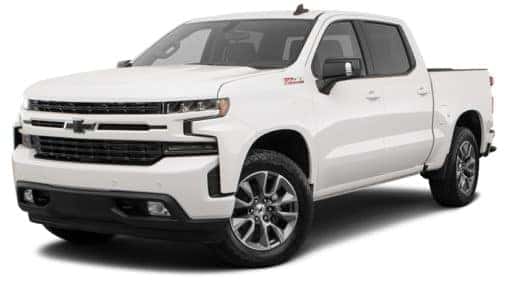 Starting at
$31,500[a]
2022 Ford F-150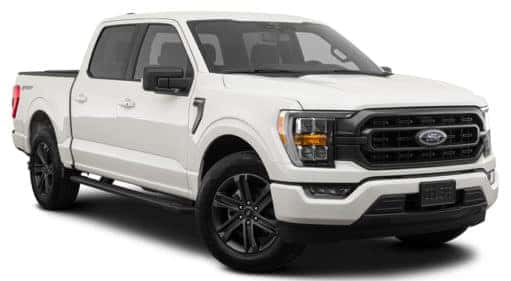 Starting at
$29,990
| | | |
| --- | --- | --- |
| 89.1 | Cargo Space (cu.ft.) | 77.4 |
| 13.4 | Screen Size (in) | 12 |
| Avl. | Diesel Engine | No |
Pickups, especially in 2022, are on a different level from most other vehicles. Able to tackle the hardest of jobs, the fiercest of trails, and even the lightest of drives, there's never been a more exciting time to buy a pickup. Of all the fantastic pickups out there, there are two names that stand out above others, and today we are going to put them in the ring together and see who comes out on top. Yes, this is the battle of the year: 2022 Chevy Silverado 1500 vs 2022 Ford F-150.
This may be the tightest race of all time, so you'll want to keep reading and follow closely. While the F-150 holds the title of the best-selling truck on the market, Chevy has pulled out all the stops for 2022, giving the Silverado a massive redesign that updated nearly every aspect of the vehicle. From new technology to more powerful engine options, the 2022 Silverado takes the lead over the 2022 F-150 in several key areas.
Engineering

2022 Silverado 1500 Performance
The Chevy Silverado 1500 is known for its excellent engineering, and the 2022 model is taking things a step up. Whatever is important to you in automotive engineering will be accessible in the 2022 Chevy Silverado, as the vehicle offers a wide variety of engine options. If high-performance specs are the most important thing to you, then the 6.2-liter V8 engine (with 10-speed automatic transmission) will have you cruising with 420 horsepower and 460 pound-feet of torque. How's that for good performance specs?
If you're looking for a creative engine with brand-new enhancements, then the 2.7-liter High-Output Turbo is ready to go for you. This turbo engine has a new and improved cylinder block casting and a crankshaft with a 30-percent increase in stiffness for extra durability. Thanks to these increases, the Turbo High-Output engine sees a 20-percent increase in torque for a total of 430 pound-feet. This refined engine, combined with its 8-speed automatic transmission, makes for a very smooth and powerful ride that we think you will like quite a bit.
Continuing with the theme of refinement, the 3.0-liter Duramax Turbo-Diesel engine also sees improvements. Thanks to an improved chassis design, this engine is now able to provide the 2022 Silverado with its maximum towing capacity of 13,300 pounds (in a two-wheel drive configuration). Aside from being able to haul large loads, this engine is paired with 10-speed automatic transmission, making it strong in all kinds of ways. Any diesel engine will pay off as time goes on, since you'll be getting more bang for your buck, and there will be plenty of bang with the 2022 Silverado.
2022 F-150 Performance
Hopping over to the 2022 Ford F-150, it mirrors the 2022 Silverado in some ways. Like the Silverado, it offers a variety of engines, and its 3.5-liter Powerboost Full Hybrid V6 engine stands out as its most highly-performing option (just as the 6.2-liter V8 stands out on the Silverado). The F-150 also has an exciting 2.7-liter engine.
The Ford F-150's 2.7-liter Ecoboost V6 engine is engineered using the Ford port-injection and direct-injection system, which utilizes two injectors for each engine cylinder, and a dual overhead cam design that uses variable intake and exhaust cam timing. While this is an exciting engine, it only reaches 325 horsepower and caps out at 400 pound-feet of torque, which is 30 pounds-feet below the 2.7-liter High-Output engine on the Silverado. Now, is 400 pounds-feet of torque bad? Absolutely not. But does the Silverado's 2.7-liter engine do it better? Yes. Yes, it does.
These are both excellent trucks. No doubt about it. Chevy, however, has some of the most dynamic engineering on the market, and the 2022 Silverado 1500 certainly is the beneficiary of this engineering.
Off-Roading

The New Silverado ZR2
When it comes to off-roading, the 2022 Chevy Silverado is the vehicle to which you should look. Why? Because the 2022 Silverado ZR2 takes the already-excellent Silverado and turns it into a true off-roading champion. While you may be familiar with the Silverado TrailBoss trim, the Silverado ZR2 goes beyond a mere trim level and turns the Silverado into a whole new vehicle ready for the trails.
The Silverado ZR2 is equipped with the 6.2-liter V8 engine, meaning it reaches a full 420 horsepower and 460 pound-feet of torque. That is a crazy amount of power for an off-roading vehicle, which means it is a crazy off-roading experience. While the V8 engine is equipped, as usual, with 10-speed automatic transmission, the ZR2 spices things up a bit with an electronic transmission range selector. This, combined with an enhanced two-speed transfer case with Terrain Mode, will make for a new and exciting kind of drive that you've never experienced in any Silverado before.
Now, off-roading begins with the foundation, and the foundation begins with the tires. After all, the tires are the most direct point of contact with the terrain. This is why the 2022 Silverado ZR2 is equipped with 33-inch Goodyear Wrangler Territory Mud Terrain tires. If you're going to be hitting the trails, you need tires that are big, strong, and durable, and that is what you get on the Silverado ZR2. It doesn't end with the right tires, though, because you need to make sure that the vehicle is protected against the abuse that comes naturally from off-roading. Well, remember when we said that the ZR2 was a whole new, made-over vehicle? We meant it.
Built for the Trail
The Silverado ZR2 has a redesigned exterior to make it off-road ready. It's not just the style changes, such as the raised hood with a black insert, but the design changes to make it even more athletic than ever that make these redesigns so brilliant. The underbody of the vehicle is protected by large aluminum skid plates, which is vital to any off-roading adventure. If the underbody of the vehicle is compromised, the whole vehicle could be compromised, and you want your truck to have a good, long life. Additionally, the ZR2 features new steel bumpers (both front and rear) designed with durability and clearance at the forefront. Speaking of clearance, the front bumper provides a 31-degree approach angle. This provides drivers with more freedom in their off-roading experience, as there is less need to fear damage.
Form follows function for the 2022 Silverado ZR2, even right down to the logo. Airflow is important with a vehicle this large, especially when off-roading, so the hidden dual-outlet exhausts are paired with a Chevy flowtie. What's a flowtie, you ask? Well, it's the famous Chevy bowtie, but hollowed out to become part of the grille itself and increase vehicle airflow. You need your vehicle breathing nicely.
The F-150 Raptor
Coming back to the F-150, it also has an off-roading version in the 2022 Ford F-150 Raptor. As you may suspect, the Raptor is a very capable off-road vehicle. With a new 5-link rear suspension, including extra-long trailing arms designed to maintain good axle position, the Raptor is innovating, searching for ways to improve the driver experience. Longness is a theme for the 2022 Raptor; in addition to its extra-long trailering arms, it also features 24-inch coil springs, which are the longest in its class. Additionally, the Raptor features its largest-ever shocks with the next-generation FOX Live Valve internal bypass shocks, which feature innovative electronic control technology. Specially designed to reduce heat buildup, these shocks should be effective at managing the vehicle's well-being while drivers are off-roading.
The 2022 Raptor is always seeking to do things bigger, even with its 37-inch BFGoodrich All Terrain T/A K02 tires. The question, though, is this: when it comes to off-roading, is bigger always better? Sure, you certainly don't want a vehicle that is too small––that will just lead to ineffective off-roading. But what are the ramifications of having a vehicle that is too big? Might you be better off going with a large vehicle that finds a healthy balance, such as the 2022 Chevy Silverado ZR2?
Trailering

Work-Ready Design
If you're going to buy a pickup, chances are you want to haul stuff around. While the pickup bed will greatly aid you in your cargo-hauling efforts, a huge component of this endeavor is trailering and towing. Of course, the objective numbers matter in terms of maximum towing capacity and so forth. Still, it makes equally as big of a difference which vehicle's technology provides better assistance in making towing an easy process. So, let's take a look at the 2022 Chevy Silverado and the 2022 Ford F-150 to see which is the better trailering vehicle.
Let's start with the 2022 Silverado. To begin with, the 2022 Silverado offers a maximum trailering capacity of 13,300 pounds. You certainly won't find that just anywhere. While we are discussing primarily trailering capability here, it is worth noting the Silverado also provides a best-in-class maximum cargo capacity of 89.1 cubic feet. Between that cargo space and the 13,300 pounds of towing, you will not be wanting for cargo-hauling capability. But what does one do with 13,300 pounds of trailering capability?
The Chevy Advanced Trailering System
Well, Chevy has what is possibly the best towing technology currently on the market, and the Silverado is the primary beneficiary of this technology. With an Advanced Trailering System, which is an in-vehicle app that allows for customizable trailer profiles, you will experience connectivity to your trailer like never before. The app even includes pre-departure checklists, trailer tire pressure and temperature monitoring, and even the ability to sync trailer profiles with the myChevrolet app.
It goes beyond this app, however, as your Silverado's infotainment screen provides you with up to 15 available camera views. That's more camera views than any other competitor, including the F-150! Four of these camera views are dedicated specifically to your trailer hitch: Hitch View, Surround View, Rear Top-Down View, and Bed View. All of these will help you to keep a good eye on your trailer by way of dynamic camera views. And remember that there are 11 more in addition to this!
Ford Trailering Features
While the 2022 Ford F-150 does have a very good amount of trailering capacity, its in-vehicle trailering technology does not quite reach that of the 2022 Silverado. That is not to say it is not capable, however. The available Smart Hitch system helps drivers distribute the vehicle's weight on the trailer. This is done through the infotainment screen, and it will surely be of help to drivers, but it just doesn't quite reach the level of 15 dynamic camera views like the Silverado.
Both the Silverado and the F-150 are great vehicles, to be sure. But, Chevy has always had a knack for technology, and that really comes through in the trailering capabilities of the 2022 Silverado.