Your Search for Truck Accessories Begins and Ends Here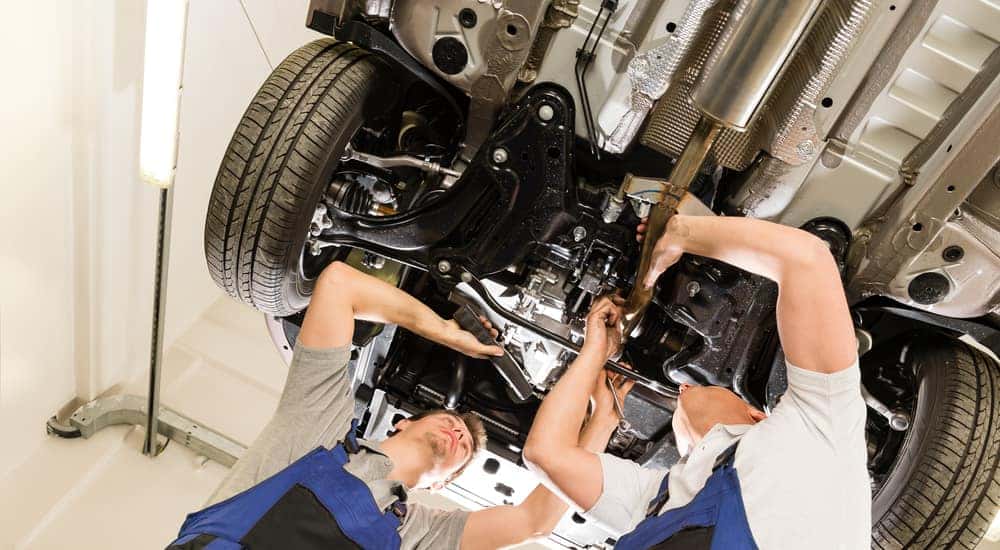 Over the last few years, customization has become one of the larger growth segments of most commercial buying. As a society, we personalize everything from phone cases to footwear; and with that in mind, we shouldn't be surprised to acknowledge that we modify our vehicles in the same fashion. After all, your truck may move you (literally) but with the right accessories, the sight of it can stir the soul, moving in far more powerful ways.
So when you're looking for Truck Accessories to customize your ride, you're looking to make that truck an extension of yourself. Reflecting your tastes, personal style, and performance features that are important to you, you need a partner who can help you source the right accessories easily, and at the right price. Look no further than McCluskey Chevrolet.
Whether you are looking for genuine GM accessories for your Chevy, Buick, GMC or Cadillac or if you'd like to explore options from partnering Associated Accessories, we can help. We have a quality solution to fit every budget and are glad to help you through each step of the process.
Top-Selling Accessories
Even with the vastness of offerings included in the aftermarket 'marketplace', there are certain types of accessories that prove more prevalent. Below you can find a breakdown of some of the more common enhancements, which also happen to be among the first modifications that truck owners make.
Right off the bat, custom Wheels are one of the simplest and impactful changes you can make to a vehicle. A switch to chrome, black or alloy wheels can transform your truck four times over and we offer an extensive selection of 5, 6 and 7-spoke wheels. Priced to start, just under $400 each, it's worth the consideration of any truck owner seeking a distinctive look.
An example of marrying form and function, Cargo Management transforms your vehicle visually, and in terms of its versatility. With a nearly endless supply of roof, bed and receiver-mounted carrier systems in the marketplace, it's crucial that you partner with a knowledgeable and reliable resource. After all, choosing a substandard cargo system could put the safety of your cargo and (even more importantly) the safety of other drivers, at risk. We can help you choose with confidence, offering market-leading offerings from the likes of Thule.
Finishing touches matter. From decals and striping, splash guards to step sides, Exterior Accessories are the most accessible way to update your truck with the rest of the world. Coordinating enhancement of such features as door handles and mirror caps can be an affordable update that makes a major impact. Features such as step-sides and bed rails can also help to increase ease of entry, exit and utility.
Conversely, Interior Accessories & Electronics can update your truck for the people who matter most to you. Never before have vehicles been as welcoming to their passengers, are today's vehicles are. Built-in entertainment and Wi-Fi allow you to remain connected, while navigation systems and rear-cameras assist drivers in ways they had never known that they needed. Bottom-line, whether intended to enhance the cabin aesthetically, add comfort or to upgrade entertainment and technology, the sky is the limit.
But don't let it distract you from looking down. What better way to protect the more trafficked areas of your car than with upgraded Floor Liners. All-Weather liners are engineered to shield these trampled upon areas from severe wear. And by eliminating that threat, you are helping to maintain your vehicle's long-term value.
Of course, no list of Truck accessories would be complete without Performance-based accessories. From intake to exhaust, suspension to brakes, McCluskey can help you find the exact accessories that you want to make sure that your truck runs, performs (and even sounds) the way that you want it to.
Begin Your Search
These days, nearly everything begins with the click of a mouse or the swipe of a finger. Finding the perfect truck accessories is no exception because McCluskey Chevrolet wants to make your search as easy as possible.
Visiting our 'Accessories' tab, start by letting us know the Year, Make and Model of your truck. Let's say that you drive a 2016 Chevy Silverado 1500. Whether you're window-shopping or having something specific in mind, knowing this will help us to narrow down your search results. From there, you can choose View / Sort all results, or shop 'By Category'.
Our sorting features break down your results easily. Cargo Management is broken down into both Interior and Exterior. Trailering accessories are kept separate from other Performance parts. Security and Protection stand apart from other Electronics. After all, our goal is to get you the parts that you need, quicker. But we should warn you, that our selection might make you want to click around longer than you had planned.
And with each part, you rely on a thorough breakdown of product features, manufacturer specifications, and any applicable warranties. We even offer advice on troubleshooting, good maintenance practices and answers to 'frequently asked questions'. You deserve the opportunity to buy with confidence, and that's what you expect when working with us.
Options are Important
We live in an Amazon Prime world, so why should buying your Truck Accessories be any different? Just 'add to cart' and select your preferred delivery method. For many of our parts, you'll find 'Dealer Installation' as a delivery option. This is just another way that McCluskey Chevrolet makes it easier to fit, upgrade and enhance your vehicle. Why? Because people interested in accessorizing this vehicle shouldn't be limited by their own technical ability (or lack thereof).
Make It Yours…Faster
A search doesn't need to be lengthy or exhaustive. With the right tool and the right partner, you can find exactly what you want faster and easier. When you're looking for Truck Accessories, let us make your search fast and easy. Start and end your search with McCluskey Chevrolet, and we'll do exactly that