Truck Accessories
If you are looking to spice up your Chevy truck by improving its performance, its cargo capabilities, or simply its good looks, look no further than the impressive selection of Chevy truck accessories that are currently available. No matter what you have in mind for your truck, the experts at McCluskey Chevy have the inventory and resources available to make it happen. Not sure where to start? The service center at McCluskey Chevy will be happy to offer some of the most popular ideas for truck accessories. Need a hand getting your accessories installed? From ordering and installing to future maintenance and upgrades, McCluskey Chevy has you covered. So, let's take a look at the amazing truck accessories that Chevy offers so you can get ready to take your vehicle to the next level!
McCluskey Chevrolet is all about making the car-buying (and upgrading) process simple and stress-free.
GM AccessoriesNew CarsRocky Ridge Trucks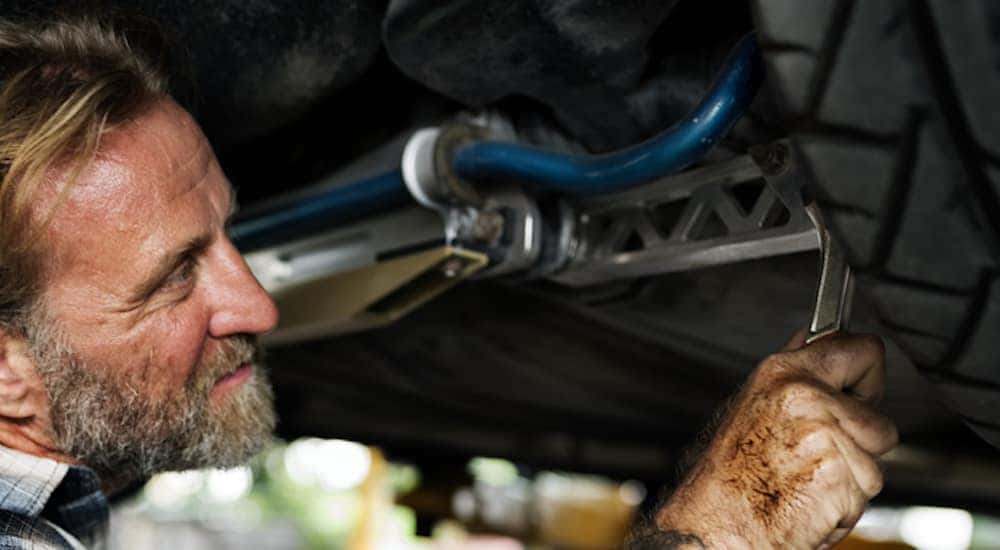 Amp-Up Your Style
These accessories will have your Chevy truck turning major heads on the road. While all of these truck accessories make your vehicle look amazing, they also help to improve the functionality of your truck at the same time, what's better than that?
Tonneau Covers
These covers are not only a stylish accessory for your Chevy truck, they also protect your cargo from theft, weather, and more. Keep your cargo safe and sound, while adding to its great looks with these tonneau covers available from your local Chevy dealership, McCluskey Chevy.
Nerf Bars and Running Boards
Once again, here is another accessory that makes your Chevy truck look great while improving functionality by helping you to get in and out of your Chevy truck easier. Nerf Bars and running boards make your truck much more accessible and more convenient on a daily basis and for work or play.
Seat Covers
Seat covers are yet another great example of an accessory that improves the style as well as the function of your vehicle. Seat covers come in a variety of fabrics from neoprene or leather, to high-end cloths, seat covers are stylish and protect your car seats, elongating the life of your interior and making it more beautiful. Seat covers are a great investment if you are looking for truck accessories from McCluskey Chevy.
Floor Mats and Liners
Protection and good looks, this is what floor mats and liners bring to your Chevy truck. These accessories are probably one of the most popular truck accessories for every kind of driver. For drivers who use their truck for work, recreation, or everyday driving, everyone needs to protect their floors from mud, dirt, and stains. Keep your Chevy truck looking younger longer with some great looking and color coordinating mats and accessories.
Performance
Chevy trucks come out of the gate as great performers, but there's no telling what they can accomplish once you add on a few great aftermarket truck accessories that improve the performance of your truck. If you want to amp up what your Chevy truck is capable of, take a look at these aftermarket performance truck accessories that are available from your local Chevy truck dealership, McCluskey Chevy.
Intake Systems
Air intake combination system upgrades improve the airflow into your Chevy truck, thereby improving the engine performance. Whether you drive your truck for work, play, or everyday excursions, this truck accessory is a real performance booster.
Wheels and Tires
Give your truck a facelift and a performance boost with larger, statement-making wheels and tires. Some of the most popular performance aftermarket upgradable accessories that are available for your truck are the amazing selection of Chevy wheel and tire truck accessories.
Electronics
Upgrading your truck with advanced electronics can be a huge improvement. Backup cameras, blind spot monitors, and trailering technology improves not only visibility and control but also gives drivers confidence when they are towing and hauling heavy and wide loads with their Chevy trucks.
Tow and Haul Accessories
For those using their truck for work or recreation, they may want to upgrade the towing and hauling capability they have on their truck. Hitches, extended viewing and controls, mirrors, lights, and strategically placed cameras help drivers have better control over their cargo when towing and hauling. Whether you are towing heavy duty work equipment or jet skis and kayaks, these towing and hauling accessories will improve the performance of your Chevy truck, letting it handle any task you throw at it.
Additional Performance Upgrades
There are so many performance upgrades for your Chevy truck. A few more of the most popular add-ons are superchargers and turbo accessories, transmission upgrades, engine components, brake accessories, lift kits, suspension accessories, shocks and struts, and so many more. Ask your local dealer, McCluskey Chevy, to help you choose a few truck accessories that might get you started when you begin to upgrade your Chevy truck.
Keep These Things in Mind When You are Buying Truck Accessories
When you go to buy truck accessories for your Chevy, make sure you shop with a reputable dealership like McCluskey Chevy. Why is this so important? It is important for several reasons. First, only a reputable dealership can assure you that you will be getting manufacturer-approved parts and accessories for your Chevy. This is crucial to the performance of your vehicle so that it runs as it was designed to.
Second, you'll want to make sure that only well-trained technicians, who specialize in Chevy trucks install your aftermarket truck accessories. A bad installation can be detrimental not only to the performance or appearance of your vehicle but it can also be dangerous. Always check that your technicians are trained in installing the accessories you have purchased.
Finally, you'll want to use factory and manufacturer approved accessories so that you stay under your warranty. Using parts or truck accessories that are not approved by your cars manufacturer can result in a loss of coverage under your manufacturer's warranty. Only a qualified dealership can protect you by ensuring all three of these points when they sell you truck accessories and install them on your Chevy truck.
Finding a Quality Dealership for Your Truck Accessories
When you are ready to shop for truck accessories for your Chevy, head over to McCluskey, your local Chevy truck dealership. McCluskey Chevy will have all of the truck accessories that you need to improve the performance, style, and comfort of your Chevy truck. And if we don't have it in stock, we know where to find it!
You can be sure that when you visit your local Chevy dealership you will have the most knowledgeable salespeople at your disposal to help you choose the best parts and accessories for your particular truck and your specific needs. No matter which aftermarket truck accessories you chose, you can also be confident that our technicians are the most capable people around to install your truck accessories on your Chevy truck so that your truck can continue to run and perform well and stay inside of its warranty.
When you are ready to upgrade your Chevy with the best parts and accessories, visit us online, and then head over to our showroom in person to check out our sales, promos, and see all that we have to offer you. We are eager to get you started with your truck accessories today!
Get In Touch