2020 Chevy Colorado ZR2: Built for Adventure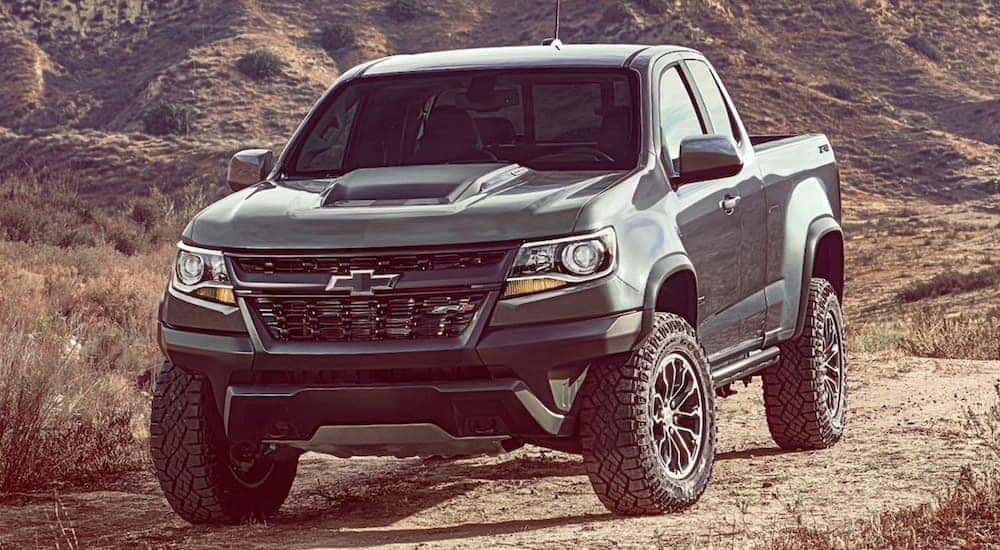 The world of midsize trucks is competitive, mainly because there are not too many to choose from. It's important that you go with one that's reliable, fun, and full of versatility. Midsize pickups are for the type of people that want a great truck but aren't needing anything heavy-duty or full-size. It's a truck for adventurers and weekend warriors, commuters, and outdoor enthusiasts. For these people, and for you, the 2020 Chevy Colorado is the perfect blend of everything a truck should be. With enough cargo space to pack your gear and the maximum towing capacity to bring along some toys, the Colorado is ready to hit the road. Add on the ZR2 off-road package, and it'll be more than ready to hit the trail as well.
What is the Chevy Colorado ZR2?
To better inform you, we can go over the basics of Chevy's new Colorado and then get to where the ZR2 fits into the picture. The 2020 Chevy Colorado is available in five different trims, and on its most basic model, called the Colorado Base, you'll see a starting MSRP of $21,300. Then you have the Colorado WT at $24,800, LT at $27,700, Z71 at $33,900, and ZR2 at $41,400. Of the available trims offered for the 2020 Chevy Colorado, the ZR2 happens to be the very top model of them all, making it the most expensive, but the most luxurious as well.
This means, with the ZR2, you're going to get a lot of upgraded features as standard additions that you wouldn't normally find on any of the other Colorado trims. Many of these features will be geared towards comfort and convenience. However, there are also quite a few specifically designed for better off-road experience for the driver and any passengers.
Performance and Capabilities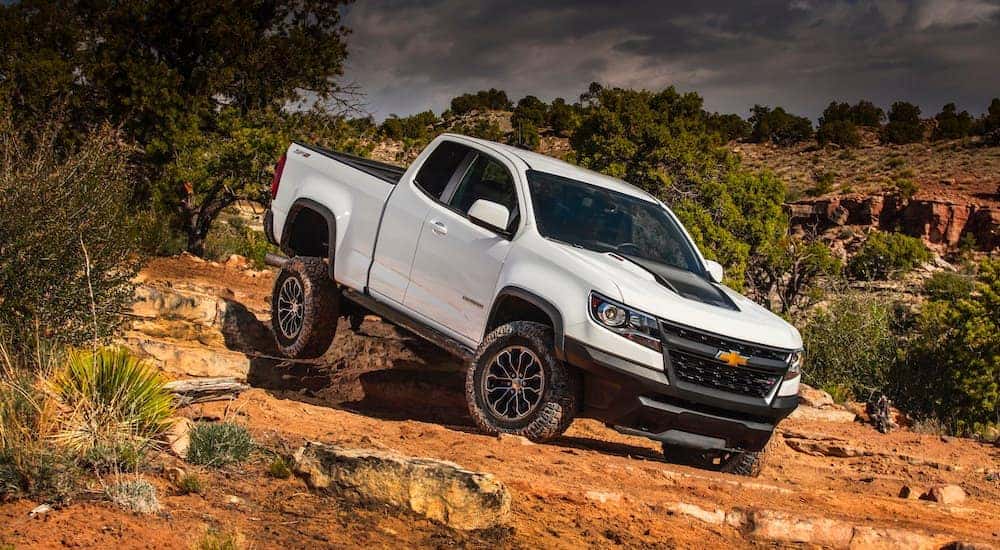 Typically, the standard engine option on a new Colorado would be a 2.5L 4-cylinder engine with up to 200 hp and 191 lb-ft of torque that's paired with a 6-speed automatic transmission. However, the ZR2 comes with a 3.6L V6 engine with up to 308 hp and 275 lb-ft of torque that's paired with an 8-speed automatic transmission. With this upgraded engine, you'll be able to really experience some additional performance from under the hood, as well as get some greater capabilities out of your new pickup.
Of course, if you're looking for something a little more unique, the available 2.8L Duramax Turbo-Diesel 4-cylinder engine would definitely be a worthy option for you. This engine has an output of 181 hp and 369 lb-ft of torque, which allows for a maximum towing capacity of up to 5,000 lbs because of its best-in-class torque rating. Diesel engines are known to be well suited for tackling rugged terrain because they're able to generate a lot more torque at lower revolutions. Since you normally aren't going very fast while off-roading, torque becomes a lot more essential than straight horsepower.
Along with the 5,000 lbs maximum towing capacity, the 2020 Chevy Colorado ZR2 can also handle up to a maximum payload capacity of 1,357 lbs.
Take It Off-Roading
One of the main reasons you might be interested in a 2020 Chevy Colorado ZR2 is for the sheer amount of features it has that have been specifically designed for going off-roading. Whether you stick with the standard 3.6L V6 engine or go with the 2.8L Duramax Turbo-Diesel option, the Colorado ZR2 is more than ready to take you on an adventure. It comes with segment-exclusive Multimatic shocks and a truck chassis that's been built for off-roading. You'll find this chassis has 48mm more lift, depending on the configuration, as well as skid plates and rock sliders in case you get into some tough terrain. The standard front/rear electronic locking differentials will help you get the traction where it's needed most when you're out in the wild. The Autotrac 2-speed transfer case will automatically detect changing road conditions and shift power between two to four wheels when needed.
Additional off-roading equipment on the Colorado ZR2 includes black recovery hooks, off-road rocker protection, Hill Descent Control, and a transfer case shield. While most 2020 Chevy Colorado trims will come standard with a 2WD drivetrain, the Colorado ZR2 is only available with 4WD, which is a massive nod to what it's meant to be used for.
Along with the already impressive features included on the Colorado ZR2, you can always add more upgrades like the ZR2 Bison package, which includes hot-stamped Boron steel skid plates, steel front, and rear bumpers, front winch provisions and rear recovery points, and 17-inch wheels. The ZR2 Midnight Special Edition package adds 17-inch black wheels and off-road lights while the ZR2 Dusk Special Edition package also adds 17-inch black wheels and off-road lights, but also an off-road sports bar. With the Colorado ZR2, there are a lot of options for you to choose from to customize the truck exactly how you want.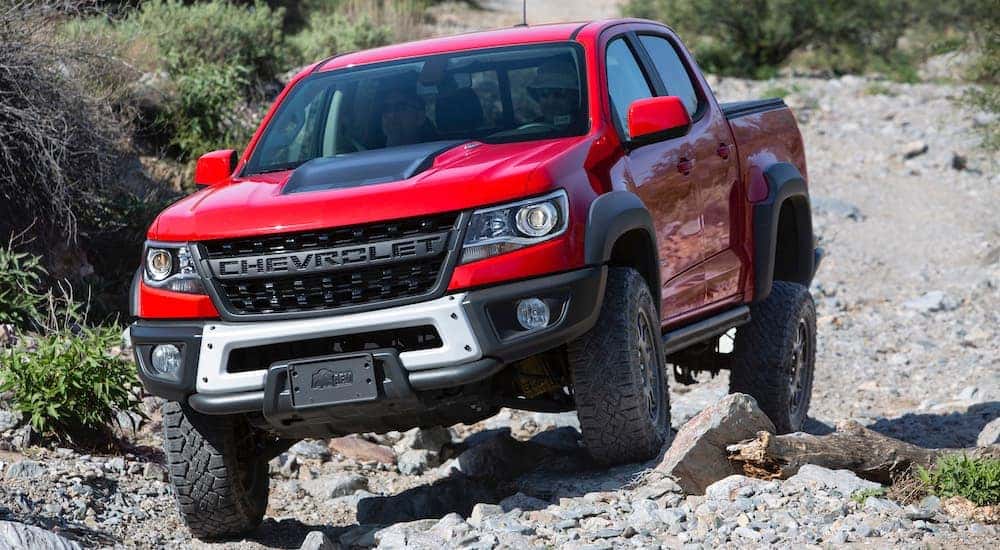 Technology
The off-road capabilities and features are going to be the main draw for the Colorado ZR2, but we can't forget about all of the standard technology features you're also going to find that are included in this package.
Each 2020 Chevy Colorado ZR2 comes with 4G LTE Wi-Fi hotspot capabilities, which can be a real benefit in many ways. One way is for those that need to stay connected for work or other purposes while they're on the road, and another way is to make sure your passengers are sufficiently entertained and comfortable on drives to wherever you're headed. If the Wi-Fi isn't enough, there's also the Chevrolet Infotainment 3 Plus System that's integrated with an 8-inch HD color touchscreen. You can easily connect your compatible phones to this capable system via Bluetooth to play music or do many other things. It's also compatible with Apple CarPlay and Android Auto to make it simple to connect your compatible phones and use select smartphone apps through the system itself. Voice recognition is also included.
Check One Out Today
The 2020 Chevy Colorado ZR2 is everything you could possibly want in one convenient package. It's able to handle both the highway and dirt trails with ease, and it comes with all of the updated features you'd want in a modern midsize pickup.
At McCluskey Chevrolet in Cincinnati, we're excited to see truck models like the Colorado ZR2 come to our dealerships because we know it's what people like you want. Trucks these days need to be versatile machines that can put in work one day and then take the family camping the next. They need to have the power to get the job done, but also the features to do it in comfort and style. For more information regarding this popular Colorado package, feel free to check out our website and the large number of trucks we have in stock. To take one out for a test drive, give us a call to set up an appointment with one of our friendly professionals. We're here to help and answer all of your questions in a stress-free environment, whether it's on the phone, online chat, or right at the dealership in person. We appreciate your time and look forward to hearing from you soon!