6 Reasons We Love the 2020 Silverado HD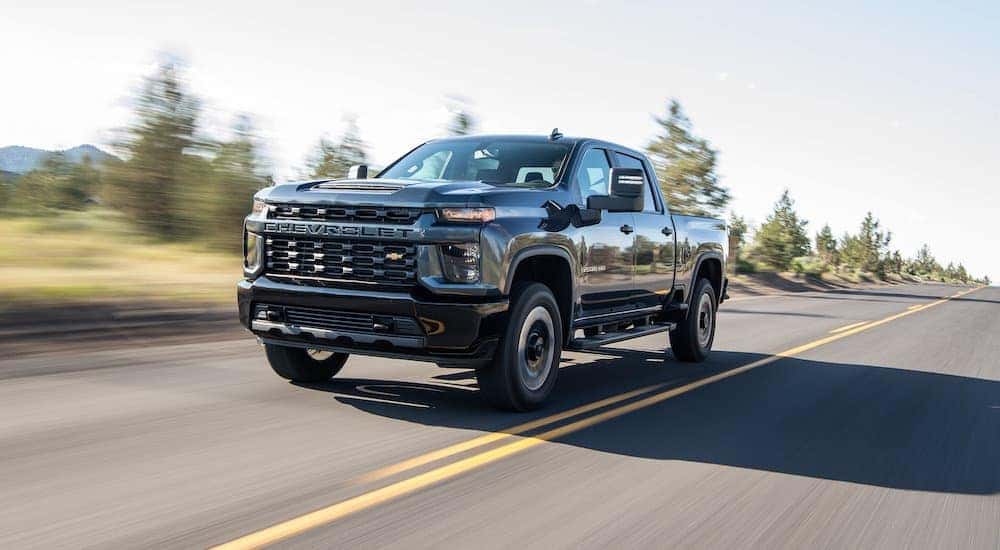 We're a Chevy dealership, so it's no great secret that we're a fan of all things Chevrolet and that we get excited when a new vehicle is announced or revealed. That being said, we don't just give every Chevy that comes along a pass without giving it a good looking over. With that in mind, we scrutinized the 2020 Chevy Silverado HD models and came away confident that they are among the best diesel trucks for sale anywhere.
While it's true that you can get the 2020 Silverado HD models with a standard gas engine, the diesel engine is the star of the show for people that want to get a lot more work done. When paired with available gooseneck towing, the trailering potential of these beasts is truly staggering. That, combined with the overall design and a number of choices made by Chevy's engineers, demonstrate why this is one of the best trucks available for commercial use.
Whether you require a fleet of hard-working trucks or need a new pickup to function as a snowplow in the winter, the 2020 Chevy Silverado 2500HD and 3500HD are a couple of fantastic options.
Reason 1: The Engines
If you're interested in diesel trucks for sale, but when looking at the 2020 Silverado HD pickups, it's worth mentioning both offerings. There is a 6.6L V8 gas engine that can produce up to 401 hp and 464 lb-ft of torque for impressive power and performance. It includes a cast-iron engine block so it will be with you for a long time and comes with a 6-speed transmission.
But, of course, you want to know about the diesel engine, and that's pretty understandable. When properly equipped, the 2020 Chevy Silverado HD models are among the best diesel trucks for sale from any manufacturer. The available Duramax 6.6L Turbo-Diesel V8 engine comes with an all-new Allison 10-speed automatic transmission for an incredible driving experience. This beastly engine can produce up to 445 hp and 910 lb-ft of torque for performance that does everything you might hope it would.
Reason 2: The Towing Potential
If you're looking at diesel trucks for sale, especially for use as a commercial vehicle, then you probably want to see some solid towing performance. We're right there with you and the amazing towing potential of the 2020 Silverado HD trucks is one of the biggest reasons we love these vehicles. Remember there are two different heavy-duty pickups available in this series, so let's see what each of them can offer.
The 2020 Silverado 2500HD, when properly equipped, has a maximum towing of up to 18,500 lbs with either a conventional or a fifth-wheel gooseneck setup. That's certainly impressive, but of course, we can do even better.
The more powerful 2020 Silverado 3500HD has a maximum gooseneck towing capability of up to 35,500 lbs. Even better, these are the only diesel trucks for sale you will find with Chevy's Advanced Trailering System. This gives you visibility from up to 15 exterior cameras to offer you an unparalleled view around your truck and any trailer or camper you're towing.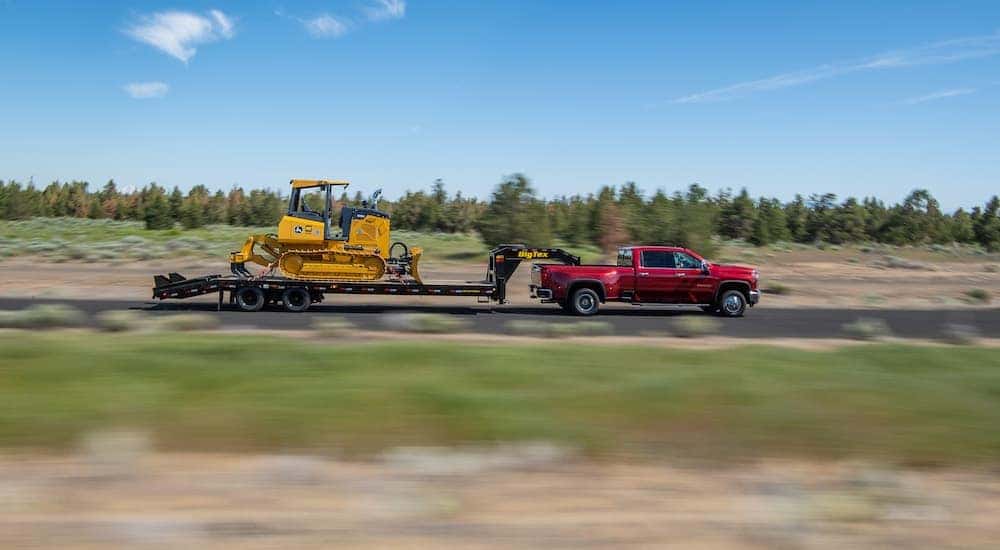 Reason 3: The Payload Capacity
Powerful engines and great towing functionality are only part of why we love the all-new and improved 2020 Silverado HD pickups and why they are among the very best diesel trucks for sale. When you own a truck, you want to know that it can do all kinds of work, from pulling a loaded-up trailer behind it to just being a daily workhorse. That's why the payload of a pickup is so important, and just another reason we are so excited for this model.
When properly configured, the 2020 Silverado 3500HD has a maximum payload of up to 7,442 lbs. With so much payload capacity, you'll have no problem loading up the bed and getting on the road. The available long box configuration offers more than 83 cu.ft. of total cargo volume, so you can load up just about anything you can imagine into this beast.
Beyond the numbers, however, these trucks are also well designed to be as functional as you could want. The 2020 Silverado HD series features 12 standard tie-downs in the bed, available LED cargo lighting, and a built-in 120-volt outlet to charge your devices. There is also a cornerstep rear bumper and a BedStep located between the rear wheel and the cab, making it easier to get to whatever cargo you have in the back.
Reason 4: The Front Fascia
Normally, when you look at diesel trucks for sale, one of the first things you pay attention to is probably not the front fascia. We all like a truck that looks great, but really the engine and performance are going to be higher up on the list than any kind of aesthetics. But what about when the front of a truck is designed to be a part of that functionality and make it easier for you to get your work done?
The 2020 Chevy Silverado HD pickups offer a unique modular front end with a removable front fascia that makes it easy to attach a snowplow. Whether you like to be able to plow out your driveway and help your neighbors, or you pick up some extra money in the winter here in Cincinnati by offering plow service, this is a perfect choice. Other diesel trucks for sale work okay for snowplowing, but the 2020 Silverado HD models are clearly designed for it.
Reason 5: The Luxurious Interior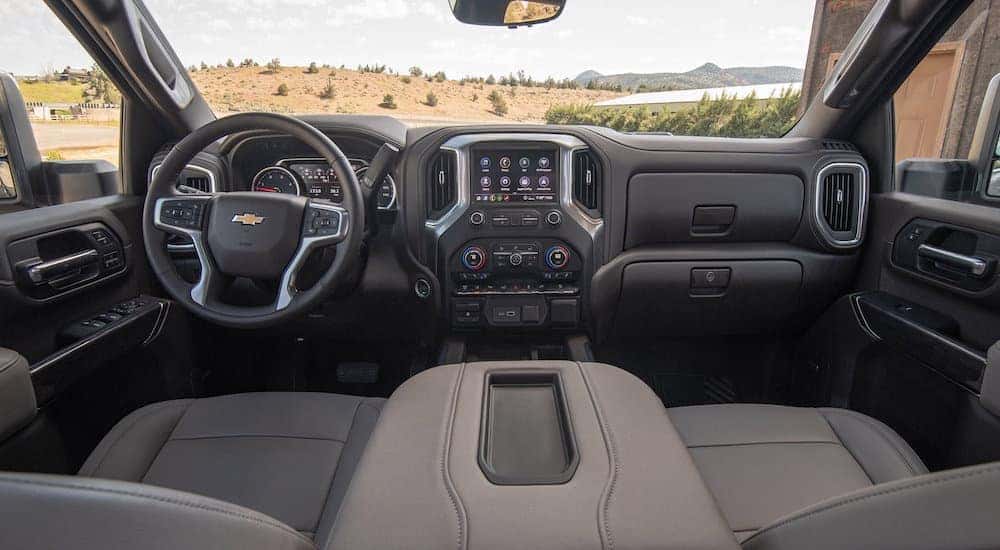 When shopping for diesel trucks for sale, you might focus on the engine and performance, but once you own it, then the interior becomes very important. After all, that's where you're going to spend most of your time with your truck, so it should serve you well. Here at McCluskey Chevy, it's one of the most important things we look at with all of our diesel trucks for sale, and just one more reason the 2020 Silverado HD models pull ahead.
If you choose the luxurious High Country trim level of these trucks, you get some of the most sophisticated and gorgeous details available. This includes an 8-inch digital driver information display, an 8-inch Infotainment center with a 7-speaker Bose Premium sound system, and a wireless charging pad. Dual-zone automatic climate control, heated and ventilated leather-appointed seating, and an HD rear vision camera are also included.
Perhaps one of the most exciting features, however, is the available head-up display that projects information onto your windshield for you, so you can keep your eyes on the road. This is exclusive to the 2020 Silverado HD series among heavy-duty pickups and not something you will find on many other diesel trucks for sale.
Reason 6: The Amazing Safety Features
Power and performance are great, but we look for trucks that will keep our loved ones and us safe. Among diesel trucks for sale, few are safer than the 2020 Silverado HD models when properly configured. Safety features on the High Country trim include six airbags, front and rear park assist, and lane change alert with side blind zone alert.
Additional options include a lane departure warning and HD surround vision, which gives you a high-resolution bird's-eye view of the area around your vehicle. A following-distance indicator and forward collision alert are also available, as is automatic emergency braking. All together, these features make for one of the safest diesel trucks for sale anywhere. When you are ready to check out one of the 2020 Silverado HD models, visit us on our lot in Cincinnati, Ohio. We would love to watch you drive home in one of them.