Best Deals on Used Chevy Trucks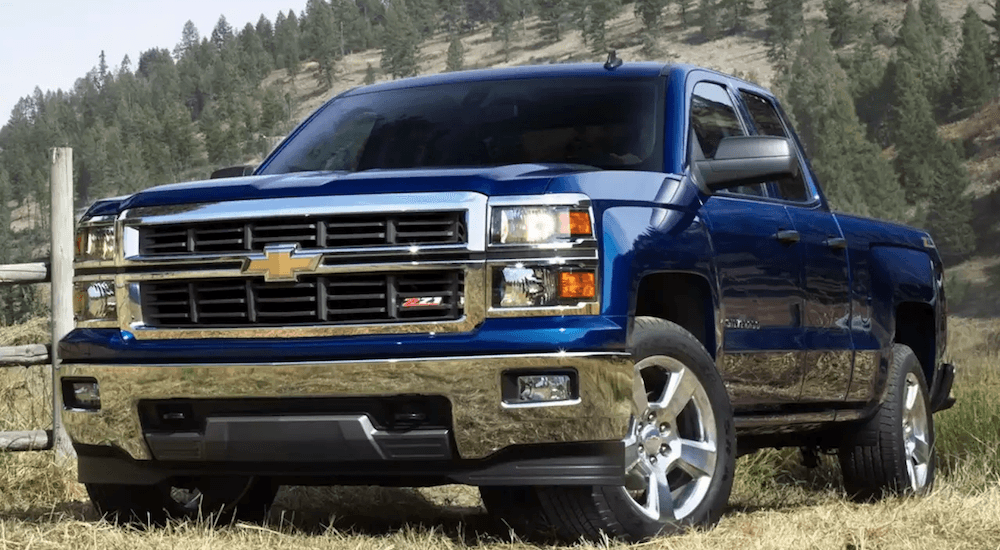 McCluskey Chevrolet maintains the best selection of high-quality, used Chevy trucks in Cincinnati. So if you are looking for a new addition to your pack of trucks, we undoubtedly have the truck that will meet your requirements. From look-at-me muscle trucks to fuel-efficient masterpieces or massive cargo haulers—we have it. All you really need to do is know what you want. And, even if you aren't sure just yet,t we have the knowledge and experience to help you figure it out.
At McCluskey Chevrolet, we are all about giving our customers an uncomplicated buying experience, and we understand how stressful it can be to research all your options. We've put our best foot forward and listed our five best deals on used Chevy trucks—so you don't have to do the digging.
2014 Chevrolet Silverado 1500 Work Truck RWD
MSRP: $25,575-$49,180 | McCluskey Price: $17,994
This powerhouse vehicle only has 36,480 miles loaded on it, over 10,000 miles less than the market average. The Silverado 1500 has an astounding EPA of 18 mpg on city roads and 24 mpg on the highway. This truck has a standard two-door crew cab and can seat up to two other passengers.
Truly a work truck, the 2014 Chevrolet Silverado 1500 is equipped with the EcoTec3 4.3L V6 Flex Fuel engine and has a six-speed automatic electronic transmission with overdrive. The exterior is metallic silver with a complementing jet black/dark ash interior and cloth seating. This vehicle has successfully passed the McCluskey Fully Certified 127-Point Inspection. It also has custom wheels, four speakers, ABS brakes, working air conditioner, an AM/FM radio, CD player, and power steering.
Stock #: A94826GT
2015 Chevrolet Silverado 1500 LT 4WD
MSRP: $22,900 – $36,594 | McCluskey Price: $27,330
This bad boy is a four-wheel drive double cab—seating up to six passengers. At a low mileage of 21,945, there is still plenty of road left in this three-year-old model. The average vehicle now lasts over 250,000 miles if the vehicle remains well-maintained and collision-free.  This model received an EPA rating of 22 mpg on the highway and 17 mpg on city streets. Not bad for what some would call a traditional gas guzzler.
The 2015 Chevrolet Silverado 1500 is powered by the EcoTec3 4.3L V6 engine, with a six-speed automatic electronic transmission with overdrive. The exterior is silver with a matching grayish silver cloth and vinyl interior. This model was given an 8.7 expert review rating on Kelley Blue Book, and this particular truck has only been in the possession of one previous owner, according to the vehicle history report.
Stock#: C91801TA
2005 Chevrolet SSR
MSRP: $22,246 – $22,246 | McCluskey Price: $27,898
Without a doubt, this is the most unique truck in our inventory. The body is a deep blue color, which General Motors calls "Aqua Blur Metallic." This model has been significantly upgraded since the debut of the first in the series in 2000. It has a much more powerful engine: the 6.0L V8 SFI Aluminum. The final prototype of the SSR was a 5.3-liter V-8 that only got 300 horsepower. The new engine gets 390 horsepower and 405 lb.-ft. of torque.
The first customers of the Chevrolet SSR liked the mash-up of a vintage look meeting pragmatism, but the style made it feel more flashy and less like a functional vehicle.Enter the redemptive 2005 Chevy SSR, with a convertible roof, wooden-frame truck bed, and muscular engine. You can see why GM may have named its body "aqua blur." One of the downsides to this beauty is the mileage. EPA estimates 14 mpg in the city and 18 mpg on the highway, highlighting this model's dismal fuel economy. However, it's made a reputation for itself over time as an accessible, almost sporty, vehicle that can store a lot. Kelly Blue Book expert review gives this model a 9.2 out of 10.
Stock#:A93916TA
2016 Chevrolet Silverado 1500 LTZ
MSRP: $25,958 – $41,011 | McCluskey Price: $36,533
This striking steel gray pickup is a CPO vehicle. That means this Silverado has been inspected and reconditioned by General-Motors-approved technicians. A truck has to meet certain requirements and pass a 172-point inspection in order to become certified, so you know the quality of the vehicle is near to fresh-off-the-factory-line perfection. There are other benefits to buying a manufacturer-certified truck: automatic enrollment in the CPO Maintenance Program with two included scheduled visits, a six-year, 100,000-mile powertrain warranty, and a 12-month, 12,000-mile bumper-to-bumper warranty. And that's only a few of the perks. CPO vehicles are more expensive than the typical preowned vehicle, but there is a certain ease of knowing that if anything were to go, wrong—you're covered.
This particular model is a four-door six-seater with black leather seats. It has 23,966 miles and manages 16 mpg in the city and 22 mpg on the highway. The 2016 Chevy Silverado crew cab runs on the 5.3L EcoTec3 V8 engine. With a smaller engine, this baby only reaches 285 horsepower; however, it does have four-wheel drive. This Chevy is installed with a back-up camera, heated seats, six speakers, ABS brakes, A/C, AM/FM radio, SiriusXM, a CD player, and remote keyless access. This vehicle has only had one previous owner and received a KBB rating of 8.6 overall.
Stock #: A94781GP
2015 Chevrolet Colorado Z71
MSRP: $19,251 – $26,968 | McCluskey Price: $28,899
The 2015 Chevrolet Colorado Z71 is a crew cab with less body. The truck bed is shorter than standard pickups. The lost weight helps bring up the mileage to 17 mpg in the city and 24 mpg on the highway. This four-wheel drive has almost 40,000 miles on it, which is about average for 2015 models, and it can seat up to six passengers with easy, four-door access. The best part about this truck? It's a certified preowned vehicle.
This used Chevy pickup has the 3.6L V6 DGI DOHC VVT engine with 200 horsepower and 191 lb.-ft. of torque. Though smaller than most trucks, it can tow a maximum of 7,000 pounds. Most newer models need a towing package in order to tow over 10,000 pounds. (The 2018 Nissan Titan tows a maximum of 9,740 pounds.) It received a KBB expert review rating of 8.7, a consistent trend with Chevrolet trucks.
Stock #: A93915TA
When you purchase a pickup truck at McCluskey, you are guaranteed free lifetime mechanical protection for unlimited miles and unlimited years, fully insured. Every used vehicle in our inventory undergoes a free vehicle history report conducted by Carfax, so you can be confident that you're getting a clean vehicle. Clean conscience, zero drama—that's how we work.
If you already know which truck you want, but you're anxious someone might snatch it up before you can head to our showroom, we offer customers a free, 24-hour hold on any vehicle in our inventory. Questions about financing? Chat with one of our representatives online, or visit McCluskey Chevrolet i -person. Put your best foot forward when you purchase one of our premier models today. We look forward to working with you.