Box Trucks & Your Business: Answering Some of Your Top Questions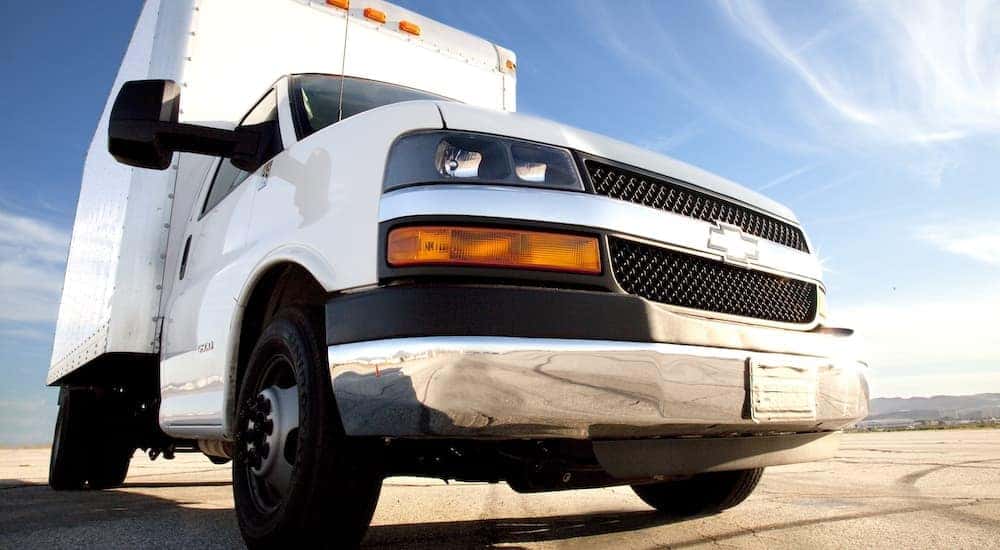 If your business is in need of a box truck, chances are you're doing some extensive research before you make your final decision. That's a smart move, considering that there are many box truck options on the market with varying ways in which to customize them, and not all brands are created equally. Chevrolet is one of the top automakers in the nation, and when it comes to box trucks for your business, Chevy is a trusted source for all of your commercial needs. You may have a few questions about Chevy box trucks, especially when it comes to how they will maximize your business' productivity. This is why McCluskey Chevrolet is here to answer some of the most frequently asked questions we get in the industry.
What Are the Different Types of Chevy Box Trucks?
There are several commercial Chevy vehicles that can be upfitted as box trucks, and depending on your unique business tasks, you'll want to be sure to choose the right fit for your needs. The Express Cutaway is one option in the Chevy commercial lineup, with new models able to carry up to 8,920 lbs of payload. With a variety of wheelbases and powertrains to choose from, including a strong 6.6L V8, which cranks out 464 lb-ft of torque, the Express Cutaway is perfect for a number of different industries. The ideal service van, the Express Cutaway makes the most out of any workday.
The Silverado Chassis Cab is another fan favorite, combining the legendary Silverado truck with various upfits, including box truck options, to ensure maximum productivity, no matter what tasks it's tackling next. The Chassis Cab 3500 HD, for example, showcases a Gross Combination Weight Rating (GCWR) of up to 40,000 lbs, and with large axles and a durable build, carrying more is easy with the Chassis Cab models. When your business needs to load up its box trucks with heavy materials, these Chevy models will be able to handle it all without issue.
Another great option for your box truck needs is the Low Cab Forward. It isn't just easier to maneuver into tricky loading docks and packed city streets; it's also strong enough to handle all of the payload you need to carry. Up to 16,217 lbs, to be exact. Its 31.5-ft turning radius makes navigating any situation easier, while its versatility inside and out makes it the ideal workmate for virtually any task imaginable. As you can see, Chevy offers a fine selection of box truck options designed to heighten productivity during any type of work-related task, which makes this brand one of the most trusted in the industry.

Can I Customize My Box Truck?
No two businesses are alike, which means that no two fleets of box trucks are alike either. Being able to customize your box truck is essential to servicing your customers to the best of your ability. This is why Chevy offers an assortment of models designed to take on the tasks that box trucks need to take on, and when you wish to customize your trucks, you're able to do this easily. From a number of powertrains to several wheelbase options, there's a Chevy box truck out there to suit the needs of your business.
Box trucks appeal to various industries. From delivery units to HVAC companies, contractors, electricians, and other service personnel, box trucks appeal to these professionals immensely. Being able to outfit your box truck fleet with storage solutions, built-in shelving, and other accessories is key in maintaining organization on the road.
After all, you want your team to be able to locate goods easily within the confines of their trucks, as well as keep tools organized so that they're readily available when needed on the job. When you don't have this level of order, the day's productivity is impacted. Suddenly, tools slide around the truck and become lost within its confines, or goods become damaged during transit. By being able to equip your box trucks to handle the requirements of your business, you'll be able to ensure that your team stays on track with the day's tasks.
How Many Miles Does a Box Truck Last?
When you're looking to add to your fleet of commercial vehicles, you want to be sure that you're choosing trucks that can stand the test of time. These are investments that you want to be able to rely on for years, which means choosing a dependable brand, like Chevy, is highly advised. The most important thing to keep in mind is that how long your box truck will last will depend on how well you maintain it, as well as how many miles it frequently clocks in during any given day. As you can expect, failure to maintain your commercial fleet of vehicles means that they won't be able to deliver the performance you need, and when you drive them more often, more wear and tear will be inevitable.
Many heavy-duty trucks can last hundreds of thousands of miles when properly maintained, which is why it's so important to stay on top of routine maintenance and address any issues before they become problems. Fortunately, Chevy makes it easy for commercial customers to keep their fleet of vehicles moving forward. From dedicated representatives at the ready to help you whenever needed to extended service hours to help you fit maintenance and repairs into your business' schedule, Chevy makes it easy to maintain your commercial vehicles. So, the answer to this question is that your box truck will last as long as possible when you dedicate the time to service it properly and trust in your Chevy team to keep its wheels turning.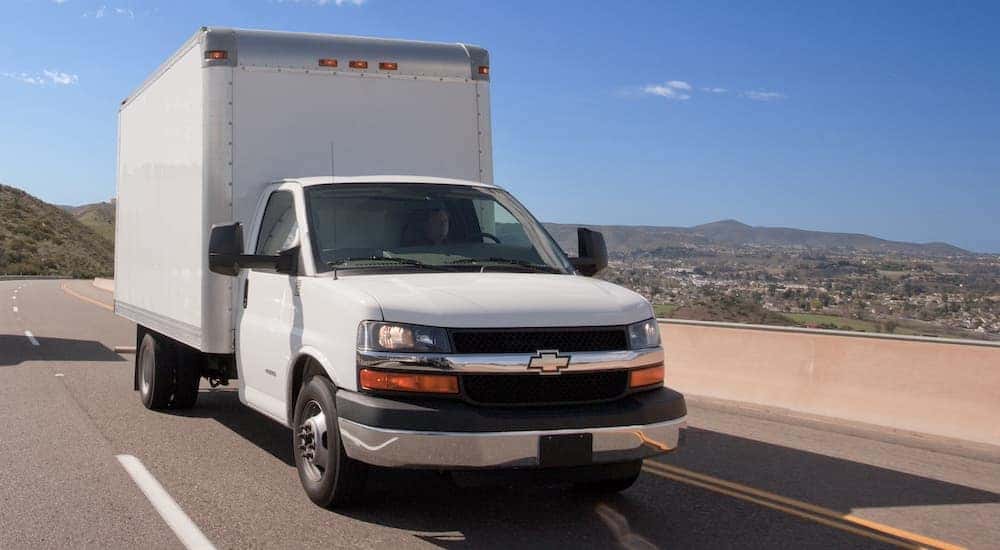 Are Box Trucks Easy to Drive?
You may be wondering whether or not your team will be able to drive safely in a box truck, especially if they're used to smaller vehicles, like pickup trucks or vans. The good news is that box trucks are easy to get used to driving, and many don't require a commercial driver's license in order to operate them. The Low Cab Forward, for example, has an exceptional turning radius, which makes it easy to maneuver through tight streets, while many commercial options showcase excellent visibility with high seating and large windshields. Plus, with advanced safety systems in place, as well as sturdy designs, Chevy box trucks are able to keep your team safe, as well as those traveling around them, which is the level of peace of mind business owners need during their day-to-day operations.
Is Buying a Box Truck Worth It?
If you're looking to add to your commercial fleet of vehicles, having a box truck in the mix is an outstanding choice for a number of different businesses. From contractors to carpenters, delivery services to utility workers, box trucks appeal to such a vast number of industries that it's difficult to ignore these options during your search. They're reliable, versatile, and easy to handle, which makes them top choices for businesses that need to be able to travel with the assurance that their goods and services will make it to their destinations successfully.
When you want to be sure that your business is operating optimally, choosing a box truck will give you added confidence, and the selection from Chevy is one of the best around. Here at McCluskey Chevrolet, we understand what our commercial customers need to be able to keep moving forward with success and continue to thrive in their respective industries. That's why we offer such a fantastic lineup of box trucks to appeal to any business' needs. Stop by, explore your options, and get ready to add immense value to your day-to-day operations and see your company's productivity soar.